Impact of NBA Lockout for Pro Basketball Handicappers
by Trevor Whenham - 11/11/2011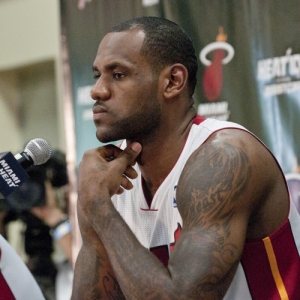 The NBA strike is looking like it may never end. They have shown progress from time to time, but they certainly can't sustain it. It doesn't seem like either the owners or the players are on the same page with each other, never mind the other side.
At some point, though, the sides are going to realize that this is all ridiculous and basically pointless, and they are going to settle. That means that we'll once again have NBA action to bet on.
There are going to be some challenges we'll have to deal with when that time comes. Here are five issues to consider:
Preseason schedule impacted
Whenever the season does start, the preseason will be shortened. That means that there will likely be fewer preseason games, and that the teams will have less time to practice before and between those games.
As we learned this year in the NFL there can be a big impact from this. Teams that were likely to be more prepared and ready to play in normal circumstances are likely to have a bigger edge here. Teams adjusting to significant lineup changes will have less time to get ready, and may not be at full strength when the season starts.
The strike has had a very significant impact on several NFL teams through the first half of the season. Given the smaller rosters and the bigger impact a single player can have on a team. the impact could be even more profound in the NBA.
New coaches could be at a disadvantage
It takes a long time for coaches to make the changes they need to make when they take over a new job. They need to assess the players they have on the roster, determine the changes that need to be made, find a way to implement those changes, and convince the players that they are on the right path.
It's rare for a team with a new coach to be ready for prime time when the season starts at the best of times, never mind when they have lost all of the preparation time that they have this year.
There is a good reason to be hesitant in this area, though — Jim Harbaugh. Harbaugh took over a team with many issues this year, and he had never been an NFL head coach before. It would normally have seemed like the lack of an offseason would have been a major disadvantage, but Harbaugh's 49ers were the biggest surprise of the first half of the NFL season.
It's a good lesson that you can't make sweeping generalizations about this — or anything else in sports betting, for that matter.
Players inconsistently prepared
Unlike the NFL lockout, there is a wide variation in what players have been doing since they last played in the NBA. Some players are playing professionally in Europe or Asia. Some are playing in exhibition games. Some players are just scrimmaging at high schools or colleges, or aren't playing at all.
Early in the NBA season, then, there will be a wide variation in how much rust players are carrying around. Some players will be ready for action at a high level right away, while others will be out of practice and won't have played in a game for much longer than normal.
Rookies behind in their development
The transition between college and the NBA — or professional ball in Europe and North America — is a very difficult one. For most players it is a tough change at the best of times.
When teams haven't been able to have contact with their coaching staff and trainers in the offseason, though, the transition could be even harder than normal.
The truly elite freshmen will be fine, but the rest of guys could take longer to be valuable contributors than they normally would.
It always requires a fair bit of patience when bettors are looking at rookies, but that patience will be even more crucial here.
Public interest decreased
When the NFL players were locked out it felt like the world was going to end. Sports fans and bettors were panicked about the thought of life without professional football, and that fear permeated well beyond the sports world and into general life. It became very clear just how important the NFL is to North American society.
The same can't be said about the NBA lockout. In fact, it hardly seems like anyone outside of hardcore fans really cares.
Maybe the public is tired of labor strife among millionaires, or maybe there s a good reason why the NBA's TV ratings are horrible. Either way, it really seems like the public has largely found other ways to entertain themselves, and there doesn't seem to be a whole lot of sadness that the league has been delayed.
When things do start up, then, it seems reasonable that it will take a while for the public interest in the NBA to return to previous levels — as it did with the NHL and baseball after their lockouts. That means that there is likely to be less public money in betting pools when the league starts, and a far bigger portion of the betting pools than normal will be smart money.
The less dumb money there is, the more conscientious you have to be in your search for value.