2011 Indy 500 Odds and Betting Predictions
by Christopher G. Shepard - 5/26/2011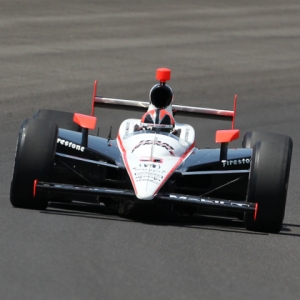 Bodog has Dario Franchitti set as the 4/1 favorite to defend his Indy 500 title, but he will have to do so from ninth on the starting grid as the IndyCar Series heads to The Brickyard to celebrate the 100th anniversary of "the Greatest Spectacle in Racing" on Sunday, May 29 at 12:15 p.m. EST. Meanwhile, before kicking back for a day of serious racing, be sure to remember our Armed Forces, past and present, and give thanks for the sacrifices they have made to keep this country great.

Open wheel enthusiasts and sports investors looking to take a position on the outcome of this centennial event should know that the most recognizable faces in IndyCar have had troubles leading up to the Indy 500. Franchitti ran out of gas on his final qualifying lap, Danica Patrick (25/1) did not qualify last Saturday and on Sunday her car failed inspection, but she eventually qualified 25th. Helio Castroneves (10/1) failed to win his third consecutive Indy 500 pole, and thus will start 16th, his worst starting position at The Brickyard in 11 years. If you needed any more reason to stay far away from this former TV dancer, consider that Castroneves has three DNF's in four races this season and is currently 17th in IndyCar standings.

Indy 500 Odds: Who will win the 100th Indy 500?

Despite celebrating its centenary, Indianapolis Motor Speedway has had 95 actual races. When racings' great spectacle starts on Sunday the starting field will feature five former Indy 500 winners who hold eight titles and 142 years of Indy 500 experience combined; Castroneves (2001, 2002, 2009), Scott Dixon (2008), Dario Franchitti (2007, 2010), Buddy Rice (2004) and Dan Wheldon (2005).
Dixon (4/1) is the co-favorite with Franchitti, according to Indy 500 odds, and could be the best of these five drivers. If you want to back a driver from this elite group I'd go with Dixon as the driver most likely to notch another Indy 500 title on Sunday. Dixon's team, Target Chip Ganassi Racing, got the season sweep in NASCAR and IndyCar at The Brickyard last year and will be a formidable team once again this year. Dixon will start from the middle of the front row from the No. 2 spot and will likely get the benefit of clean air if he can somehow get a jump on pole-sitter Alex Tagliani (13/2).
Tagliani won the pole to Sunday's historic race thanks to a blistering 227.472 MPH four-lap average. Only 2.533 seconds, however, separates first from 33rd on the starting grid, which translates to about 3.5 mph difference between Tagliani and last-place Ana Beatriz. The Indy 500, however, doesn't always reward favorites, and there are a handful of mid-range drivers who might be worth a look starting with Tagliani. However, he was in the same position last year with an excellent qualifying and starting fifth on the grid but he ended up finishing the race 10th.

While I am not advising a play on Franchitti, it would be foolish not to consider Dario as a legitimate contender to repeat this year. Don't let ninth on the starting grid fool you, Franchitti ran out of gas due to missed calculation and poor communication between his team – this you can bet will be sorted out by Sunday and expect Franchitti to be in with the lead pack if he can get through traffic. Will Power (7/1) is starting fifth while Dan Wheldon (10/1) will be next to him in sixth. Oriol Servia (12/1) provides an intriguing choice from outside of the first row.

If you are looking to throw a dart at a long-odds driver I'd look no further than Townsend Bell (25/1). He'll be starting from the second row in fourth place thanks to qualifying at 226.887. You won't find Bell's name in the standings because he has specialized on wining the Indy 500. Townshend's best finish was a fourth in 2009, but last year Bell settled for 16th place. What has impressed me about Townshend in 2011 is that Sam Schmidt Motorsports has brought a very strong car to the Indy 500 and so I wouldn't be totally surprised to see him hoist the Borg-Warner Trophy after chugging a jug of milk.

Indy 500 Betting Predictions:

Pick! Scott Dixon, No.9 (4/1)
Long Odds Pick! Townsend Bell, No. 99 (25/1)
Odds* to Win the Indy 500
Indianapolis Motor Speedway, May 29, 12:00 p.m. EST
Dario Franchitti No. 10 4/1
Scott Dixon No. 9 4/1
Alex Tagliani No. 77 13/2
Will Power No. 12 7/1
Dan Wheldon No. 98 10/1
Helio Castroneves No. 3 10/1
Oriol Servia No. 2 12/1
Buddy Rice No. 44 14/1
Ryan Briscoe No. 6 15/1
Danica Patrick No. 7 25/1
Townsend Bell No. 99 25/1
Marco Andretti No. 26 28/1
Tony Kanaan No. 82 28/1
Ed Carpenter No. 67 40/1
Vitor Meira No. 14 40/1
Paul Tracy No. 23 50/1
Tomas Scheckter No. 07 55/1
Graham Rahal No. 38 70/1
Takuma Sato No. 5 75/1
Bertrand Baguette No. 30 100/1
Bruno Junquiera No. 41 100/1
John Andretti No. 43 100/1
JR Hildebrand No. 4 100/1
Justin Wilson No. 22 100/1
E.J. Viso No. 59 125/1
James Hinchcliffe No. 06 125/1
Simona De Silvestro No. 78 125/1
Jay Howard No. 88 150/1
Alex Lloyd No. 19 200/1
Davey Hamilton No. 11 200/1
Ana Beatriz No. 24 250/1
Charlie Kimball No. 83 250/1
Pippa Mann No. 36 250/1
*Odds courtesy of Bodog