MLB Handicapping: A Look at Sub-.500 Teams
by Trevor Whenham - 5/13/2011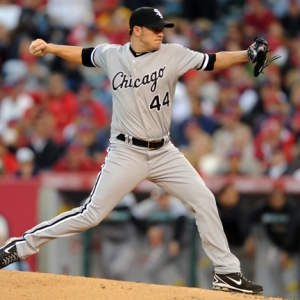 There are, as I write this, 14 teams in the major leagues that have records below .500 -- just under half the teams in the league. There are some surprises -- eternal losers Washington and Kansas City are not amongst that group, and though Pittsburgh is they sit just one game below .500. Here's a look at each team to see if they are just hitting a rough patch or if the problems are more severe (World Series futures odds are from Bodog):
American League
Baltimore (100/1) - They started off well, but then reality struck. They aren't nearly as bad as they have been, though, and their young bats and young arms give them real hope for the future. That future just isn't quite now, though.
Boston (13/2) - This is the perfect example of a public team and the craziness that can involve-- they are three games below .500, have pitching issues and can't consistently get anything going, yet they are the third choice to win the World Series behind only the Yankees and the Phillies. I sure wouldn't make that bet.
Chicago (40/1) - You can sum up this team with one stat -- every other team in the majors except for the Twins has at least two more home wins than the Sox do. This is a team that is totally lacking an identity, and until they find one they are going to continue to flounder.
Minnesota (50/1) - The Twins used to be the masters of going from worst to first and back again, so maybe they are just revisiting that old plan. Whatever the problem is, this is a lost season -- or at least it is rapidly looking that way. Pitching has been rough, injuries have been brutal, and they are horrific at home. They have allowed 74 more runs than they have scored. The Astros have the second worst differential at 43. No wonder they can't beat anyone.
Seattle (100/1) - Seattle may be below .500, but they are a whole lot better than I thought they would be. Felix Hernandez has been mostly good, Michael Pineda has been a revelation, and they are a tough team to beat on the road. They aren't going anywhere in a hurry, but it could certainly be worse than it is.
Toronto (65/1) - This is a young team with a lot of promise, but they are struggling to live up to the hype right now. The young rotation has not been as sharp as they could be, and that has hurt. Still, this is a team I see finishing above .500 in the end. They are only going to get better with experience.
National League
Arizona (150/1) - Coming into the season they were a young team with some obvious holes and a makeshift rotation. That's just what they have played like. They can hit, and manager Kirk Gibson has them looking tougher than they have in a long while, but they ultimately just aren't good enough to take seriously.
Chicago (55/1) - Lou Piniella managed this team into a funk, and they can't seem to pull themselves out of it. A team with a stadium full of crazed fans every game should be better than this. Of course, you could say the same thing for the last 90 years or so.
Houston (250/1) - They have only Minnesota to thank for keeping them out of the cellar. The difference is that Minnesota has some very nice pieces that just aren't able to contribute while Houston is really playing to their potential here. This is the definition of a lousy team.
Los Angeles (50/1) - It was only a couple of years ago that the Dodgers had a great rotation. It was only a couple of years ago that they were a very legitimate playoff team. Now they really aren't, and given their financial woes it could be a while until they are again. Right now they are completely irrelevant. That's just sad.
Milwaukee (30/1) - This team has no real excuse for being as bad as they have been. They have bats. They invested in pitching. They play in a pretty soft division. Injuries have been a factor, but this team still doesn't seem to have the heart to match their talent. Theoretically there should be some value in their futures price given what they are capable of, but I wouldn't touch it.
New York (150/1) - This is the most incompetent franchise in the majors -- and that is saying a lot given the rampant incompetence in the league. A total and utter waste of an opportunity. Ridiculous. They wouldn't be a bargain at 150000/1.
Pittsburgh (100/1) - With a win in their next game this team could be at .500. In May. That, sadly, is a whole lot of progress. Until their total payroll exceeds what the Yankees pay their ball boys they aren't going to be dramatically better, but at least fans in Pittsburgh can have little glimmers of hope -- if the outside shot at finishing .500 is reason to have hope.
San Diego (125/1) - Despite the fact that they are barely above .400, I am more optimistic about the Padres than most teams on this list. They have one major thing going for them -- they can pitch. They have allowed the eighth fewest runs in the majors, and that seems to be sustainable given the arms they have. They can't capitalize on that depth, though, because they are totally anemic at the plate -- they have scored the third fewest runs. Some of that is inevitable because they just aren't very good, but if they could find just a bit more efficiency at the plate they would win some games.