MLB Handicapping: Yankees vs. Red Sox Battle for AL East
by Trevor Whenham - 8/26/2011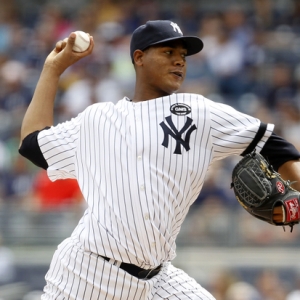 Stop me if you have heard this one before — the Yankees and the Red Sox are locked in a tough battle for the championship of the AL East, though both teams are playoff bound. It's deja vu all over again. The Red Sox have a slim lead, but 100 wins is in the grasp of both teams, and they are both going to be well positioned to make the World Series. They play a three-game series next week that will be both important and informative, and then they play the second to last series of the year against each other. Those six games could easily decide who wins the division and who gets home field advantage if they have to play each other again in the playoffs.
Given how similar their performances have been in many ways this year it only makes sense that we compare them in a few different ways to see which team has an edge overall:
Starting pitching - We didn't start with the strength for either team — the Yankees have only the sixth best ERA for starters in the AL, and the Red Sox are eighth. I don't understand how two teams that spend this much money can have such underwhelming rotations, but that's a different topic.
The Yankees not only have better numbers, but they are also performing better than expected — unlike Boston. CC Sabathia has been as expected, Ivan Nova has been a pleasant surprise, and Freddy Garcia and Bartolo Colon have done more than expected. Of course, the fact that guys like Colon and Garcia had to be relied upon at all shows what kind of shape this rotation is in. The big story is that A.J. Burnett has been a total disaster, and it is questionable whether he would even be active in the playoffs — never mind being in the rotation.
Boston has issues of its own. Josh Beckett has been solid, though not as consistently dominant as would be ideal. Jon Lester has been pretty solid as well. Beyond that, though, it's not pretty. John Lackey is a total mental case who is hard to trust in the playoffs. Clay Buchholz is injured and his playoff return is questionable. Combinations of other pitchers — Miller, Wakefield, Matsuzaka and so on — have worked with varying success at different times. Erik Bedard is an interesting gamble I am a fan of, but it's too soon to know how well that will turn out.
As incredible as it seems the Yankees have an edge in pitching. As long as both teams keep hitting like they can. though, the pitching isn't the worry it would be for some teams.
Bullpen - Boston, as we have become accustomed to, has a good bullpen. The Yankees have a great one. The Red Sox have nothing to worry about, but the Yankees have an edge here as well.
The big bats - Both teams are getting what they are paying for — they have the two most productive offenses in the majors by a solid margin.
The Yankees have gotten what they expect from A-Rod when he is healthy, and Jeter has been brilliant since coming off the DL. Teixera has been solid, Cano is a star, and Granderson has been a revelation.
As good as the core has been for the Yankees, though, the big bats for the Red Sox have been even better. Jacoby Ellsbury has exploded this year and is an MVP contender. Gonzalez is in the MVP mix, too. Pedroia already has an MVP, and while he won't add another he has been extremely good as well. Those big three have been phenomenally good — by far the best trio in baseball this year. They give the Red Sox a slight edge here — and that's not even considering that while David Ortiz is not getting any younger he's still not a guy you want to pitch to.
The rest of the order - Both teams have some issues here.
For Boston the big story is obviously that Carl Crawford has been a disaster given his massive contract. Beyond that they have had trouble getting consistency at the plate from catchers, and J.D. Drew has been underwhelming. There have been some bright spots, though — like the play of Josh Reddick, for example.
The Yankees have had catcher issues as well, though Russell Martin has been better lately. Posada just looks old, and Gardner hasn't taken the step forward this year that he looked like he was going to. Nick Swisher continues to quietly go about his job.
The Yankees have the edge — mainly because of Crawford.
Coaching - Hard to argue with what either team has. Girardi always seems slightly unhinged, though, and he hasn't won anything yet. Francona gets credit for turning this team around after their lousy start, too. That gives the Red Sox the edge.
Betting performance - Given that both of these teams are very much public squads it is very impressive that both have been profitable over the course of the season when betting them to win. You aren't getting rich betting on them, but you'd be ahead.
As you might expect, both teams have lost money at home, but more than made up for it on the road. Given their offensive prowess it's not surprising that both teams are profitable on the runline as well, though New York's better pitching has made them more profitable.
Both teams are slight losers on the totals because they have split fairly evenly between the 'over' and the 'under'.
Overall the Yankees get the nod here.
Overall - I don't completely trust either of these teams, but if I had to take one I'd take the Red Sox because they are a bit more explosive and seem to be both healthier and hungrier. I'm not convinced either team will beat the National League champion, though.