MLB Odds and Predictions: Where Does Carlos Beltran Land?
by Alan Matthews - 7/22/2011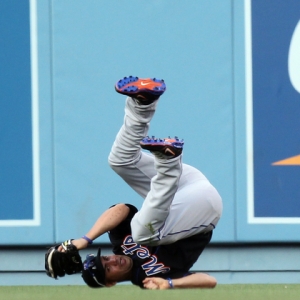 New York Mets outfielder Carlos Beltran is probably the top position player on the MLB trade market ahead of the July 31 deadline – at least with the Mets saying they won't trade shortstop Jose Reyes. Both Beltran and Reyes are set to become unrestricted free agents at the end of the season.
Beltran never lived up to his $119 million contract he signed with the Mets, but he is having a good season and has proven durable this year after two injury-plagued seasons. He is hitting .290 with 15 homers, 61 RBI , 57 runs scored and an on-base percentage of .387. And he might be heating up, as in the past week (entering Friday) he is hitting .417 with two homers. Is this the Beltran who used to steal 25-plus bases? Definitely not. Knee problems have turned him into sort of the Big Apple version of the Cubs' Alfonso Soriano – Beltran has just three steals this year. And he can't play center field anymore, although he says he can.
Even though Beltran will likely be just a rental for whatever team gets him, the price tag reportedly is quite high because the Mets say they will eat the rest of his salary this year. Pretty much every contender seems to have kicked the tires on Beltran, and the Mets may benefit from the fact that there are so many teams that still believe they are in the playoff hunt. For example, there are four teams in the NL Central alone with playoff hopes: the Brewers, Pirates, Cardinals and Reds. Both Milwaukee and Pittsburgh have had some interest in Beltran. The other main suitors appear to be the Phillies, Braves, Yankees, Red Sox, Tigers, Brewers and Indians.
Now, I put the Yankees in there because they are always interested in anyone the Red Sox might get, although reportedly the Yanks have said they are out of the Beltran sweepstakes. And the Pirates also appear to be out of the hunt because they don't want to start dealing prospects just when it appears the franchise is coming back.
WagerWeb has listed MLB odds on where Beltran might land (there's no doubt he's dealt). He would have to waive his no-trade clause to approve any deal. Here are the options and a comment on each:
San Francisco Giants (+180): No contender needs offense more than San Francisco. Closer Brian Wilson said at the All-Star Game that he heard the team was going after Beltran, and he's right. The New York Daily News reported that the Giants want to pay Beltran's remaining salary (around $6 million), but do not want to part with a high-end prospect. The Mets, of course, want the opposite, which is surprising considering the financial problems of Mets ownership.
Philadelphia Phillies (+250): Ironically, the big-money Phillies can't really afford to add payroll, so they are more than OK with the Mets willing to pay Beltran his remaining money. Philadelphia has the prospects to deal New York and is clearly in a win-now mode. Philadelphia is desperate for a right-handed hitting corner outfielder (Beltran is a switch hitter). And the Phillie offense is average at best.
Atlanta Braves (+300): Remember when teams wouldn't trade a star-level player inside their own division? The Mets apparently have no issue with that this year because they figure Beltran won't be in the NL East next season and, thus, won't haunt them if dealt to the Phils or Braves. Atlanta has plenty of pitching prospects to give the Mets and the team has a dire need of outfield help as the Braves have been using Eric Hinske, Jordan Schafer and struggling players Nate McLouth and Jason Heyward.
Boston Red Sox (+300): Reports out of Boston are that the Red Sox are unwilling to meet the Mets' high demands and that they will most likely only do a minor deal before the deadline. And it's not like Boston needs Beltran, as the Red Sox have the majors' top offense. He would be an upgrade to J.D. Drew, however. But it seems this would be more of a luxury for Boston. Beltran reportedly already has waived his no-trade clause to go to Beantown.
Detroit Tigers (+450): The Tigers already improved their offense by trading for Royals third baseman Wilson Betemit, so they are probably going to focus more on pitching now.
Texas Rangers (+500): The Rangers are pretty solid in the outfield, although you never know when Josh Hamilton might get injured. Texas' offense isn't the problem (second in MLB in runs), but the bullpen is. Rangers relievers rank 27th in the majors with a 4.51 ERA, so look for Texas to go that direction.
I think Beltran is a Phillie. The Giants need him more but they have shied away from making blockbuster-type trades such as this the past few years and like to hang on to their top prospects.