MLB Picks: Indians at Tigers Odds and Predictions
by Darin Zank - 6/14/2011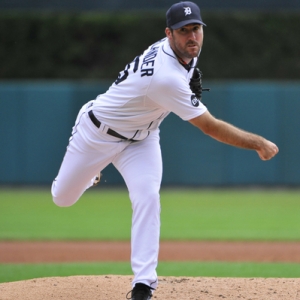 The Cleveland Indians jumped out to a great start this season, but as will happen with teams that do so unexpectedly, the Indians have come back to the pack, losing 14 of their last 19 games.
Meanwhile, the Detroit Tigers have gotten hot, winning 11 of their last 15 games to catch Cleveland atop the AL Central.
So it's a couple of teams headed in different directions at the moment who meet for the opener of a three-game series Tuesday night at Comerica Park in Detroit.
Cleveland just avoided a sweep at the hands of the New York Yankees by squeezing out a 1-0 win in the Bronx Monday night. But even with the win the Indians have scored a total of 22 runs in losing nine of their last 11 games.
On the other side of this matchup Detroit got to 3-2 on its current homestand with a 10-inning, 2-1 win over Tampa Bay in a makeup game Monday night. That game also marked the seventh time in the Tigers' last 10 games that they've held their opponents to three runs or less.
So going into this series these two teams are separated by just a couple of percentage points at the top of the AL Central.
It's a battle of Justins in this series opener Tuesday night as Masterson gets the start for Cleveland against Verlander for Detroit (7:05 p.m. EST). Then Fausto Carmona goes for the Tribe Wednesday vs. Brad Penny for the Tigers (7:05 p.m. EST). And Mitch Talbot will start for the Indians in the series finale Thursday against Max Scherzer for Detroit (1:05 p.m. EST).
Cleveland is 7-6 in Masterson's starts this season, 3-3 in Talbot's, but only 5-9 in Carmona's. The Tigers, meanwhile, are a combined 25-16 when Penny, Scherzer and Verlander start this year.
Tuesday's Pitching Matchup
Masterson won his first five starts this season, but hasn't won a game since April 26. He pitched well in his last outing, though, allowing two earned runs on nine hits in eight innings vs. Minnesota last Wednesday. In one start this year and two last year vs. Detroit Masterson gave up 10 ERs on 29 baserunners (hits + walks) in 19 innings pitched.
Verlander, since a bad outing four starts ago, has regained his groove, allowing just three ERs on 20 baserunners in 23 2/3 innings of work. In five starts last year vs. Cleveland Verlander allowed 17 ERs on 44 baserunners in 32 IP.
Wednesday's Pitching Matchup
Carmona has been like lighter fluid as of late, giving up 17 ERs on 24 hits in his last 14 1/3 innings of work. But in two starts vs. Detroit last year he was alright, allowing five ERs on 15 hits in 15 IP.
Penny, since throwing eight shutout innings vs. Kansas City five starts ago, has struggled a bit, allowing 16 ERs on 40 baserunners in 23 2/3 IP. And on the season his BB/K ratio sits at 25/36. Penny hasn't started a game vs. the Indians since 2009.
Thursday's Pitching Matchup
Talbot got bopped around by Boston a couple weeks ago, but has been pretty good since, giving up five ERs on 18 hits in his last 18 1/3 IP. Last year, in four starts vs. the Tigers, Talbot allowed nine ERs on 23 hits in 22 innings.
Scherzer recently had three bad outings in a row, but recovered to hold Seattle to one ER in seven innings last Saturday. He's struggled, though, vs. Cleveland recently, allowing 19 ERs on 50 baserunners in 28 2/3 IP in one start this year and four last year.
The Recent Series
In the only meeting so far this season between these two teams the Indians swept three games from the Tigers in Cleveland six weeks ago. Two of those three games played "over" their posted totals.
Last year these two teams split 18 games, with the totals leaning toward the "unders" by an 11-7 margin.
On the injury front Detroit just welcomed back OF Magglio Ordonez after he missed 28 games with a bad ankle.
Most online sportsbooks sent Cleveland off this season as a longshot of right around 25/1 to win the AL Central this season, and at upwards of 75/1 to win the American League pennant. As of Tuesday morning Bodog is offering the Indians at 15/1 to win the AL.
Detroit went off this year getting about 2/1 to win the Central and 15/1 to win the pennant. As of Tuesday AM Bodog is listing the Tigers at 11/1 to win the American League.
Indians at Tigers Betting Odds and Trends
As of Tuesday morning Bodog is listing Detroit as a -220 favorite to win this series, with Cleveland getting +180 as the underdogs.
Cleveland is 15-17 on the road this season.
Detroit is 20-13 at home this season.
The "over/unders" are 34-27 in Cleveland games this season.
The "over/unders" are 35-26 in Detroit games this season.
The "over/unders" are 13-16 in games played at Comerica Park this season, which are averaging 7.7 runs per game.
MLB Picks: Indians at Tigers Predictions
The Indians have lost three series in a row, while the Tigers are 3-0-1 in their last four series. And while Cleveland's bats are cold, Detroit's arms are hot. So the Tigers are the pick to win this series. And we like the "over" Wednesday night.