MLB Picks: Red Sox at Orioles Odds and Predictions
by Darin Zank - 4/26/2011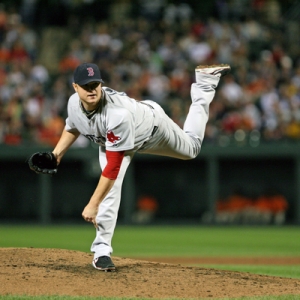 The Boston Red Sox have bounced back nicely after a lousy start to this season. The Baltimore Orioles, on the other hand, started out hot this season, but have cooled considerably since. So two teams headed in different directions at the moment meet this week when Boston visits Baltimore for three games, starting Tuesday night.
The Sox lost their first six games this season, and started 2-10. But after sweeping four games from the Angels in Anaheim over the weekend, Boston has won five in a row and eight of its last nine. Which is probably proof there was absolutely no grounds for early-season panic.
Baltimore, conversely, started this season 6-1, but has lost 11 of its last 13 games. The O's just lost two games at home to the Yankees, by scores of 15-3 Saturday and 6-3 Sunday.
So Boston, despite its early-season problems, sits in third place in the AL East, just three games behind the division-leading New York Yankees.
Baltimore, meanwhile, has fallen to last place in the AL East, 4.5 games out of first.
Boston is expected to throw Clay Buchholz Tuesday night (7:05 p.m. EST), Josh Beckett Wednesday (7:05 p.m. EST) and Jon Lester Thursday (7:05 p.m. EST).
Baltimore figures to counter with rookie lefty Zach Britton, Jeremy Guthrie and Brad Bergesen, respectively
Buchholz is coming off his best outing of the year, and statistically it wasn't that hot, allowing one earned run on six hits and four walks in 5 1/3 innings of work at Oakland last Wednesday. On the season Buchholz has allowed 12 ERs in 20 1/3 innings, with 14 walks and 10 strikeouts. And the Sox are 1-3 in his starts.
Last year Buchholz started twice against Baltimore, and pitched 15 innings without giving up an earned run. The Sox split those two games.
Britton has won three of his first four career ML starts. The rook held Tampa and Texas to one run in 13 2/3 innings, then gave up five ERs in six innings at Cleveland, and then held Minnesota to three ERs in six innings last Wednesday. Last year Britton put up a 2.70 ERA in 26 starts in AA and AAA ball. He'll be making his first-ever start vs. Boston.
Beckett is off to an excellent start to this season, allowing just six ERs on 13 hits in 28 innings, with nine walks and 28 strikeouts. The Sox have won three of his four starts. Last year Beckett held the Orioles to four ERs in 14 innings, with one walk and 11 strikeouts, but Boston managed to lose both those games.
Guthrie has three quality starts out of four this season, although Baltimore is only 1-3 for him. Last Thursday Guthrie held the Twins to two ERs on seven hits in seven innings, but the O's lost 3-1. Last year Guthrie started three times against Boston, giving up 11 ER on 25 baserunners (hits + walks) in 17 1/3 IP. The Orioles lost all three of those games.
Lester got bombed his first start of this year but has only allowed four ERs in 26 IP since. So he looks like he's coming around. Last year Lester started four times vs. Baltimore, allowing six ERs on 34 baserunners in 25 innings. Boston won all four of those games.
Bergesen is off to a rough start this season, giving up 10 ER in 14 2/4 innings covering three starts. The O's are 0-3 in those games. Last year Bergesen started four times against Boston, allowing 10 ERs on 25 baserunners in 24 IP. Baltimore split those four games, and three of those games played 'over' their totals.
Boston is averaging 4.4 runs per game this season, and ranks ninth in team on-base percentage at .333. But Red Sox pitching ranks just 25th with a 4.50 ERA, thanks in part to the bullpen, which owns the worst ERA in the majors at 5.88.
Baltimore is averaging less than four RPG this season, and ranks 29th in team OBP at a pedestrian .287. This while Orioles pitching ranks 27th in team ERA at 4.74. And the Baltimore bullpen has had its problems, too, posting a 5.18 ERA and allowing a league-high 14 homers.

This is the first meeting this season between these two divisional rivals. Last year these teams split their 18-game season series nine games apiece. The totals went 9-8-1 in those games, which averaged 9.7 runs per.
Red Sox at Orioles Betting Odds and Trends
As of Tuesday morning Superbook.com is listing Boston as a -220 favorite to win this series, with Baltimore getting +170 as home underdogs.
The Orioles won five of nine games vs. the Red Sox at Camden Yards last year.
The totals went 5-3-1 in games played in this series at Camden Yards last year, as those games averaged 10.6 RPG.
The totals are 6-6 in Orioles home games this season, which have averaged 9.3 RPG.
The Red Sox have won 69 of their last 95 games vs. the Orioles.
MLB Picks: Red Sox at Orioles Series Predictions
The Sox are hot, while the O's are not. There's no other way to play this one than to take Boston.
Doc's Sports has notched a perfect 4-0 weekend against the MLB Odds and Doc's Baseball Picks have earned bettors a great profit last weekend. We have a very strong card for Tuesday that includes five picks total. Our baseball handicapping has been known as one of the top in the nation and a one-day package is only $30. Click Here to buy picks.