MLB Picks: Yankees vs. Red Sox Odds and Predictions
by Darin Zank - 8/5/2011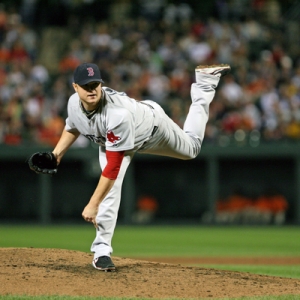 The Boston Red Sox have had the upper hand in their matchups with the New York Yankees so far this season, taking eight of nine games in the series. So the Yanks will be looking to even things out a bit when the two teams get together for a three-game set at Fenway Park beginning Friday night.
New York is coming off a four-game sweep of the White Sox as they scored a 7-2 win last night. Overall the Yankees have won seven in a row and 10 of their last 12.
Boston, meanwhile, split a four-game series with Cleveland. The Sox have won six of their last 10 and 23 of their last 31.
Through Thursday Boston is tied atop the AL East with New York. Both teams are tied for the best record in the American League. Both teams are leaders in the AL Wild-Card race by 8.5 games over the second-place Los Angeles Angels.
The Sox took two of three from the Yanks in a series at Fenway back in April, swept three games from the Pinstripes in the Bronx in May and pulled the same trick three weeks later.
The 'over/unders' have gone 5-3-1 in this series this season, as Sox-Yanks games have averaged almost 11 runs per.
New York will pitch Bartolo Colon (8-6, 3.30) Friday night (7:10 Eastern), CC Sabathia (16-5, 2.55) Saturday (4:10 Eastern, Fox) and Freddy Garcia (10-7, 3.22) Sunday (8:05 Eastern, ESPN).
Boston will counter with Jon Lester (11-4, 3.17), John Lackey (9-8, 6.23) and Josh Beckett (9-4, 2.20).
Friday's Pitching Matchup
Colon is 11-for-16 in quality starts this year, and has strung together three in a row, allowing five earned runs on 23 baserunners (hits + walks) over his last 18 1/3 innings pitched. On the season the Yankees are 10-6 in his starts, with the 'over/unders' going 5-10. Colon has made two appearances vs. Boston this year, giving up four ERs on 11 baserunners in 10 1/3 IP.
Lester is 13-for-20 in quality starts this season. Since coming off the DL 10 days ago Lester has allowed three ERs on 14 baserunners in 13 1/3 IP. Boston is 12-8 in his starts this season, the 'over/unders' 9-7. Lester has pitched twice vs. New York this year, giving up seven ERs on 18 baserunners in 12 IP.
So Friday's matchup looks pretty even, and we might even give Colon the advantage, considering the Yankees are a ML-best 24-9 in games in which their opponents start left-handers this year.
Saturday's Pitching Matchup
Sabathia is on a roll, with eight straight quality starts. Over that span the big lefty has allowed just seven ERs on 57 baserunners in 62 2/3 IP. New York is 18-6 in Sabby's starts this season, with the 'O/Us' going 14-10. But Sabathia has struggled vs. Boston this year, allowing 13 ERs on 33 baserunners in three starts, covering 19 IP.
Lackey is just six-for-18 in quality starts this year. Over his last two starts he's allowed eight ERs on 20 baserunners in 12 1/3 innings of work. On the year the Sox are 9-9 in Lackey's starts, the' O/Us' 11-6. In his one start vs. the Yankees this season Lackey got clipped for six ERs on eight baserunners in five IP.
So while Sabby's numbers vs. Boston this year aren't great, he's got a clear advantage over Lackey, even though the Red Sox are 25-12 vs. lefties this season.
Sunday's Pitching Matchup
Garcia is a very respectable 13-for-19 in quality starts this season, and has thrown three in a row, allowing five ERs on 24 baserunners in his last 20 1/3 IP. The Yankees are 11-8 in his starts this season, the 'O/Us' going 5-12. But in Garcia's three appearances vs. the Red Sox this season he's given up nine ERs on 17 baserunners in just eight IP.
Beckett is an even-better 15-for-21 in quality outings this season, with a current run of four in a row, in which he's given up six ERs on 23 baserunners in 28 IP. Boston is 15-6 in Beckett's starts this year, the 'O/Us' a lopsided 4-16. And he's had success against New York this season, holding the Yanks to just two ERs on 15 baserunners in three starts covering 21 IP.
So we'll give Beckett the nod for Sunday.
Yankees vs. Red Sox Betting Odds and Trends
The Red Sox have been installed as -155 favorites for Game 1 with the Yankees getting an underdog price of +140. Series odds were not available as of deadline.
The Yankees are 30-20 on the road this season
The Red Sox are 35-20 at Fenway Park.
'Over/unders' are 46-55 in Yankees games this season, 17-29 in Yankees road games.
'O/Us' are 52-49 in Red Sox games and 31-20 in games played at Fenway Park, which are averaging 10.6 total runs per, second-most among all ML ballparks.
Yankees vs. Red Sox Series Predictions
At a glance we were leaning toward Boston to win this series. The Sox are on an extended run, they'll be at home in front of what should be a raucous crowd and they've been beating New York's brains out this year. But after doing some homework we're going to back the Yankees to turn the tables and take this series.