MLB Predictions: Improved Baseball Teams
by Trevor Whenham - 2/16/2011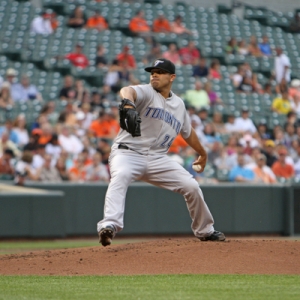 The baseball season starts in just over six weeks. Between now and then all there is left to do is watch spring training and speculate about what is possible and what is likely. One of the obvious topics to speculate on is which teams are going to be significantly better than they were last year. Here are my MLB predictions for three teams that stand out as potentially being very improved this season:

Toronto Blue Jays – I really like this team and the direction they are heading in. They are in the worst situation in sports -- stuck in the AL East behind three very successful teams -- but they are being patient and building things the right way.
They had a very good offseason -- a logical one that puts them in a good position. They got rid of Shaun Marcum, but the rotation is still in good shape. In fact, the young rotation has the potential to be really good, with Ricky Romero and Brandon Morrow leading the way, Brett Cecil a seriously underrated arm, Kyle Drabek as a hot prospect that was the key piece of the Roy Halladay deal, and some very nice pieces fighting for the fifth spot.
The team has also done something very smart to counter the young rotation -- build a veteran bullpen. Three guys have been closers for other teams, and that means this team should be tough to score on in later innings.
The whole pitching staff has a real swagger this year, and it will help. In the field they made a great addition by subtraction in shipping Vernon Wells out of town. His contract and presence were too big for this team, so the team should be looser as a result.
There is a lot of young slugging talent that just needs to get on track. Jose Bautista was a revelation last year, and even if he takes a step back he'll be a big contributor. Yunel Escobar is a nice addition entering his first full season with the team, and J.P. Arencibia has massive potential behind the plate.
All in all this is a talented young team with a positive attitude and a lot of upside. They are in a division that isn't quite as tough as it has been -- Tampa Bay lost some pieces, the Yankees have rotation issues, and the Red Sox aren't as scary as they could be.
The playoffs could be too much to ask this year, but a team that took a big step forward last year should be ready to take another one this year. At this point this is my most improved squad -- at least among teams that didn't make splashy, expensive moves.
Milwaukee Brewers - The Brewers did the first thing they needed to do this offseason when they changed managers. Ron Roenicke is unproven, but Ken Macha was doing a terrible job and had let this team spin out of control. Any change is a good one at this point. Beyond Macha, the biggest issue was the starting rotation. By adding two big names -- Zack Greinke and Shaun Marcum -- they have improved their rotation more than any other team out there. Suddenly they have one of the top three rotations in the National League.
As significantly, two bold additions like that can't help but give the team confidence because management believes they are worth the big investment. There is plenty of hitting in the lineup as well, and with Rickie Weeks signed to a new contract this week there is more stability than there could have been.
If the middle of the infield -- Yuniesky Betancourt in particular -- can find some consistency then this team could be ready to take a big stride forward. They are poised to win a whole lot more than their 77 games from last year.
Arizona Diamondbacks - I really like that Arizona took the gamble and made Kirk Gibson the full-time manager after an interim stint last year. He could flame out badly, but he's a definite upgrade over A.J. Hinch, and his aggressiveness and enthusiasm could have this young team willing to die for him.
Kevin Towers brings toughness to the top of the organization as well -- something that was lacking under Josh Byrnes.
The rotation improved through subtraction this year with the departure of Rodrigo Lopez in the offseason and Edwin Jackson at the trade deadline. Both guys give up too many runs, so their absence could take some pressure of the offense.
Offensively, Mark Reynolds and Adam LaRoche are both gone, but they are replaced sufficiently. If the team's young talent can finally get on track under the guidance of Gibson, and if Kelly Johnson can be close to as effective as he was last year, then this team can be a much better squad.
This team isn't going to win 100 games or anything, but they should be much better than the squad that won just 65 last year.