MLB Predictions: Pitching Rotations With Value
by Trevor Whenham - 3/9/2011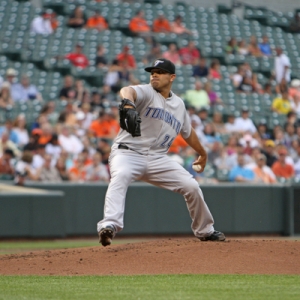 Every year in baseball there are a few pitching rotations that are surprisingly strong. For bettors those are the holy grail because pitching is so crucial to betting success, so an unexpectedly strong rotation can consistently deliver excellent value. Here are my MLB predictions for four rotations that have the potential to be surprisingly strong this year:
Toronto Blue Jays - I really like the Jays this year, and one of the big reasons is their rotation. They are a very young group, but they have the potential to be very good.
Brandon Morrow was surprisingly good last year in his first year in Toronto and his first year as a full-time starter. If he shows the stuff he showed last year he has a shot at leading the AL in strikeouts.
Ricky Romero has top-of-the-rotation stuff, and was under-appreciated last year. At 26 he should only be getting better. Brett Cecil left camp last year without a spot secured in the rotation, and he wound up winning 15 games. He showed a ton of maturity, and is a very exciting guy -- especially for a third starter.
Beyond those top three it's all about options. Jesse Litsch is recovering from Tommy John surgery and showed some real game before he was hurt. Kyle Drabek is the hot prospect the Jays got in the Roy Halladay deal. Mark Rzepczynski is often hurt, but when he is healthy he is intriguing.
The Jays have options. Combine that with a bullpen that they have improved dramatically through some serious spending and you have a rotation that should stand out from the crowd.
Baltimore Orioles - This one is a little scary to project because it requires a lot of faith that young pitchers will continue to progress. If they do, though, then they have real potential.
Jeremy Guthrie is the stable veteran at the top of the rotation. Though he would be much better served being a third starter for a decent team he's still more than capable of being fine here, and he's coming off a solid year.
Brian Matusz is a young guy with tremendous upside, and he showed a lot of talent last year. If he continues to improve he'll be the ace of this staff soon.
Beyond that the questions start, but I like the potential answers. Justin Duchscherer was a nice gamble to take. The price was right because he has struggled badly with injuries, but if he can stay healthy he's a very talented guy, and he'll be hungry to perform here. Chris Tillman, Jake Arrieta, and Brian Bergesen are all young guys with serious talent. All had troubles last year, but with age and experience they could easily start to find their game.
Baltimore's rotation isn't nearly as sure to improve as Toronto's is, and it isn't going to be as good even if things work out just right. However, if all went well it could be much better than people think.
Houston Astros - The thing that will stick in the minds of most casual fans is that this team is without Roy Oswalt, and that is going to hurt. I am not convinced it will be that painful in fact, though.
Wandy Rodriguez is the ace of this staff, and he's one of the more under-appreciated starters in the NL. Brett Myers was very good in his first year in Houston last year, and has a chance to be even better. J.A. Happ is a young pitcher they got in the Oswalt deal. He has been inconsistent for the Phillies, but he shows signs of being a really solid arm. He's mature and durable, too. Bud Norris is a younger guy with a totally nasty slider. He's been working hard to bring his other pitches up to an acceptable level, and if he does that with any success he'll be a very solid mid-rotation starter.
Ryan Rowland-Smith has the edge in a good battle for the fifth starting spot. He was lousy last year, but the Australian had three pretty impressive years for the Mariners before that, and he'd provide all sorts of value as a fifth starter in this rotation. The Astros would be able to surprise some pretty good teams with this rotation.
Arizona Diamondbacks - I've seen the Diamondbacks play twice in Spring Training this year, and have been surprised both times by the optimism surrounding the organization. When you look at this rotation, though, they are right to be optimistic.
What's really interesting about these starters is how new they all are -- all five have joined the team within a year thanks to a trade. You don't often see teams blow things up like that, but it means that they have intentionally built a rotation they like.
Daniel Hudson gets top billing right now. After coming over from the White Sox he was ridiculously good in 11 starts, and will have a chance for a great year f he can handle the pressure. Ian Kennedy was strong last year after coming over from the Yankees, and in his second year as a starter he could be even better. Joe Saunders is a perfectly average pitcher, and I mean that as a compliment. He has the ability to be everything you need from a third starter.
Zach Duke had a lousy year last year, but he was better before that, and he'll be so happy to be out of Pittsburgh that he'll be pitching with newly embraced freedom. He's a nice piece to have as a fourth starter. So is Armando Galarraga at fifth. He's the poor guy who was robbed of his perfect game last year through umpire incompetence. He may not have a lot of upside, but he has the game to be a very solid fifth starter.
None of the arms in this rotation are overwhelmingly impressive, but they are all at least as good as they need to be, and that puts them ahead of a surprising number of teams.