NASCAR Sprint Cup Futures Odds and Predictions
by Darin Zank - 5/24/2011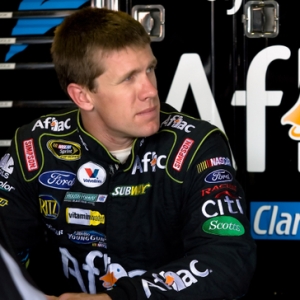 Coming into this NASCAR Sprint Cup season Carl Edwards had won 18 races in his career, including the last two of last year, but never the season championship. As this season nears the one-third mark No. 99 appears on his way to changing that latter matter. More importantly to our discussion on these pages, though, is that racing bettors find themselves faced with two questions; Can Edwards hang on? And might his chances be worth a wager on a Sprint Cup futures board? Here are some of my predictions for current Sprint Cup futures odds.
The Standings
With 11 official races in the books, Edwards, who just won the non-points All-Star race at Charlotte over the weekend, leads the pack in the Sprint Cup standings. With one official victory and eight other Top-10 finishes, Edwards finds himself 24 points ahead of the guy everybody is trying to knock off, five-time defending Sprint Cup champion Jimmie Johnson, and 37 points up on third-place Kyle Busch.
Dale Earnhardt, Jr. sits in fourth place, 52 points out of first. Kevin Harvick, at -54, runs fifth, followed by Matt Kenseth at -74; Ryan Newman at -76; Kurt Busch and Clint Bowyer at -80; and Tony Stewart at -88.
With the rule changes put in place just before this season started, the Top 10 drivers in the point standings after the first 26 races make the Chase for the Cup field, plus the two drivers of the rest of the field with the most wins. At the moment that would be Jeff Gordon and Regan Smith.
The Odds
After finishing fourth in the Sprint Cup standings last year Edwards started this season getting right around +650 at most online sportsbooks to win this season's championship. And with three wins in his last 13 races a case could be made that the 99 team is the hottest outfit running at the moment. Throw in the added incentive of the quest for that first championship and Edwards seems a formidable threat to do just that. And bettors are apparently catching on, because as of early this week both Bodog and BetOnline have lowered their odds on Edwards to 3/1 and +300, respectively, on their 2011 Sprint Cup betting boards.
Johnson started this season getting about 3/1 at most sportsbooks to win a ridiculous sixth-consecutive Sprint Cup title. Johnson won last month at Talladega, and owns a second and two thirds. So it seems the kid from El Cajon is simply pacing Edwards, and will make his move somewhere down the line. Johnson's odds haven't changed much since Daytona, as both Bodog and BetOnline are also listing No. 48 at 3/1 and +300 on their updated Sprint Cup boards.
Kyle Busch finished eighth in the Cup standings last year, then began this year getting around 8/1 to 10/1 to win it all. Busch has won twice already this season, at Bristol and Richmond, and owns a second, two thirds and a fourth. He's also got a couple finishes in the 30s. But bettors seem to like him, because about the best odds you can find right now on the younger Busch is the 7/2 being offered by Bodog.
Dale Jr. went off this season getting between 25/1 and 40/1 to win his first-ever season championship, and he's off to his best start in years. He still hasn't won a race since taking the checkered flag at Michigan almost three full years ago, but with 11 finishes in the Top 14 Earnhardt has held a spot in the Top 5 in the standings almost all season. However, combining his relative success with being the son of a legend and therefore a sentimental fan favorite, Junior has seen his Sprint Cup championship odds drop considerably. As of this week one of the best price you can find on Earnhardt is 9/1 at Bodog.
Harvick had a chance to win the whole thing at the last race last year, settled for third overall, and so looms as one of the most likely contenders for Johnson's crown. And since a disastrous Daytona 500 to open the season he's got two wins (back-to-back at Fontana and Martinsville), a fourth, a fifth, a sixth, a ninth and a 10th. So his odds have dropped a bit, too. After starting the season getting right around 9/1 on most Sprint Cup boards Harvick is now getting 15/2 at Bodog to win the Cup.
Kenseth went off this season getting right around 18/1 to win the Sprint Cup, and while he's got wins at Texas and Dover, unfortunately he's also got three finishes of 25th or worse. But this Wisconsinite has been through the championship ringer before, having won the Cup back in 2003, so he knows what it takes. As of this week Kenseth can be had at 14/1 on Bodog's Sprint Cup board.
Newman finished 15th last year, outside of the Chase, and began this season as a longshot of upwards of 60/1 on most Sprint Cup boards. But he's finished fifth four times and 10th twice to stick his nose in the Chase for the Cup conversation, and he's been avoiding the really disastrous finishes that hurt him last year. And, fortunately for bettors interested in a shot at a big payout, Newman can still be had at 50/1 at Bodog.
Kurt Busch faltered a bit down the stretch last year to finish 11th overall, then went off at between 15/1 and 20/1 on most Sprint Cup boards this year. The elder Busch's best finish this season is a fifth at Daytona, and he's finished in the bottom half of the field just twice. So the 2004 champion has himself in decent position, and his odds have actually gone up at some outlets. BetOnline is offering Busch right now at +4,000 to win his second Cup championship this season.
Bowyer made the Chase last year, and went off getting about 20/1 to win the Cup at most sportsbooks this year. He's got a couple of runner-up finishes this season, and four other top-10s, but also a couple of finishes in the 30s. So his odds have risen to 30/1 and +3,000 on the Sprint Cup boards at Bodog and BetOnline.
And Stewart, the last driver not named Johnson to win the Cup, went off this season at right around 11/1 on most Sprint Cup boards. And with four top-10s so far, Smoke is now getting 18/1 at Bodog and +1,800 at BetOnline to win his second title.
The Sprint Cuppers pick up their run through the 2011 points season Sunday night with the staging of the Coca-Cola 600 back at Charlotte.
Sprint Cup 2011 Futures Predictions
The Top 3 of Edwards, Johnson and Kyle Busch have separated themselves just a bit from the rest of the field, but 3/1 isn't enough to coax a bet out of us just yet. So, in search of a little better price, we like Harvick at 15/2 and Kenseth at 14/1 at Bodog to win the Sprint Cup championship this fall.