Texas Rangers vs. Detroit Tigers - ALCS Odds and Betting Predictions
by Darin Zank - 10/7/2011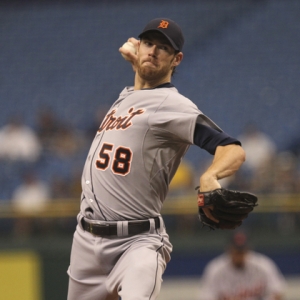 The defending American League Champion Texas Rangers are one more series victory away from returning to the World Series. The Detroit Tigers are four wins away from making it back to the Series for the second time in the last six seasons. So it's Texas and Detroit in the best-of-seven American League Championship Series, which starts with game 1 Saturday in Arlington.
Setting the Scene
The Rangers started off this season as a 10/1 choice to repeat as American League champions. Texas had lost pitcher Cliff Lee from the team that fell to San Francisco in the World Series last year, but they added a great glove and bat combo in 3B Adrian Beltre. The Rangers proceeded to fight off some injuries to some key players along the way, and finished on a 14-2 run in winning the AL West by 10 games. Texas then lost the opener of its American League Divisional Series to Tampa Bay, but won the next three games to advance to the ALCS.
Detroit went off this season getting around 15/1 to win the American League pennant. The Tigers had added RP Joaquin Benoit and C Victor Martinez to a team that went .500 last year, but they trailed Cleveland in the AL Central for a good part of the year. The Tigers then went on a 30-9 run to end the season and win the AL Central by 15 games. Detroit then dispatched of the New York Yankees in the ALDS, finishing off the series with a 3-2 Game 5 win at Yankee Stadium Thursday night.
The Pitching Matchups
Detroit manager Jim Leyland gambled and won late this week when he kept probable Cy Young Award winner Justin Verlander out of Thursday's Game 5 in New York. The Tigers won without him, and now Verlander is on schedule to pitch Saturday's ALCS opener, Game 4 and, if necessary, Game 7.
Texas, meanwhile, will go with lefty CJ Wilson on Saturday.
Detroit's Max Scherzer and the Rangers' Derek Holland are the probable starters for Sunday's Game 2.
The series then moves to Comerica Park for Game 3 on Tuesday. Colby Lewis is expected to start for Texas against Doug Fister for the Tigers.
And Matt Harrison is the expected starter for the Rangers in Wednesday's Game 4 vs. Rick Porcello for Detroit.
Game 5, if there is one, would be played Thursday in Detroit. And Games 6 and 7 would be played next Saturday and Sunday back in Texas.
Game 1
Verlander led the AL in wins, E.R.A. and strikeouts this season. In his one outing in the ALDS vs. the Yankees he allowed four earned runs in eight innings, striking out 11. And in his one start this year vs. Texas back in April he pitched a complete game, allowing two ERs on six hits. However, Detroit lost that game 2-0.
Wilson went 16-8 this year with a 3.11 E.R.A., and allowed 30 fewer hits than innings pitched. This is outstanding. But he got clipped for six ERs in five innings in his only ALDS start vs. Tampa. And in his only start this year vs. the Tigers back in April he allowed four ERs in 6 2/3 innings of work.
Game 2
Scherzer went 15-9 this year, but his E.R.A. was a little high at 4.43 and he gave up more hits than innings pitched. He threw seven innings in the ALDS, allowing just one ER on four hits. In three starts this year vs. Texas Scherzer gave up nine ERs in 17 innings.
Holland went 16-5 with a 3.95 E.R.A. this year. He pitched 6 1/3 innings in the ALDS, allowing just one ER. Holland did not pitch vs. Detroit this season.
Game 3
Lewis went 14-10 this year, which was better than his 12-13 record of last year, but his E.R.A. this season jumped from 3.72 to 4.40. He made one appearance in the ALDS, and it was a dandy, holding the Rays to one ER on one hit in six innings. But in his two starts vs. the Tigers this year he got bombed for 13 ERs on 20 hits in just 7 1/3 innings.
Mid-season acquisition Fister is 8-1 for Detroit this year with a 1.79 ERA. The six-foot-eight righthander also got the win in Game 5 of the ALDS vs. the Yankees, allowing one ER in five innings. In his two starts this year vs. Texas Fister gave up six ERs in 14 2/3 innings of work.
The Sticks
Detroit tied with the Rangers in ranking fourth in the Majors this season in team on-base percentage at .340. The Tigers also ranked 11th in home runs with 169 and fourth in scoring at 4.9 runs per game.
Texas ranked second in homers with 210 and third in scoring at 5.3 RPG.
One big difference in these two lineups is that Texas ranked fifth with 143 stolen bases, while Detroit ranked dead last with just 49 swipes. So the Rangers seem more willing to take some chances on the basepaths, while the Tigers are more likely to wait for a base hit to move runners along.
The Bullpens
The Detroit bullpen ranked just 25th in the Majors with a 3.93 ERA, while Texas' pen ranked 26th at 4.11. But the Tigers, with closer Jose Valverde going 49-for-49 in saves chances this season, has converted 84 percent of its save opportunities, while the Rangers converted 67 percent of their saves chances.
The Season Series
The Tigers took six of nine games from the Rangers this season. Three of those games played 'over' the totals, four played 'under,' and two pushed.
Tigers vs. Rangers ALCS Betting Odds
As of Friday afternoon Bookmaker is listing Texas as a -129 favorite to win this series, with Detroit getting +109 as the underdog.
Tigers vs. Rangers ALCS Predictions
The Rangers have home-field advantage in this series, and they've got the bats. But Detroit has Verlander and the edge in the pen. And with an underdog price we'll go with the Tigers to represent the American League in the World Series.