This Week in Sports Betting, A-Z
by Nicholas Tolomeo - 6/23/2011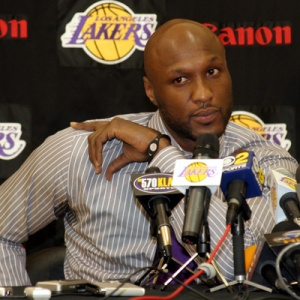 A – Ace of Spades. The Dallas Mavericks and Boston Bruins may have started a new championship tradition by popping bottles of Armand de Brignac "Ace of Spades" champagne. Billionaire owner Mark Cuban bought his team a 15-liter $90,000 bottle of Ace of Spades and the Bruins upstaged them by buying a 100-pound, 30-liter $100,000 bottle of the good stuff. Only six 30-liter bottles of Ace of Spades have ever been made. The bottle is nearly the size of the Stanley Cup. The Bruins popped their bottle at Shrine nightclub in Foxwoods Resort Casino in Connecticut (see Z for more details on that legendary bash). The Mavericks celebrated at Liv nightclub in Miami, where the $90,000 bottle made up nearly the entire $110,000 bar tab, which Cuban left a $20,000 tip on.
B – Buffalo Wild Wings. Desperate times call for free chicken wing coupons. Buffalo Wild Wings is offering anyone who "likes" the Buffalo Wild Wings Save Our Season campaign on Facebook a coupon for six free chicken wings. That is if the NFL ends the lockout by July 20. If the NFL lockout is not resolved by then and if there is no season then there are no free coupons and Buffalo Wild Wings will likely go out of business.
C – Chateau Las Vegas. Khloe Kardashian celebrated her 27th birthday at Chateau Night Club in Las Vegas with her husband, Los Angeles Lakers forward Lamar Odom, her sister, Kim Kardashian and Kim's fiancé, New Jersey Nets forward Kris Humphries. Her other sister Kourtney Kardashian was not in attendance, probably because she is not married to or engaged to an NBA player. Khloe's brother Rob Kardashian was also there; no word on whether or not he is dating a WNBA player.
D – Defensive Heisman. According to Bodog the odds of a defensive player winning the 2011 Heisman Trophy are +1000. That might seem like a lot until you realize that only once has a defensive player won the Heisman Trophy, Charles Woodson in 1997. Unfortunately there is not a "No" wager available on Bodog.
E – Error. Count the copy desk workers at the Chicago Herald as those unimpressed with Rory McIlroy's record-breaking performance at the U.S. Open. On the front page next to the masthead, Monday's headline read: Flawless, John McIlroy wins U.S. Open. Rory McIlroy sure was flawless, unlike the headline.
F – Francis Kallon. The Georgia high school football phenom has a dozen scholarship offers from BCS football schools. That is exactly 12 more than offers than games of football he has ever played. Kallon moved from London to the US last summer and the lifelong soccer and rugby player decided to give football a chance after football coach Todd Wofford noticed his 6-5, 245 pound frame. After turning plenty of heads in spring practice, the offers started rolling in and this week Kallon committed to play defensive end at Georgia Tech. But remember, we're talking about practice here.
G – Games of the Year. While the NFL season remains in doubt, we know we'll always have NCAA football. 5Dimes has posted college football odds for some of the bigger games this season, including Sept. 3 showdowns, LSU +2 at Oregon and Boise State -1 at Georgia; Sept.8: Alabama -8.5 at Penn State; Sept. 17: Oklahoma -2 at Florida State; Oct. 1: Nebraska +2.5 at Wisconsin; and Nov.25: Pitt +4.5 at West Virginia.
H – Haden, Joe. Cleveland Browns quarterback Joe Haden invited his followers on Twitter to some free sushi for lunch. Anyone who walked into Sushi Rock Tuesday afternoon and told Haden that they follow him on Twitter had their tab picked up. Fifty-five followers took him up on the offer and Haden, who showed up alone, picked up the tab for everyone.
I – International Busts Waiting to Happen. Each year the NBA Draft comes around and each year we are told about these crazy white European guys with even crazier namers. They are heralded as the next big thing, although nobody has actually seen them play. In the clips we do have of them, they are playing against white European guys with even crazier names. This year's batch of future NBA busts include Turkey's Enes Kanter, Lithuania's Jonas Valanciunas, Czech Republic's Jan Vesely and my selection to the all-name team, Spain's Bismack Biyombo. They're all supposed to be the next Dirk Nowitzki, but I'm guessing they're just the next Darko Milicic, Yaroslav Korolev, Nikoloz Tskitishvili and Rafael Araujo. If you knew who any of those last four guys were, you probably watch too much basketball, or you're Fran Fraschilla.
J – Jack McKeon. Some senile moves had to be expected when the Florida Marlins named 80-year old Jack McKeon as interim manager midseason. First the octogenarian benched his best player, Hanley Ramirez. Then he pulled his pitcher Randy Choate, in the middle of an-bat. Then there was this gem: when Logan Morrison told McKeon he was going home and playing with Twitter, McKeon asked what kind of dog it was.
K – Kelly Ripa's new sidekick. Bodog has issued odds on who will replace Regis Philbin on "Live with Regis and Kelly". Kelly's husband Mark Consuelos is the favorite at +150, ahead of Andy Cohen (+175) and longshots Ryan Seacrest (+1000) and Jeff Probst (+1200). There is an "other" option at +110. For more on Regis check out M.
L – Look alike. Just a few years ago it looked like Reggie Bush had it all, a National Championship, a Heisman Trophy and Kim Kardashian in the sack. A few years later and Bush has had to forfeit both his championship and Heisman and now instead of dating Kim Kardashian, he is hooking up with her doppelganger, the poor man's Kim K., Canadian C-list actress/singer Melissa Molinaro.
M – Michelle Beadle Porn Watching Habits. A recent episode of "Live with Regis and Kelly" took a turn for the better when porn became the hot topic. Earlier this month Beadle admitted to watching the awesome Erin Andrews peephole video, Regis Philbin asked the obvious follow up question. "I suppose you check out the porn," Philbin asked a shocked Beadle, who was filling in for Kelly Ripa. Beadle then asked if they were allowed to talk about that and Philbin began yelling porn louder and louder. "I can't believe Regis Philbin is asking if I watch porn," Beadle said. "This is the greatest day of my life." Beadle did finally admit to having watched porn, although she called it freakish. That just lets you know the kind of porn that she decides to watch.
N – Nowitzki, Dirk. With the NBA Draft on everyone's mind and with Dirk Nowitzki fresh off his first NBA title and NBA Finals MVP, now is a good time to look at one of the worst trades in North American sports history. In the 1998 NBA Draft the Milwaukee Bucks picked Nowitzki ninth overall only to trade him to Dallas for sixth overall pick Robert Traylor. Nowitzki just won an NBA title and passed Ray Allen and Clyde Drexler on the all-time scoring list and Traylor just passed away.
O – Opening Game Line. Online sportsbook 5Dimes has NFL point spreads posted for the opening week of the NFL season if, god willing, it ever gets here. The season opens in Lambeau Field where the five-point favorite Green Bay Packers host the New Orleans Saints. The 'over/under' is 47 and the odds of you getting way too excited just reading that is -3000.
P – Playoffs?! The NBA Playoffs and NHL Playoffs felt more like regular seasons. Thanks to a number of Game 7s and very few sweeps and way too many off days between rounds, the NBA playoffs dragged on for 58 days while the NHL playoffs went for a staggering 62 days, that's two months!
Q – Quebec MMA. Donald Brashear, the former NHL enforcer, made the almost too easy transition to Mixed Martial Arts a few weeks ago in Quebec. In his debut the 39-year old knocked out some clown named Mathieu Bergeron in 21 seconds. To be fair, Bergeron was also fighting for the first time, and it obviously showed. Brashear has signed a three-fight deal with Ringside.
R – Rashard Lewis. The only thing better than the rumors swirling of Rashard Lewis sleeping with LeBron James' girlfriend during the NBA Finals, was Lewis' response to the rumors. When asked if he was sleeping with James' girlfriend Savannah, Lewis took the airwaves and let out this gem, "The NBA, we're like a small sorority, we're like brothers you don't do that to a brother."
S – Single Michelle Beadle. In a move that was predicted here in A-Z two weeks ago, ESPN's Michelle Beadle is single. Beadle and ESPN hockey analyst Matthew Barnaby parted ways after dating since last Fall. This comes in the same month that Beadle admitted to watching porn (see M) and admitted to watching the Erin Andrews peephole video. She is now automatically the most eligible bachelorette in the world.
T – Theft of Cheesesteak. NFL free agent Raheem Brock, is taking the whole free agent thing literally. He apparently thought $27 worth of cheesesteaks were free, too, when he dine dand dashed on a tab at Copabanana last week. Brock did not get too far, he stopped at Ishkabibble's Eatery for more cheesesteaks and that is where cops caught up to the former Colt and Seahawk and arrested him.
U – Underdogs. At this rate we'll never witness a Triple Crown winner in horse racing. After Ruler On Ice won the 2011 Belmont Stakes with odds of 24-1, he became the fourth consecutive horse to win the Belmont with odds of 11-1 or worse.
V – Vancouver Pizza. The Canadian pizza chain formerly known as Boston Pizza spent $20,000 to rename 62 stores as Vancouver Pizza during the Stanley Cup finals. The pizza joint hung banners bearing its temporary name and slapped Vancouver Pizza stickers all over its pizza boxes. Of course, the valiant effort did not work out as the Bruins won in seven games and Vancouver rioters and looters probably even shattered some windows and stole some dough from the restaurant.
W – Whitney Wonnacott. NBA Draft entries are not the only ones waiting to cash in at the NBA Draft. Jimmer Fredette's girlfriend Whitney Wonnacott could barely contain her excitement for the upcoming draft and upcoming multi-million dollar contract her boyfriend was in line to receive. A full 48 hours before the draft Wonnacott tweeted this, "Time to pack, 3:00 am wake up call. SO EXCITED! Thursday can't come soon enough." The former BYU basketball player and cheerleader may even end up back in Utah if the Jazz select them. It will be just like college except this time they'll be allowed to have sex.
X – XLV lawsuit. It has been more than four months since Super Bowl XLV, and anybody that was even looked at the wrong way by Dallas Cowboys stadium event staff is still suing the pants off Jerry Jones and trying to squeeze every dollar they can out of this situation. The displaced Super Bowl ticket-holders have already been repaid travel, meal and lodging expenses and given the scalped value of their Super Bowl tickets but now they want to be compensated for lost income as well as other expenses for traveling to Arlington, Texas, to be a part of the class action lawsuit. Even the lawsuits are bigger in Texas.
Y – Yankees Tommy John surgery – Anyone ever wanting to see what a recently operated arm of a Tommy John patient looks like, needs only to look to Joba Chamberlain's Twitter feed. He tweeted pictures of his surgically repaired right arm almost immediately after the surgery with no surgical wrap on his arm. Needless to say you can see why it takes nearly two years to return to pitching.
Z – Zdeno Chara. It didn't take long for pictures of Boston Bruins defender Zdeno Chara chugging everything in sight to reach the Internet. Since they won the Stanley Cup the Bruins are partying like there will never be another NHL season or day on Earth, for that matter. Their biggest throw down featured a $156,679.74 bar tab complete with a $100,000 bottle of champagne (see A). Someone snapped a picture of the actual bar tab, an entire tree had to be killed to print all the booze on it the Bruins bought including 136 Bud Lights (take that Canada), 35 Jager bombs, 67 bottled waters (huh?), plenty of Grey Goose drinks and a few Coronas and Heineken Lights.