Wimbledon Odds: Semifinal and Final Predictions
by Christopher G. Shepard - 6/29/2011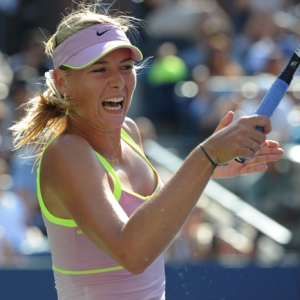 For just the second time in 11 years a woman named Williams will not play in the Wimbledon women's final as both Williams were upset in the fourth round. Meanwhile, on the ATP, by virtue of upsetting Roger Federer in his epic, come-from-behind five-set quarter-finals match win, Jo-Wilfried Tsonga has earned the right to play Novak Djokovic in the gentlemen's semifinals.
Rounding out the less-than-usual suspects, Andy Murray will face Rafael Nadal while Maria Sharapova will have her hands full with hard-hitting German Sabine Lisicki. Victoria Azarenka will continue her inspired play against Petra Kvitova in some exciting semifinal matches at the Championships at Wimbledon starting this Friday. One thing is certain: the men's and women's Champions will come from these eight players and I'll try to make some winning Wimbledon predictions for the final six matches at Wimbledon.
Wimbledon Odds: Ladies Semi-Finals
Maria Sharapova (-2.90) vs. Sabine Lisicki (+2.15)

One thing is certain about this year's tournament: this will be the first time there is a winner since 2006 not named Williams. In 2006 it was Amelie Mauresmo who won the title, and way back in 2004 it was Sharapova. Sharapova, and the other ladies left in the venerable grass court tournament, must have breathed a sigh of relief when both Venus and Serena were knocked out on the same day (perhaps the sisters should have entered the doubles tournament as well). However, as hard as it is to believe, Sharapova is the only active woman here that has won a Wimbledon championship.
Now I got that out of the way, seven years is a long time to reach back and remember what victory on center court tasted like, especially when you have the wildcard Lisicki across the court from you. Germany now has their first Wimbledon ladies semifinalist since Steffi Graf in 1999. Sharapova has experience on her side, but Lisicki has nothing to lose. Everything tells me that this one will be a toss-up. But I am backing the woman with the better serve. Lisicki leads all women with 44 aces at Wimbledon and has won 11 straight grass court matches; make that 12.

Pick! Sabine Lisicki, (+2.15)
Victoria Azarenka (-1.05) vs. Petra Kvitova (-1.25)

No.4 seed Victoria Azarenka beat Tamira Paszek relatively easy to get to her semifinal match with upcoming WTA star Petra Kvitova. This puts Azarenka in the semifinals for the first time ever, and I wonder if Azarenka won't end up with a "just-happy-to-be-here" moment. Kvitova made her second consecutive Wimbledon semifinal after outlasting Venus Williams'-killer Pironkova.
The one distinct advantage I see in this match that either woman could win is that Kvitova is a lefty and that could give Azarenka fits. The courts at Wimbledon have been slow and the players have complained that it is like playing on clay. This might play to Azarenka's strengths if she doesn't have any lagging health concerns. The only thing I am sure of is that this will go to three sets. Since I picked Kvitova in my Futures article a couple of weeks ago I am not about to go against the hard hitting Russian now.
Pick! Kvitova (-1.25)

Gentlemen's Semi-Finals
Jo-Wilfried Tsonga (+1.90) vs. Novak Djokovic (-2.40)

Jo Wilfried Tsonga's biggest win of his career arguably came against Roger Federer in a five-set thriller on Center Court at Wimbledon on Wednesday. Federer is now 178-1 after leading two sets to love over the course of his career. I think it is safe to say that Jo-Willy played the match of his life, coming back from two sets to love to beat 16-time Grand Slam winner Federer in the quarterfinals at Wimbledon yesterday.
The No. 12 seeded Tsonga's reward is to play No. 2 seed Novak Djokovic, and Tsonga will be tested mightily by the hot-hitting Serb. If Djokavic can make it past Tsonga and somehow win Wimbledon, he will be the ATP No.1 player in the world. Tsonga, however, has a 5-2 head-to-head record against Djokovic and beat Djokovic the last time these two players met in the quarterfinals of the 2010 Australian Open. And from 2008-2009 Tsonga ripped off four consecutive wins against Djokovic.
However, there is a big bounce factor for Tsonga in this matchup. You don't beat Federer at Wimbledon every year, and so the question is will Tsonga be able to rally after today's emotional victory. Djokovic is 82-9, or 90 percent, in matches over the course of the past 12 months. Djokovic didn't look especially awesome in his four-set quarterfinal match to the 18-year-old qualifier Tomic today. And given the fact that Djokovic choked against Federer at the French Open, I am going to back Tsonga at +1.90 on Friday for the upset.
Pick! Tsonga, (+1.90)
Andy Murray (+1.80) vs. Rafael Nadal (-2.20)

If this semifinal match feels like déjà vu all over again, then you are not alone as this is a rematch of the French Open semifinal from about a month ago. Nadal beat Murray in straight sets, but at times had a hard time putting him away. He moved on to the finals and beat Federer for his sixth French Open title in seven attempts. The win also increased Nadal's lead over Murray to 11-4 in head-to-head matchups. You might not remember, but in the first match these two played together was in the fourth round of the Australian open in 2007. Murray, then 19, was out-conditioned by Nadal when he twice lost a one-set lead and ultimately lost 6-7(3) 6-4 4-6 6-3 6-1.
However, Murray has had a modicum of success against Nadal at this year's Australian Open when Nadal retired in his quarterfinal match against Murray. Nadal also lost to Murray at the US Open semifinals in 2008. However, in the two times these players have met at Wimbledon Murray has lost in straight sets both times. In Nadal's quarterfinal, against the hard serving Marty Fish, he dropped the third set, but won in four while Murray made it look easy in his straight-sets win against Feliciano Lopez.
Pick! Andy Murray, (+1.80)
Who will win the Championships at Wimbledon 2011?
If Murray can get past Nadal I think he will be in great position to bring the Gentlemen's Championships back home to England. In my Wimbledon futures article I picked Murray as my long-odds selection at 8/1. Those odds have dropped to 4/1, but my opinion still hasn't changed, I like Murray to pop his cherry and win his first Grand Slam title, most fittingly at Wimbledon. As for the women, the only active player in the WTA to win Wimbledon in the past 10 years not named Williams is Sharapova. The question is whether this will give her an edge in her remaining matches. No doubt Sharapova looks determined to get to the Finals again, but she might run into a buzz saw named Lisicki. If that does happen then experience won't matter. I am sticking with my earlier long shot pick, Kvitova, who has inspired me even more than she did at the start of the fortnight when she was set at 8/1. Her odds have halved, but you can still quadruple your money if you back the other Russian.
Ladies Champion Pick! Petra Kvitova, (4/1)
Gentleman's Champion Pick! Andy Murray, (4/1)
Odds to Win Gentleman's Wimbledon Championships
Rafael Nadal (2.40/1)
Novak Djokovic (3.25/1)
Andy Murray (4/1)
Jo-Wilfried Tsonga (7/1)
Odds to Win Ladies Wimbledon Championships
Maria Sharapova (2.40/1)
Petra Kvitova (4/1)
Victoria Azarenka (4/1)
Sabine Lisicki (5.50/1)