2012 French Open Tennis Predictions
by Trevor Whenham - 5/31/2012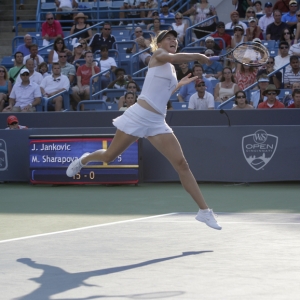 The French Open is chugging along on the clay of Roland Garros in Paris. As we look ahead to the second round there have been some surprises, and lots of things that have gone just as expected. Here's a look at some betting possibilities for the second week of the tournament along with some 212 French Open tennis predictions:
Women's Draw
Handicapping the women's side in this tournament was relatively simple — there was Serna Williams and then there was everyone else. The American had played very well on clay lately, she is always dangerous at Roland Garros, and she is much closer to the end of her career than the beginning, so she should be motivated to take advantage before the window slams shut. In one of the strangest occurrences in the history of the tournament, though, Williams totally collapsed in her opening-round match. She was up a set and 5-1 in the tiebreak against a totally outmatched opponent, but then she fell apart. She lost the tiebreaker, cried between sets, fell down 0-5, fought back, and then lost after beating off eight match points.
With Williams out of the picture the field couldn't be more wide open. There is not a dominant player in the sport right now, so you could make a strong case for several players — top seed Victoria Azarenka, Maria Sharapova, Agnieszka Radwanska, Samantha Stosur, Li Na, Caroline Wozniacki, and so on. We've already seen four of the top 12 seeds fall through almost two rounds, and things will get shaken up even more. The best handicapping tool for this tournament is likely a dart board. The good news for bettors, at least, is that uncertainty can lead to nice payoffs when you get things right.
If I had to pick a final right now it would be Maria Sharapova and Samantha Stosur. With Williams out of the way Sharapova is the most decorated remaining player. She's fighting to rediscover her form, but she was a finalist at the Australian Open this year and is playing well. Her path could be tougher. Stosur broke through with her win at the U.S. Open last year, but she was a finalist in the French in 2010, and a semifinalist the previous year. Her draw is relatively smooth, and she has looked strong so far in the tournament. She's older and wiser than much of the field, and that experience could be useful in this mess of a tournament.
Men's Draw
The men's side hasn't been anywhere near as tumultuous as the women's draw. All of the top 14 seeds, and 20 of the top 22, have survived at least the first round. Alexandr Dolgopolov — the 16th seed — was the only man in the Top 22 to lose in the first round — Feliciano Lopez withdrew with an injury. Any of the losses for seeded players that have happened can't be seen as a big surprise — like Andy Roddick losing on clay to anyone, never mind a French player.
There are still three names that matter above all in men's tennis, and all three have taken care of business without raising any real concerns so far. Top-seed Novak Djokovic needed a tiebreaker to win his first set, but then he cruised through his next five without breaking a sweat. Second-seed Rafael Nadal barely needed to take his jacket off to win his opening match. Third-seed Roger Federer dropped one set in the second round in a long tiebreaker, but he bounced back very strong in his next set to end the match. None of those three look to be going anywhere until they run into each other — which is how it has been for years.
As always, the trick is to find the players who can provide some value beyond those top three until the semifinals because it is always hard to find value on those three very public stars. Here are three that stand out:
19th seeded Milos Raonic of Canada has been playing very well for two years, and he is poised to make a breakthrough in a Grand Slam sooner rather than later. Clay isn't his ideal surface — he's a North American, after all — but it works okay for him. He'll run into the brick wall that is Rafael Nadal in the fourth round, but he looks good to get that far — and likely as an underdog in his third-round game.
Nicolas Almagro, the 12 seed, won't get much attention from his home country press since there is a much more famous Spanard in the field. He's a clay court specialist, though, and he has two wins on the surface this year, including one last week in Nice. He would face Nadal in an all-Spain quarterfinal, but he is well poised to win three more before losing that one.
If (and when) Nadal wins this tournament he's going to have earned it. I'm about to pick the third straight potential Nadal opponent as a player to watch. It's another Spaniard, too. Ferrer has won twice on clay this year, and has been a model of consistency at the French Open — at least two wins every year since 2005. He hasn't bowed out before the fourth round in seven straight Grand Slam tournaments, and has a very comfortable draw here right up to when he meets Nadal in the quarters.