Kazakhstan vs Netherlands Picks, Predictions Davis Cup Odds 11/19/2019
by Guy Bruhn - 11/18/2019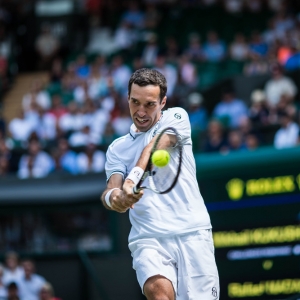 Kazakhstan vs Netherlands
5 am EST, 19th November 2019
Madrid, Spain
Hard courts (Indoor)
Last week of the season we'll see a brand new Davis Cup format. For the first time in history, there is a final tournament, where the best 18 teams are divided into 6 groups with 3 teams. Winner of each tie will be decided after two singles matches and one doubles match.
This will be the first tie in group E. Kazakhstan and Netherlands need this win to keep their hopes alive, because they both have Great Britain on-deck which is the clear favorite in this group. Kazakhstan might sound like an exotic tennis nation, but they could make some noise in this tournament if not taken seriously. They have two singles player that can play some very good tennis in the fast conditions. First one is Alexander Bublik, who made a nice breakthrough a couple of months ago, by playing finals in Chengdu. He was always very talented but struggled with the mental part of the game. He matured a bit and the results followed. He is scheduled to play Robin Haase in the first match tomorrow. The Dutch player went in the opposite direction in the past couple of months, falling to 161st place in the rankings. He didn't play on the main tour since the US Open. He tried to accumulate some points on challgener tour but failed miserably. Winning 3 out of 9 matches there is a disaster for a player of his caliber.
Related: Get Expert ATP Picks for today's matches
Second match will be played between Mikhail Kukushkin and Tallon Griekspoor. The young Dutch is an up and coming player, from whom they expect a lot. But I'm not sure he's ready to take on these ATP tour guys just yet. He doesn't have much experience competing at this level. Doubles are a tie where Netherlands is huge favorite. They have JJ Rojer who is one of the top doubles players in the world for many years. He will anchor the team, forming it with a solid sidekick in Wesley Koolhof. Nedovyesov and Golubev on the other side are a decent team, but their success is mostly connected with challenger tour, unlike Rojer's who won numerous titles on the main one.
Matchup
Faster playing conditions favor Kazakhstan in this spot. Bublik is all about his first strike tennis. He has a booming serve and often goes for two first serves, completely ignoring the risk of a double fault. He is an aggressive returner when the opportunity presents itself and is not affraid to move forward when ahead in rally. These conditions fit him like a glove. Haase is a tricky opponent who can slice and dice, change it up and give opponent different looks trying to throw him off. But he needs some longer exchanges in order to pull that off and he's not getting any in this match.
Speaking of Kukushkin, he plays his groundstrokes almost without topspin. His shots are flat, skid through the surface and can get to his opponent in a hurry. I'm eager to see how Griekspoor will deal with that pace and if it's going to overwhelm him or not.
Related: Get ATP Betting Tips for today's matches
Betting odds & prediction
Kazahstan is favored at -172. It might look a bit steep, knowing that the Netherlands almost certainly wins a point in doubles, leaving them no room for maneuver in case of a slip in one of the singles matches. But luckily for them, the doubles are played last, so there will be no scoreboard pressure to deal with. And I really think that they can win those singles matches pretty comfortably, considering how well equipt they are for these conditions and the current form/level of their opposition.
Pick: Kazakhstan -172