Yankees at Red Sox Predictions and MLB Series Odds
by Alan Matthews - 4/8/2011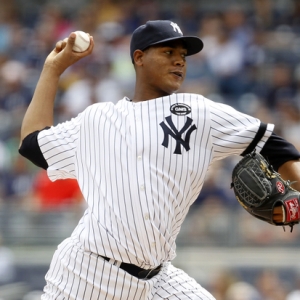 The most heated and top rivalry in Major League Baseball – or at least the most-hyped, thanks in large part to the ESPN bias in the Northeast – makes its debut on Friday afternoon at Fenway Park when the two preseason American League pennant favorites, the New York Yankees and Boston Red Sox, face off. And it's hard to panic after six games, but panic will be an understatement for Red Sox Nation if 0-6 Boston somehow gets swept in its home-opening series.
How the Teams Enter
The Yankees (4-2) beat AL Central contenders Detroit and Minnesota in two of three games each to open the season, but those came in the Bronx. Derek Jeter's quest for 3,000 hits continued as he went 2-for-3 in Thursday's 4-3 win over the Twins to reach 2,931 hits, passing Hall of Famers Rogers Hornsby and Jake Beckley on the all-time list. That game Thursday worked out well for New York because Wednesday's game was rained out, meaning the Yanks were able to skip fifth starter Freddy Garcia and go with A.J. Burnett in his normal spot.
Boston's start has been by far the most stunning thing in MLB in the early going. Apparently the Red Sox's World Series chances are already gone because no team has ever won the Series starting 0-4 and only two teams have even made the playoffs starting 0-6 (no AL club). Not one American League team that started 0-6 has finished the season in better than third place.
Getting swept at reigning AL champion Texas is one thing, but then suffering the same fate at a bad (although improved so far) Cleveland club is another. Since scoring five runs each in the first two games of the season, Boston has totaled six in the next four. The Sox are hitting .181 and are 7-of-44 (.159) with runners in scoring position. Rather ironically, with the Sox down just 1-0 in the ninth in Cleveland on Thursday, pinch-runner Darnell McDonald managed to make the final out after he slightly overran second base on a J.D. Drew single. At 0-6, the Red Sox are off their worst start since 1945, when they lost a team-record eight straight.
The good news – depending on how the Fenway faithful act – is Boston now starts a 10-game homestand. Boston and New York split 18 games last season.
Yankees at Red Sox Series Probables
Friday: Phil Hughes (0-1, 11.25 ERA) vs. John Lackey (0-1, 22.09) – This would seem the chance for Boston to get off on the right foot. Hughes allowed the Tigers five runs in four innings in his 2011 debut and his velocity is down. Lackey obviously was worse, though. He was shelled by the Rangers, allowing 10 hits and nine runs over 3 2/3 innings. Lackey was 11-5 with a 4.34 ERA at Fenway Park last season. The Red Sox are -115 favorites for this one.
Saturday: Ivan Nova (1-0, 4.50 ERA) vs. Clay Buchholz (0-1, 5.68) – You'd have to give the huge edge to Boston here. Nova was good against the Twins in his lone start, allowing three runs and six hits in six innings. Buchholz lasted 6.1 innings against Texas but allowed four solo homers. Lifetime against New York, he is 1-2 with a 5.79 ERA in five starts but he's one of the top starters in the AL.
Sunday: CC Sabathia (0-0, 1.38) vs. Josh Beckett (0-1, 5.40) – Sabathia should be 2-0, having allowed just two runs in 13 innings. He blanked the Twins over seven on Tuesday. Beckett won just six games with a career-worst 5.78 ERA last year. He allowed three runs on five hits in five innings vs. Cleveland but needed a whopping 106 pitches because his fastball couldn't finish guys off.
Yankees at Red Sox Prediction
The series line here is Boston -135/Yankees +105. I like the Red Sox to win the series by taking the first two games (they will be favored in both) – they better, because if they don't things are going to get very interesting in Boston. But there's just too much talent on that offense and I don't trust either Hughes or Nova in Fenway. Plus, just being back at home should help.
Doc's Sports has notched 5 of 7 winning nights against the MLB Odds and Doc's Baseball Picks have earned bettors a great profit the last week. We have a 6-Unit Game of the Month on board for Friday and we are very confident this one will cash the ticket.. Our baseball handicapping has been known as one of the top in the nation and a one-day package is only $30. Click Here to buy picks.