2012 Australian Open Tennis Odds and Predictions
by Alan Matthews - 1/10/2012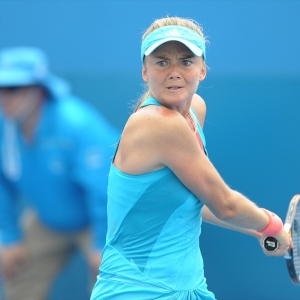 The 2012 tennis season has been underway for a few weeks but really gets its official start Monday (Sunday night U.S. time) in Melbourne with the first major of the season, the hard-court Australian Open.
Unfortunately, there has already been some attrition for the women's draw as Venus Williams has pulled out of the tournament. The seven-time Grand Slam champion hasn't played competitively since Aug. 29 at the U.S. Open. Two days later, she pulled out of that tournament, revealing that she'd been diagnosed with Sjogren's syndrome, an autoimmune disease that can cause fatigue and joint pain.
As of now, sister Serena Williams is still in the tournament. She also has had some major health issues of late and pulled out of last week's event at Brisbane with badly sprained ankle but is back on the court practicing. In her first tournament since losing the U.S. Open final in September, Williams was serving for the match against Bojana Jovanovski of Serbia when she twisted her ankle and fell to the court. She would finish and win the match before pulling out of the tournament.
Serena, seeded 13th, is a five-time winner of this tournament. She missed the Aussie Open last year due to injury. Despite all the questions, she is the 7/2 second-favorite on Bovada to win it. Williams has lost only twice at Melbourne Park since winning her first title in 2003.
You can also bet at Bovada on how many Grand Slam titles that Serena wins this year. Exactly 'one' is the +140 favorite, followed by 'none' at +150. Serena didn't win one last year, with a best finish of runner-up in the U.S. Open. She won at least one in the previous four years.
If Serena is healthy, she's still the best player on tour, so you essentially are betting on her health in this wager. I don't think there's any way she misses Wimbledon and the U.S. Open barring major injury, so I would go with the favored exactly one major, probably Wimbledon.
The women's favorite is Petra Kvitova at 3/1. Last year's Wimbledon champion is seeded second for this tournament but would be the world No. 1, supplanting Caroline Wozniacki, if she wins the Sydney International this week. Kvitova has played the Aussie Open three times, with a best finish of the quarterfinals last year.
Defending champion Kim Clijsters is the third-favorite at 13/2. She's also not 100 percent healthy. Clijsters (hip) was forced to retire from her semifinal match against Daniel Hantuchova at the Brisbane International. Clijsters struggled with injuries last season and played only eight tournaments, including the win at the Australian Open that helped her return to the No. 1 ranking for one week.
My Australian Open tennis predictions on the women's side is Aussie and No. 6 seed Samantha Stosur at 10/1 odds. The reigning U.S. Open champion was just routed in Sydney by Francesca Schiavone and it was her second straight loss, but that extra time off might actually be a good thing in terms of fitness and rest. Stosur's best result in nine Australian Opens is the fourth round twice.
As usual, all the buzz on the men's side is focused on Novak Djokovic, Rafael Nadal and Roger Federer. Djokovic, the world No. 1 and top seed, kicked off his historic 2011 season with a title here, his second Aussie Open crown (2008). The Serb is the 11/8 favorite. Last year Djokovic won three of the four Grand Slams and five Masters titles on the way to a 70-6 record and a record $12.6 million in prize money.
Last year's Australian Open final triumph over Andy Murray was the first of seven straight tournament victories in a 41-match winning streak for Djokovic that was finally ended by Federer in the semifinals of the French Open.
Federer is the second favorite at 9/2. He is a four-time winner of this event, but it's also not clear he is 100 percent healthy after pulling out of the Qatar Open with a back injury. Federer says it's nothing. He hasn't won a major since his 2010 Aussie Open crown and, in fact, has reached only one Grand Slam final since then.
Nadal (13/2) has a bit of a shoulder issue and admits he doesn't think he will win this tournament. He didn't look right in Qatar, getting routed in straight sets by Gael Monfils. Nadal already has said he plans to take several weeks off after the Aussie Open.
Bovada also offers odds on how many majors Djokovic, Nadal and Federer will win this year.
The guy I like is Murray at 5/1. The fourth-seeded Scot has reached the Australian Open finals the past two seasons and I believe he finally gets his first Grand Slam championship. Murray reached at least the semis of every major tournament last year and just won the event in Brisbane.
New coach Ivan Lendl, the former world No. 1 and eight-time major winner, could be the answer to Murray's Grand Slam drought – this will be his 25th slam and Murray is 0-3 all-time in major finals. Plus, Murray is healthy, which is a rare thing in tennis these days.