Best Under-the-Radar Pitchers for MLB Betting
by Robert Ferringo - 5/24/2012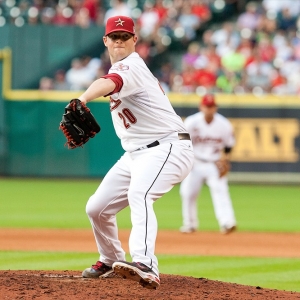 Even though they reside in one of the loudest echo chambers in baseball – an American League East populated by big market behemoths New York and Boston – the only thing more impressive about Baltimore's daring vault to the best record in the American League has been their ability to stay under the national radar while doing it.
The Orioles have been the biggest value in baseball betting so far in the 2012 season. They are 28-17 on the year and have earned MLB handicappers betting $100 per game on them a sensational $1,670 in profit to start the year. They have shown more than a 33 percent return on investment overall in just over a quarter of the season despite the fact that they were (and probably still are in most circles) expected to finish in the division's basement.
To put that in perspective, Texas has started the year 27-18, just one game off of Baltimore's pace in the American League. But Rangers bettors would merely be even on the season if they had backing Texas with $100 per game.
Baltimore's inspired start has come mainly as a result of a quick-strike offense, which leads baseball with 69 home runs and is ranked seventh in scoring with 208 runs in 45 games. The Orioles have been getting it done with late-game heroics, as their 72 runs in the seventh inning and beyond is No. 3 in baseball.
As good as Baltimore's offense has been, baseball odds are set each day primarily based on the starting pitching matchup. Baltimore's starters have been poor so far this year while posting a combined 4.31 ERA, good for No. 23 in the league. But this dichotomy – their subpar pitching and their intense offense – has created the perfect storm of value for the O's and has led to a windfall for backers.
As a result, the Orioles presently boast three of the top 12 most profitable starting pitchers in baseball. And while the rest of the best include names like James Shields, Cole Hamels and Zack Greinke, Baltimore's Wei-Yin Chen (6-2, +575), Jason Hammel (6-2, +475) and Tommy Hunter (6-3, +460) have managed to be the No. 6, No. 10 and No. 12 most moneymaking arms in the game, respectively.
Hunter has an ERA over 5.00 and has been a major beneficiary of run support. But Hammel and Chen have been sharp this season. Hammel has a 3.12 ERA and five of his eight starts this year have been of the quality variety. Chen, a Taiwanese rookie free agent, gave up six runs in four innings in his last outing. But prior to that he had given up two runs or less in six of his first seven starts.
Whether you think that Baltimore can keep up the pace in the toughest division in baseball would have to depend on whether you think that Hammel and Chen can continue their progress. Obviously the oddsmakers are waiting for a fall, as both Hammel and Wen have been posted as underdogs in their last four starts.
So the value on these arms remain high and they could continue to be some of the most profitable starting pitchers in the Majors this year. Below is a list of five more under-the-radar value pitchers that the books and general public baseball bettors haven't caught up with yet:
1. Bud Norris (8-1, +870)
The Astros have to be one of the more pleasant MLB betting surprises this year. They are just two games under .500 (21-23) just one season after losing 106 games. One of the main reasons is that their team ERA is No. 7 in the league at 3.44. Norris has been even better than that, sporting a 3.14 ERA on the season and a 0.34 ERA over his last four starts. Norris has won five straight starts and still has not been posted as higher than a -115 favorite. To this point he has been the best bet in baseball.
2. Gio Gonzalez (8-1, +700)
The Gonzalez trade received almost no publicity during the offseason but has been paying huge dividends for the first-place Nationals. After a shaky opening start – which the Nats still won 7-4 – Gonzalez has posted seven of eight quality starts. He has been a favorite of more than -135 just one time this year despite the fact that he has a sparkling 1.41 ERA in his last eight appearances. His value, and that of the Nats, won't hold for much longer.
3. R.A. Dickey (7-2, +575)
The knuckleballer is one of the most interesting people in baseball. And to this point of the season he has also been one of the most effective. Dickey is the last knuckleballer in the Majors and he has been befuddling his opponents. Dickey has seven of eight quality starts. And if you take out his eight-run appearance at Atlanta on April 18 he has a scant 2.04 ERA and a WHIP at 1.00. And the good news for Dickey backers: knuckleballers generally only get better as the season wears on and as they gain more control over their floater.
4. Chris Capuano (7-2, +525)
The entire Dodgers pitching staff has been a revelation, with Ted Lilly (5-1, 3.14) and Aaron Harang (3-2, 4.36) each chewing up quality innings. But Capuano is a great story. He had been left for dead prior to signing with the Mets last year and started just nine games from 2008 to the start of last year. The lefty has been nearly as good as Cy Young-winner Clayton Kershaw but has only been posted as a favorite of more than -135 one time on the year. Capuano is a former Brewers ace and won 18 games back in 2005, so he is no stranger to success. As long as the Dodgers stay hot around him I'm sure he'll keep rolling.
5. Lance Lynn (7-2, +440)
The belief was that Chris Carpenter or Adam Wainwright would be the ace of the Cardinals staff. And after his hot start Kyle Lohse even seemed like a viable leader. But Lynn has been the most consistent arm in St. Louis' stable this year and he has given up over three runs in just one start on the season. Lynn has been more hittable lately, posting a 5.00 ERA in his last three starts. And he has only taken the hill as a starter 11 times in his career so we have to watch him carefully. But the righty has been devastating against division rivals, posting a 5-0 record and 1.59 ERA in his five starts against Central foes.
Doc's Sports is offering $60 worth of Robert Ferringo member's baseball picks absolutely free – no obligation, no sales people – you don't even have to enter credit card information. You can use this $60 credit toward any of Robert Ferringo's MLB picks packages. Click here for more details and take advantage of this free $60 picks credit today.