College Football Power Rankings: Ferringo 15
by Robert Ferringo - 10/31/2012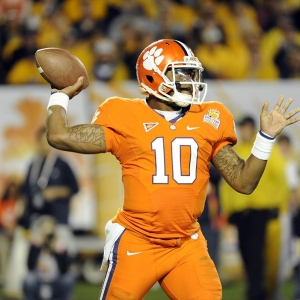 The Ferringo 15 made it a three-week winning streak as our top college football profit makers went 8-7 against the spread last week. That came just one week after an incredible 11-3 ATS effort from our teams and last week's small win may be the signal that the books have caught up with these top moneymakers.
That said, it was another awesome week for the top six teams on our list. They again went 5-1 ATS, and now over the last five weeks the teams listed No. 1 thru No. 6 have gone an eye-popping 22-5-1 ATS.
Over the past five weeks the Ferringo 15 teams have gone 42-25-1 ATS.
Again, the books are on to these teams. And it won't be long until they have priced our top-tier moneymakers out of the market to where the value is betting against them rather than betting on them. We'll see if that starts this week.
With that in mind, here are this week's Ferringo 15 college football power rankings (all records are ATS against the closing line) for what have been the most valuable teams in college football betting so far this year:
1. Utah State (8-0-1) –The Aggies remain as the nation's last undefeated team at the window. Texas-San Antonio didn't test them last week, as USU staked a 41-3 lead early in the second half before some garbage scoring by the Roadrunners. Utah State is a massive favorite again this week against an FBS neophyte. The Aggies have a key game with Louisiana Tech on deck, but they have a bye week in between so I don't think that Utah State will be holding back against Texas State this week.
2. Kansas State (6-1-1) –I think that Colin Klein's ascension to Heisman Trophy favorite may actually hurt K-State's overall value at the window. People are curious about this kid and this team, and that should mean an influx of heavy public money on them. They have triple-revenge for three straight tough losses to Oklahoma State, and the host Wildcats are actually 3-1 ATS in their last four in the series. Oklahoma State is exactly the type of soft, pass-happy team that K-State has feasted on this year. We will see if Bill Snyder's group, which is 21-6-1 ATS in its last 28 conference games and 15-5-1 ATS in its last 21 overall, can keep cashing.
3. Fresno State (8-1) – The Bulldogs are 33-point favorites this week against a Hawaii team that is clueless, rudderless and talentless. This one will come down to how much mercy Fresno State has for the Rainbow Warriors. Host Fresno nearly lost to Hawaii, 24-21, last year on the islands. But that game made it four straight and six of seven times where the road team has won in this series. Fresno State won 70-14 as a 21-point favorite back in 2004. Beyond that, this series hasn't been decided by the five-touchdown margin that the Bulldogs would need to cash a ticket this week.
4. Mississippi (7-1) – This week could be another spot for a breakout performance for the Rebels. Ole Miss is catching Georgia in a letdown situation after UGA's thrilling win over Florida down in Jacksonville last week. Mississippi is playing its second straight road game and its fourth road game in the last six weeks. But they have gone 5-0 ATS in their last five weeks and won last week despite being outgained by over 100 yards. Ole Miss hasn't beaten Georgia or tallied a win in Athens since 1996. I don't think that they have the goods to pull the upset this week. But if the Bulldogs are flat then Ole Miss could cash another ticket here.
5. Western Kentucky (7-1) –There are fluke wins and then there is what Western Kentucky did to cover last week at Florida International. FIU threw up on itself in the last three minutes, choosing not to punt on fourth-and-18 from their own 17-yard line in a 7-6 game with three minutes to play, and they absolutely handed WKU an undeserved cash. A flailing win like that usually is an indicator that a team is running on fumes at the window, and now might be a good time to sell on the Toppers despite the fact that they are 21-5 ATS in their last 26 games and 20-6 ATS in their last 26 Sun Belt efforts.
6. Northern Illinois (7-1-1) – Jordan Lynch is having one of the best seasons of any quarterback in the country. He has already rushed for nearly 1,200 yards while also throwing for 2,000. He has accounted for 32 total touchdowns, and this team is a one-point loss to Iowa in the opener away from being unbeaten. The Huskies are massive 35-point favorites this week against a Massachusetts team that is 0-8 and struggling to keep its head above water in its first season of FBS football. We'll see if Lynch and Co. are motivated to cover that thick line.
7. San Jose State (6-2) –I feel like the Spartans might be in a little bit of a dangerous spot this week. Am I underestimating them? San Jose has been one of the best bets in the country this year. And they are facing what has been one of the worst bets in the nation this year, an Idaho team that is 1-7 both SU and ATS. This game is on the road and has an odd number (SJSU is a 19-point favorite). Idaho is coming off a humiliating 70-28 loss to Louisiana Tech last week and has nothing to play for. But something about this week's spread just isn't sitting well with me.
8. Northwestern (8-1) – Well, I'm a big enough man to admit when I'm wrong. And I just hate when my stubbornness costs my clients money. But I have to admit that I was dead wrong on Northwestern. This team fluked its way to some wins against bad teams early in the year. But now we can't ignore what they have been able to accomplish this season. They have been a major surprise in the Big Ten Legends division, and with two weeks to prep for games against Michigan and Michigan State they have a chance to close the season with a bang.
9. Kent State (7-1) – The Golden Flashes earned their first-ever win over a ranked opponent last week when they stunned Rutgers. Of course, seven Scarlet Knight turnovers didn't hurt. And that gets to the core of the problem with KSU: their numbers are unsustainable. Kent has a ridiculous 11.5 yards-per-point average on the season, which is well below the norm. They are 5-2 against the total so far this season as well, but I have a feeling that they will be facing a scoring drought through November. They are heavy favorites against lowly Akron this week. And Kent State's rushing attack should have little problem with Akron's No. 116 rush defense.
10. Penn State (6-2) – The Nittany Lions really had a great chance to win that game against Ohio State last week. But they couldn't run the ball nor stop the run, and that ended up burying them. It is nearly impossible for this team not to have a letdown this week in Purdue. But Bill O'Brien has been masterful with this group up to this point in the season, and we will see if he can keep his charges motivated. That right there will determine the value of this team through the rest of the season. They have won five straight over Purdue and have a game at Nebraska next week. All of this sets up poorly for the Nittany Lions this week.
11. Duke (6-3) –The Blue Devils were completely overmatched and were not competitive against a physical Florida State team last week. Duke might have the same problem this week facing the speed of Clemson. Duke has to be thrilled to be bowl eligible. But that doesn't mean that this team can afford to mail in for its last three games. Duke is a two-touchdown home underdog this week and they are garnering only 16 percent of the action in their contest this week. Duke is in a bit of a danger zone, and another huge blowout loss could really break this team's confidence. They are 8-0 ATS in their last eight home games, and the home team is 8-1-1 ATS in the last 10 meetings with Clemson. But these two haven't squared off since 2008.
12. Texas Tech (5-2) –The Red Raiders can't feel too badly about being embarrassed in Manhattan last week; the Wildcats do that to a lot of people. But Tech needs to get up off the mat this week and focused for their in-state rivalry game with Texas. The Longhorns have been a debacle again this year. But I don't know that Tech is ready to head into this game as a touchdown favorite. The home team is 5-2 ATS in the last seven meetings and the Red Raiders are 47-21-1 ATS after a straight up loss. They are also 12-3-1 ATS after a loss against the spread. We'll see if they can bounce back yet again, this time against a team that throttled them 52-20 last year.
13. Oregon State (5-2) – Last week's loss at Washington could really deliver a blow to the Beavers psyche. They will need to rally, quickly, as they have a tricky home game this week against capable Arizona State before a trip to Stanford for a key Pac-12 North game. If Oregon loses to USC this week then Oregon State would control its own destiny for the Pac-12 North title. But they can only maintain that lane if they win this week. The home team has won five of six in this series and Arizona State is just 9-23-2 ATS against home teams with winning records. But the road team and the underdog are 3-0-1 ATS in this series.
14. Ball State (7-2) – The Cardinals have some extra time to prepare for a key game against Toledo next Tuesday. This will be Ball State's third straight road game, but it is also a last-ditch effort for them to get involved in the MAC West title hunt. There is no line on this game yet, but I expect the Rockets to be laying at least eight points in the Glass Bowl.
15. Clemson (6-2) –The Tigers have bounced back from an early-season stumble against Florida State. They have now won four straight games to get back into the thick of the ACC race, and the Tigers are 5-0 ATS in their last five games. This team can seemingly score at will. And it is easy to forget that Clemson was battling injuries and suspensions to key players early in the year. The Tigers have three of their last four games at home and should be mammoth favorites. But we will see if it matters against this high-flying group. Clemson is 4-1 ATS in its last five games against Duke, who was noncompetitive last week at Florida State.
Honorable Mention: Louisiana Tech (5-2-1), Florida (6-1), UNLV (5-2-2), Duke (6-3), UL-Monroe (6-2), Florida Atlantic (6-2)
The Ferringo 15 college football power rankings are my profit/power rankings. They are a ranking of the 15 teams I feel currently have the most value in college football betting. It is a not merely a reward for past achievement at the window, but more a total overview of past, present, and future projected achievement against the spread.
Robert Ferringo is a professional handicapper and has posted 23 of 36 profitable months with his combined college and NFL football selections. He is looking forward to building on his stellar football handicapping resume again this week and following up last week's profit with another winner.You can check him out here.
---
Most Recent College Football Power Rankings