College Football Power Rankings: Ferringo 15
by Robert Ferringo - 10/11/2012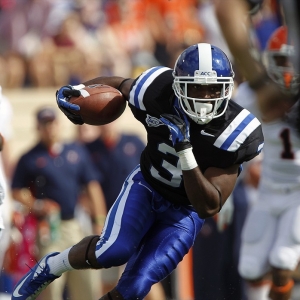 It was another successful week for the Ferringo 15, with our teams posting a profitable 7-5 record against the spread last week and running the F-15's two-week mark to 17-9 ATS. Our top six teams went 5-1 against the number, following a 9-1 mark from our Top 10 the week prior, and right now we are locked into the most valuable teams in college football.
Here are this week's Ferringo 15 college football rankings (all records are ATS against the closing line) for what have been the most valuable teams in college football betting so far this year:
1. Utah State (5-0-1) –The Aggies matchup with San Jose State this weekend isn't going to move the meter, nationally, but it is a huge game in the WAC. These two teams, along with Louisiana Tech, represent the best teams in one of the most undervalued conferences in the country. Utah State is 5-0-1 ATS in its last six games and has been a strong road team. They are coming off an emotional 6-3 loss to rival BYU last week and are just 2-5 ATS in WAC games.
2. Kansas State (4-1) –This team is absolutely no joke. They have been thrashing people and that was a very impressive second half performance (35-2) against rival Kansas last week after a bit of a slow start. They will have a dogfight with Iowa State this week, with a trip to Morgantown against West Virginia on deck. But K-State is 6-1 ATS in its last seven road games and is 20-7 ATS in its last 27 Big 12 games. Their last four tilts against the Cyclones have been decided by just seven, seven, one and eight points, so these games are always tight.
3. Penn State (5-1) –Penn State was sharp again last week and this team just continues to improve. That is now five straight wins against the spread and four straight double-digit wins. But they have three of their next four games on the road and a home game against Ohio State. So the sledding gets tougher. But the value on this team is still very high.
4. Fresno State (6-0) – That is now seven straight ATS wins and an 8-1 ATS run going back to last November. Now they have to take on a Boise State team that has been nearly unbeatable at home over the last half-decade. Fresno has lost 57-7 and 51-0 over the last two years and haven't held the Broncos under 50 points in the last four years. They are also 1-9 ATS in the last 10 meetings, so Fresno obviously has a lot of ground to make up.
5. Mississippi (5-1) – The Rebels don't have long to hang their heads after letting one get away against A&M last week. They easily covered as 12-point home underdogs and have beaten their last three spreads by a combined 43 points. I think the Rebels are favored this week more due to the fact that Auburn has been a walking disaster rather than what Ole Miss has pulled off over the last month.
6. Western Kentucky (5-0) – The Hilltoppers just keep on rolling. This team has covered the spread in 10 straight games going back a full year. They take on Troy tonight in a key Sun Belt clash and face a very beatable line. WKU's quarterback, Kawaun Jakes, is a bit banged up. But WKU's strength is in the running game and on defense, so that shouldn't be a concern here. WKU won 41-18 last year and have most of the primaries back from that blowout win.
7. San Jose State (5-0) –SJSU had a 33-21 lead with less than six minutes left in the fourth quarter last year in their game at Utah State. But they gave up two touchdowns in the last 5:20 to fall, 34-33. The last two meetings between these two teams have been decided by a total of just five points, and three of the last five meetings have been determined by four points or less. The Spartans are on an 8-0 ATS run dating back to last year and they enjoyed two weeks of preparation time for this one.
8. Duke (5-1) – It is very difficult to imagine Duke playing much better than last week's rousing 42-17 thrashing of Virginia. The Blue Devils already have five wins but need at least one more if they want to achieve their dream of reaching a bowl game. I don't know if they are going to find it this week against an ornery Virginia Tech team coming off a loss. Duke also has a huge Tobacco Road rivalry game next week with North Carolina. This week is not a good situation for the Blue Devils.
9. Texas Tech (4-1) – We are about to find out if the Red Raiders are still a bit undervalued or if they have been exposed. This team has been able to coast against a pathetically easy schedule. And Oklahoma brought them back to reality last week. But Tech has a chance to bounce back against an emotionally-drained West Virginia squad this week. The Red Raiders are 6-2-2 ATS after a double-digit loss at home and they are 46-21-1 ATS after a loss.
10. Oregon State (3-1) – The Beavers lost quarterback Sean Mannion for the year, and it will be interesting to see how they handle losing their leader. This team has been off to a great start, going 4-0 SU and 3-1 ATS. But now they are turning to unknown Cody Vaz. Oregon State has its sights set on the Pac-12 title, so this week's nonconference game at BYU may be more of a "practice" game as they try to find Vaz's comfort level. But as the No. 14 team in the nation, the Beavers don't really have the benefit of taking weeks off. And BYU has already lost to one backup quarterback this year (Utah).
11. South Carolina (5-1) – The Gamecocks demolished Georgia in front of a national audience last Saturday night, and now they are on the short list of teams playing for the National Championship. They are by no means underrated. But, as I have pointed out in this space before, each season several of the BCS teams are among the most profitable teams in the nation. Going to Baton Rouge and winning a night game is something that only one team has done in the last 31 chances. We will see if the Cocks are truly title contenders if they can topple LSU this week.
12. Northern Illinois (4-1-1) – This team can move the ball a variety of ways and quarterback Jordan Lynch is on pace to put up some serious run-pass numbers. This team hasn't really shown a third gear to blow people out. But they are going to need it. They face Buffalo as a 13-point favorite this week and have games against lowly Akron and Massachusetts in the next four weeks as well. The Huskies are 13-6-1 ATS in their last 20 MAC games and they are 5-0 ATS in their last five home games.
13. UCLA (4-1) –This is really a critical week for the Bruins. A weak Cal team humiliated them last week, 43-17. Now they get a chance to go home and take on a Utah Club that's had an emotional month. The Bruins have lost two of three games after their hot 3-0 SU and ATS start. UCLA hasn't beaten any good teams yet this year. But it remains to be seen if the Utes fall into that category. UCLA also has revenge for a 31-6 bludgeoning in the Land of the Mormons last year.
14. Arizona State (4-1) –Todd Graham is another one of those coaches that seems like he won't hesitate to bury a conference rival. The Sun Devils are three-touchdownfavorites in Boulder this weekend and they hammered Colorado 48-13 last year. So they can essentially pick their own score here. But ASU has a date with Oregon down in Tempe next weekend. So even though Graham's group has had two weeks to prepare for Colorado, you have to think that they spent a lot of that extra prep time working on the Ducks. We'll see if it has an impact on this week's performance and if ASU is distracted on the road this week.
15. Cincinnati (3-0) –Yes, it is odd that the Bearcats have played only three lined games. But they have performed well in them. And thrashing in-state rival Miami, OH was a bit more difficult than the Bearcats made it look. Oh, look, another un-lined game against Fordham this week. (Seriously, who made this schedule?) But tough games at Toledo and at Louisville are right around the corner, so we'll find out what these guys have got soon enough.
Honorable Mention: Florida, UL-Monroe, Troy, and Toledo
The Ferringo 15 college football power rankings are my profit/power rankings. They are a ranking of the 15 teams I feel currently have the most value in college football betting. It is a not merely a reward for past achievement at the window, but more a total overview of past, present, and future projected achievement against the spread.
Robert Ferringo is a professional handicapper and has posted 23 of 35 profitable months with his combined college and NFL football selections. Robert has banked nearly $10,000 in football profit over the last 11 months he has had football picks and will keep it going this week. He is looking forward to building on his stellar football handicapping resume again this fall and you can check him out here.
---
Most Recent College Football Power Rankings