College Football Power Rankings: Ferringo 15
by Robert Ferringo - 8/28/2012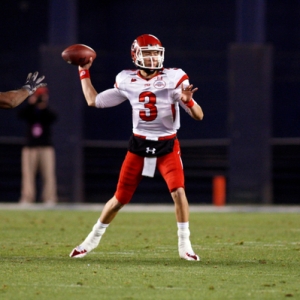 College football is just days away and you know what that means: time for the Ferringo 15.
The Ferringo 15 college football power rankings is my own twist on the obsessive ranking systems that pervade this sport. The Ferringo 15 is my profit-power rankings and a rating of the 15 teams that hold the most value in college football betting at the moment. It is a reflection of past, present, and projected future achievement against the spread.
The Ferringo 15 is a fluid list. As the betting markets adjust to teams and situations the perceived "value" of the teams on my list will change. This is like a list of stocks whose values will increase or decrease based on how they perform and how expectations from the general betting public change toward them.
Last year the initial teams in the F-15 went on topost a pedestrian 103-87-3 record on the year. That is a modestly profitable 54.2 percent on the year for people who blindly bet those 15 teams.
Those numbers are nothing to write home about. However, by early October the F-15 really has a total read on the college landscape. The 15 teams in the Ferringo 15 last year in early October went on to finish the season a combined 125-67-3 ATS. That is an amazing 65 percent mark over the course of the season!
And even though these teams had already achieved a lot of ATS success prior to breaking into the F-15, 12 of those teams (three others had severe injuries issues), combined to go 41-32-1 (56.2 percent) from the start of October on.
So while the Ferringo 15, on its own, is no guaranteed moneymaker, it does serve as a solid touchstone or road map for finding undervalued teams in college football. And with that in mind, here is my 2012 Week 1 Ferringo 15 college football rankings (all records are ATS against the closing line):
1. Illinois (0-0) – I'm expecting big things from Illinois this year. It is impossible to overstate what a horrendous in-game coach Ron Zook was. The man was a disaster. But just like he did at Florida, Zook could recruit up a storm and left a stable of talented athletes behind when he was run out of town. Now it is up to Tim Beckman to pick up the pieces. Beckman has seven starters back from a Top 10 national defense as well as a three-year starter at quarterback that is a potential league player of the year. The schedule has one tough spot – back-to-back road games in early October at Wisconsin and at Michigan – but other than that the Illinois football schedule is very manageable.
Remember: this team hasn't received a single Top 25 vote coming into the 2012 season. But last year they were No. 16 in the country before a six-game losing streak sabotaged their season.
With Penn State and Ohio State ineligible for the postseason, that basically just leaves Wisconsin and Illinois to fight for the Big Ten Leaders Division crown. I think that too many people are taking for granted that Wisconsin is going to go to back-to-back title games. I actually give Illinois a slight edge. The Illini are either going to go 6-2 and win the division or they will go 5-3 and the winner of the Oct. 6 matchup with the Badgers will advance on a tiebreaker. But I think Illinois wins nine games in the regular season and they will be in the mix for the conference crown.
2. Boston College (0-0) –Unlike Illinois, I am not predicting big things for Boston College. But they are rated this high because I think that their talent and potential far exceed their expectations. The Eagles were picked fifth in the ACC Atlantic and ostensibly chosen as the third-worst team in the conference. But this is a proud, tough program. And with 17 starters back I think they are primed for a bounce-back year. Prior to last season the Eagles had averaged nine wins per season over the past decade. They lost four games last year by one score or less while going 4-8. But this year I am predicting 7-8 wins, a bowl game, and a winning season against the spread.
3. Utah (0-0) –Much like Illinois, I think that Utah is a team that is being severely underestimated within its conference. All of the talk this preseason has been about USC's national title aspirations. But I think an unheralded roadblock will be waiting for them in Salt Lake City on Oct. 4. Utah has 16 starters back from a team that went 8-5 in a rebuilding season. The Utes lost their starting quarterback, Jordan Wynn, in their fourth game last year but still rallied to win four of their last five Pac-12 games. The Utah football schedule was brutal last year and the team had to adjust on the fly after losing Wynn. But I think things set up more favorably for them this time around. And if they can find a way to go 3-2 on the road in league play this team has an outside shot at 10 wins. Not bad for a team that is starting the year outside the Top 30.
4. Army (0-0) –Just about everything that could've gone wrong for the Black Knights in 2011 did. From turnovers to injuries to close losses, Army slogged through a disappointing 3-9 campaign. However, 2012 will be a revenge tour for this group as they play seven games against teams that beat them last season. All but two of those games are at home or on a neutral site. Army has 15 returning starters – the most they have had in six years – and a three-year starter at quarterback. This group earned a bowl win in 2010 and I think that they are headed for a winning season both on the field and at the window.
5. Purdue (0-0) –People may not realize it, but the Big Ten is really down this year. Most of the favorites have serious quarterback questions and there aren't many teams boasting much experience. But Purdue has 10 senior starters and eight three-year starters on a team that nearly doubled its win total last year. Purdue also starts out with five of its first six games at home and has a chance to build some major momentum going into conference play. If this team remains healthy (and if they get Ralph Bolden going at some point) then I think they could surprise some teams this season. Regardless, I expect them to be an undervalued commodity through the first couple months of the year and a perfect Big Ten spoiler.
6. Texas Tech (0-0) –It is kind of now or never for Tommy Tuberville. This is Year 3 of his stay in Lubbock and the Red Raiders have all of the pieces to get into the Big 12 mix. This team has 17 starters back from a team that beat powerhouse Oklahoma in Norman as a 28-point underdog last season. The Red Raiders started out 5-2 and reached No. 19 in the nation before dropping their final five games. If they can tap into the potential that they showed early last year then this team could be a major surprise. Tech has an easy opening schedule and then key home games against Oklahoma, West Virginia and Texas. I think this team is good enough to lay the wood to the lightweights and still experienced enough to hang around with the top Big 12 foes. It may be a feast-or-famine year for Tech backers, but I think they will close the season in the black.
7. BYU (0-0) –It could be a good fall for those wacky Mormons out in Utah. (Well, good for them in football, anyway!) Utah is a Pac-12 sleeper and BYU has a chance to make some major noise in the independent ranks. Riley Nelson is hoping to finally tap into his potential and leads a team that is even more experienced than its 14 starters suggest. BYU won 10 games last year, losing only to Texas, TCU and Utah. No shame there and they could be even better this time around. My favorite part about Bronco Mendenhall's group is that their toughest games are on the road. That means that this team should receive some favorable lines and has the opportunity for some nice plus-money, outright underdog moneyline wins.
8. Western Michigan (0-0) –If you have a good quarterback in the MAC then you have a chance to make some serious cash. Alex Carder is a three-year starter and one of the best mid-major quarterbacks in the nation. He is the triggerman for one of the MAC favorites this year and the reason the Broncos could be a big moneymaker. WMU nearly knocked of Illinois and Purdue, and when they won, they won big. More than half of their seven wins came by 24 or more points, and if this team stays healthy they could build on last year's 8-4 ATS mark.
9. Connecticut (0-0) –I went in-depth on why I like the Huskies when I did a breakdown of undervalued college football teams this week. The reasons are pretty straightforward: the Huskies can run the ball and play good defense in a league where that is the dominant mantra. Connecticut has 11 senior starters (seven of them three-year starters), and if they can get absolutely anything from the quarterback position (they had a four-way battle in camp this fall) then this team could be a surprise. The Huskies were picked to finish sixth by the Big East media. But if they can steal a road win against one of the top-tier teams then I could see this group vaulting to third and cashing a lot of tickets along the way.
10. Troy (0-0) –I generally stay out of the Sun Belt these days. Those small conference teams are awfully unpredictable and the college football odds on them are surprisingly tight. But even I know that Troy is set for a bounce-back season after going just 3-9 SU and ATS last year. The Trojans won five straight league titles from 2006-2010 before bottoming out last season. But with a veteran offensive line protecting three-year starters at quarterback and running back we should see Troy go back to the high-scoring attack that has dominated the SBC.
11. California (0-0) –The consensus is that Cal had a down season in 2011, going just 7-6. But when I look back at the brutal Cal football schedule I am willing to admit that this team was even better than I thought. This year Cal has just 11 starters back and lost a lot on defense. But they have a veteran quarterback, they have a coach on the hot seat that is motivated, and they have five conference home games in their brand-spanking-new stadium. This team has some good mojo heading into the year. And they have early-season road games at Ohio State and at USC. They may be double-digit underdogs in both of those games and this team has an excellent opportunity at a 4-2 or 5-1 ATS start to the season.
12. Central Michigan (0-0) –The Chippewas are the No. 2 most experienced team in the country and they are definitely a sleeper in the MAC. Stunningly, this group was picked to finish last in the MAC West…yet they still garnered one first-place vote. These guys went just 3-9 SU last year and were a pathetic 1-11 ATS, so they have nowhere to go but up at the window. They have four senior starters along the offensive line and a potentially explosive passing offense with a wealth of experience. If this team can manufacture enough stops they could come out of nowhere and find their way into the MAC title game. Five of their last seven games are at home, so if this team can escape September in one piece they could be an excellent second-half earner.
13. Central Florida (0-0) –The Golden Knights are another team that should be on a war tour throughout the 2012 season. UCF slid back to just five wins in 2011 but welcome back 16 returning starters to go with Missouri transfer quarterback Tyler Gabbert (brother of Jacksonville Jaguars starter Blaine). This team is the toughest and most physical in Conference USA and after dropping five games by a touchdown or less the Knights will be revenge-minded most of this season. They have a difficult nonconference slate, with a road trip to Ohio State and a home game against Missouri. But I think they have the goods to compete in those tilts and I think they have the will to lay some big numbers on the bottom-feeders in their home conference.
14. West Virginia (0-0) –The Mountaineers can score, score and score some more. If West Virginia gets anything from its defense this year they will be a major player in the Big 12. This team is ranked No. 11 in the nation, so it isn't as if they are being overlooked. But I think that bettors and oddsmakers are going to underestimate this team in league play. The Mountaineers don't scare easily. And their 33-17-2 road ATS mark over the last decade is among the best in the country. I think the Mountaineers will offer excellent value on the road, and because of their incredible offense this is a team that can beat some fat favorite numbers at home.
15. Fresno State (0-0) –It is the dawn of a new day in Fresno football as Tim DeRuyter takes over for long-time coach Pat Hill. I think the fresh air will do the Bulldogs good and Hill left behind a solid, experienced roster. This team went just 4-9 last year after averaging eight wins over the previous 10 years. They have 14 returning starters and a potential breakout candidate in quarterback Derek Carr, brother of former Bulldogs stud David Carr. Hill also left behind one of his patented brutal schedules, and Fresno has to hit the road to take on Oregon, Tulsa, Boise State and Nevada. However, outside of the Oregon game I think the Bulldogs could win the other three games. I am not sold on DeRuyter at all. But if the guy is ever going to do anything at Fresno this year is as good an opportunity as ever.
Honorable Mention: North Carolina State, Ohio, Oregon State, Minnesota, California, Ohio State, Georgia Tech, Florida, East Carolina, Mississippi, Kent State, Florida Atlantic, Indiana, Navy
Robert Ferringo is a professional handicapper and has posted back-to-back profitable seasons (college and pro). Robert has turned a profit in three of four football seasons and over the last nine months his clients have earned nearly $10,000 in profit with his football selections. He is looking forward to building on his stellar football handicapping resume again this fall and you can check him out here. Also, you can also get $60 worth of free Robert Ferringo member picks (no salesman, no credit card, no obligation!) by clicking here for more info.
---
Most Recent College Football Power Rankings