MLB Baseball Odds and Predictions: Prince Fielder Betting Props
by Alan Matthews - 1/26/2012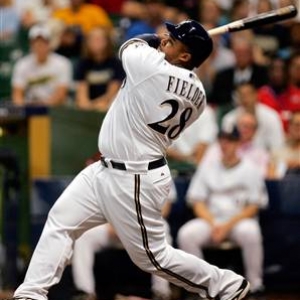 Major League Baseball's pitchers and catchers report in about a month, and it has been a memorable offseason indeed. Albert Pujols shocked the experts by leaving the champion St. Louis Cardinals for the Los Angeles Angels, who also plucked free-agent pitcher C.J. Wilson from the division-rival Rangers to become AL favorites.
The Miami Marlins were a big story, adding Heath Bell, Mark Buehrle, Jose Reyes and reportedly coming close to signing Pujols before he headed to the West Coast. The Oakland A's unloaded two All-Star-caliber pitchers as the cash-strapped team rebuilds again.
The Yankees added a stud young ace in Seattle's Michael Pineda but had to give up arguably the top hitting prospect in baseball in Jesus Montero. Curiously, before the 2010 trade deadline the Yanks were set to send a package built around Montero to the Mariners for Cliff Lee, yet Seattle balked at the last minute in that deal. Why would Seattle not deal the free-agent-to-be Lee – and it did to Texas for a package built around first baseman Justin Smoak – for Montero but instead give up a 22-year-old All-Star who is under team control for several more years? Odd.
And the Milwaukee Brewers, the reigning NL Central champions, took a blow to the midsection when it was revealed that NL MVP Ryan Braun tested positive for a performance-enhancing substance and will be suspended for the first 50 games of next season barring a highly unlikely successful appeal.
But I would argue the most shocking move of this offseason, or at least a very close second to Pujols, was when former Milwaukee slugger Prince Fielder signed with the Detroit Tigers this week for a whopping nine-year, $214 million deal.
It seemed like the Tigers were bidding against themselves this late in the year as the market had shrunk for Fielder. The big-spending Red Sox and Yankees were never in it and the Cubs really weren't either. The Angels obviously made their big move and the Dodgers are in ownership flux and couldn't really afford that kind of expenditure right now. It was thought the final players for Fielder were the Nationals, Orioles, Mariners and Rangers, with Washington the front-runner. Detroit was never mentioned.
Then Tigers DH Victor Martinez tore an ACL, ending Martinez's season before it started. He was the guy who hit behind superstar first baseman Miguel Cabrera in that lineup as Detroit reached the ALCS. But even when that injury occurred, GM Dave Dombrowski came out and said Fielder really didn't fit in the Tigers' plans. Then just a few days later: BOOM!
I don't see how this move makes much sense, considering Fielder has some weight questions and is considered just a one-dimensional player – i.e. only a hitter. Frankly, this feels like when Boston's Mo Vaughn went to the Angels, and we know how that turned out. Supposedly Cabrera will move to third base, which is where he played with the Marlins before heading to Detroit. But Fielder/Cabrera could alternate between first and DH this season because the Tigers still have 3B Brandon Inge under contract for this coming season.
Cabrera and Fielder will mash, no doubt. With those two, Detroit will begin this season with two players younger than 30 with at least 200 career home runs. That has happened only once before: At the start of the 1961 season, the Milwaukee Braves featured 29-year-old Eddie Mathews (338 homers) and 27-year-old Hank Aaron (219). Fielder hit .299 with 38 home runs and 120 RBI last season. Cabrera led the majors with a .344 average and 48 doubles. He also hit 30 homers and drove in 105.
With all that said, Bovada came out with some props on Fielder's 2012 season in Detroit. Let's look at each and give a betting prediction.
Fielder 'over/under' homers (38.5): It's clearly no secret that Detroit's Comerica Park is one of the hardest stadiums in which to homer. Since Comerica opened in 2000, the most home runs hit by a purely left-handed hitter there is 14, by Carlos Pena in 2005. But Comerica isn't exactly Petco Park and the Tigers haven't had a lefty masher like Fielder. Last season Comerica ranked tied for 14th in average homers per game at .987. Milwaukee's Miller Park, by example, was 11th at 1.062. (The Rangers' Ballpark in Arlington was No. 1 at 1.500.) Still, I like the under here. Fielder has surpassed 38.5 homers just twice. And who knows if he will be somewhat content now with his massive contract.
Fielder over/under RBI (120.5): Fielder has topped this number just once, and I like the under here as well. Prince will hit fifth in the Detroit lineup, and I think that hurts him. Why? Cabrera now has even better protection than he did with Martinez and likely will clear the bases fairly often in the first inning. Thus, Fielder could often come up with only Cabrera on base or after one of Cabrera's homers leaves the bags empty. Fielder hit cleanup in Milwaukee behind Ryan Braun, who had the speed to get in scoring position or score from second on a single. Cabrera doesn't have that.
Fielder over/under batting average (.290): Fielder has topped this two of the past three years, but his career average is .282. Sometimes it's not all that easy switching leagues at first – ask the White Sox's Adam Dunn, for example. Thus I have to go under here as well.
Who will record more homers, Pujols (-1) or Fielder (+1): Prince is the -120 favorite here. I like Fielder because of depth of lineup. Plus, I think Pujols is on his way down just slightly after hitting "only" 37 dingers a year ago. I'm sure pitchers will go around Pujols (hitting third as usual) and rather face Torii Hunter or Kendrys Morales or whomever the Halos bat cleanup. Plus, Angel Stadium was No. 25 in the majors last year in homers per game at .789.
I'm not saying the Tigers' signing of Fielder was a bad one for 2012: The Tigers odds to win the World Series on Bovada dropped from 14/1 to 9/1, which is now tied for the fourth-shortest with the Rangers behind the Phillies, Angels and Yankees. Fielder probably will go something like .280, 36 HRs, 112 RBI. MVP-caliber numbers – Bovada offers a 'yes'-only prop at +700 on whether Fielder wins the 2012 MVP (doubtful, but pretty good value).
Detroit owner Mike Ilitch is clearly going for it now, and he should with reigning AL Cy Young/MVP Justin Verlander in his prime and a full season of trade deadline acquisition Doug Fister in 2012. But I do think this huge Fielder contract will be an albatross as early as 2013.