MLB Futures Odds: Potential Longshot Payouts
by Trevor Whenham - 2/15/2012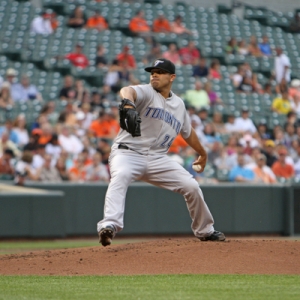 Baseball is a sport, more than some others, in which teams can rise from the gutter one season to the penthouse the next. The Twins twice climbed from the basement one year to World Series champs the next — in 1987 and 1991. Florida was below .500 the year before both of their titles. Tampa Bay won 66 games in 2007 and won the American League the next year. Last year, Arizona won the NL West after consecutive last-place finishes. The list goes on and on.
Because it is possible to rise from the ashes in baseball it's a good sport to take a look at the longshots in the pennant and World Series MLB futures pools. When the prices are as big as they can be for some of the longshots you don't have to hit them often to come out ahead in the long run. Here's a look at four teams this year that could be interesting possible longshots (all odds are from Bovada):
Toronto Blue Jays (22/1 to win the AL Pennant)
This may still be a year ahead of schedule, but I am again bullish on the Jays — like I was last year.
They have a pitching staff, led by Ricky Romero, that has the potential to be solid — and perhaps more. They have one of the best hitters in the game right now in Jose Bautista who leads a solid lineup. Young guys like Brett Lawrie, J.P. Arencibia, Travis Snider and Travis d'Arnaud are youngsters who could take a huge step forward given their sky high potential.
On top of all that they have what is quite probably the best farm system in the sport right now. They still face the challenge of playing in the AL East, but this is unquestionably a team on the rise, and soon we won't see prices like this anymore.
Cleveland Indians (35/1 to win AL Pennant)
Last year this team started out strong but couldn't maintain the momentum. There is a decent chance that the team will learn from that and move forward this time around.
In the field they have high-upside guys like Grady Sizemore (if he can stay healthy) and Asdrubal Cabrera.
Where they really shine, though, is on the mound. Their starting rotation has a chance to be as good as any with Ubaldo Jimenez leading the way for guys like Jeanmar Gomez, Kevin Slowey, Justin Masterson, and even Derek Lowe if he can discover his own fountain of youth.
Manny Acta is in the third year as manager, and he has the team moving in the right direction. It's been a long time since the Indians have been relevant, but their renaissance could be close at hand — at least closer than it has been for a long time.
Kansas City Royals (40/1 to win AL Pennant)
Last year was a major disappointment for this team, but sooner or later this team is going to start to live up to their potential given the mountains of young talent they have.
On the mound they have young guys like Aaron Crow, Luke Hochevar, and Danny Duffy who are huge talents who could be ready to shine. Jonathan Sanchez was a very nice pickup in the offseason from the Giants to complement what they have. Joakim Soria struggled early last year, but he found his form again later on and is a top-level closer. In short, the team can pitch — or at least they should be able to.
They have no shortage of young talent in the field, either, and guys like Eric Hosmer and Mike Moustakas need to start showing what they can do. They have a long way to come, but with the drafts they have had for the last decade they will rise up sooner or later. At this price it might be worth wondering if this is the time.
Pittsburgh Pirates (40/1 to win NL Pennant)
The Pirates are the Royals of the National League — an eternally bad team that has fewer excuses now than in the past because of the young talent they have piled up. The problem they have is that they trade away that young talent as soon as it shows any promise.
Things are slowly getting better for the team, though, and they are making at least a little bit of progress. Last year they were above .500 at the all-star break for the first time since 1992. That's something to build on — even if they collapsed down the stretch and finished at just 72-90.
Andrew McCutchen struggled later in the season last year, but he's a future all-star that is someone to build around. Pedro Alvarez and Gorkys Hernandez are two other very talented young guys who need to rise up and make the most of their opportunities.
The rotation isn't as good as I would like, but they have last year's top draft pick Gerrit Cole waiting in the wings and we could see him as soon as this year. I also really like the gamble they took on Erik Bedard in the offseason.