MLB Handicapping: Pittsburgh Pirates 2012 Success
by Trevor Whenham - 6/30/2012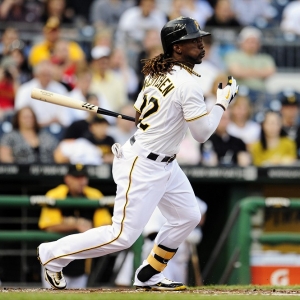 Don't look now, but the calendar is about to turn to July and the Pittsburgh Pirates are still completely relevant. You have to be pretty old to remember the last time that that happened.
They are just a game out of the National League Central race as I write this, and are in a three-team fight with Cincinnati and St. Louis for the pennant. They are right in the hunt for the wild card as well thanks to the addition of the extra spot this year.
The season isn't quite halfway over so there is still lots of time for the Pirates to remember that they are the Pirates, but for now this is quite exciting.
So, how are they doing it and, more importantly, can they keep doing it? Let's take a look:
A.J. Burnett
Burnett was a long way from impressive in his three years with the Yankees, but at age 35 he has definitely found new life this year with the Pirates. In 13 starts he is 9-2 and is the leader of this rotation. Who would have bet on that happening?
Even more impressive, he has won eight straight starts and is as confident and effective as any pitcher in baseball right now. His success qualifies in my eyes as one of the biggest surprises of the year in the league.
When you look closer, though, it's hard to believe it is sustainable.
For starters, over those eight wins Burnett has only pitched 50 innings — just over six per game. Only two other pitchers in Major League history have won eight in a row while throwing so little. Because he has not been going deep that means he has been relying as much on his bullpen and teammates as on his control. The less a pitcher's dominance is internal, the less likely it is to continue.
More significantly, there is no reason to believe that Burnett is capable at this point in his career of keeping this up. He has struggled for consistency most of his career, and he is three years removed from his best performance.
It's hard not to expect a downward adjustment from Burnett sooner or later.
Non-Burnett arms
James McDonald has been very strong this year — 7-3 with a 2.44 ERA and a microscopic 0.98 WHIP. This is well ahead of expectations for the 27 year old, but he has been progressing the last two years, and has solid upside.
He likely can't keep up his current pace, but he'll be decent the rest of the way if he stays healthy.
Beyond that, though, the rotation is imperfect.
Injuries have been an issue. Erik Bedard still hasn't recaptured his old Baltimore form, and he is just 4-8. Kevin Correia and Jeff Karstens are a combined 3-8. Charlie Morton was just 2-6 before Tommy John Surgery ended his season.
Teams that contend have to have deep, solid rotations to rely on. While the WHIP of this group has been decent the depth isn't there, and it's hard to imagine this rotation leading the way into September and beyond.
Andrew McCutchen
The centerfielder has been spectacular this year. He leads the team in most major offensive categories, and his .336 batting average and 48 RBI are particularly impressive. He's the real deal and is unquestionably the leader of this team offensively.
He's only 25 and has improved significantly in each of his three previous seasons, so it is not hard at all to imagine him continuing to be a major force for this team this year and beyond.
Non-McCutchen bats
Beyond McCutchen it's like a horror movie for this team at the plate.
The second-best regular player, Neil Walker, is hitting only .263. The team is dead last in baseball in on base percentage, 29th in runs scored, 28th in batting average, and 25th in slugging percentage. They don't have a legitimate leadoff hitter, and just aren't any good at the plate.
That would be bad news if this team could pitch the lights out, but we know they can't do that either.
Emerging youth
When a team is as bad as the Pirates have been for as long as they have been there is obviously some talent in the pipeline. The most promising help in the short-term is outfielder Starling Marte, the Eastern League batting champ last year who is lighting things up in AAA this year. He could stand to be more patient, but he looks to be ready for the bright lights, and could soon provide a much-needed spark at the plate.
The bottom line
I want to cheer for the Pirates, and for the first time since I was quite young I feel like they are definitely moving towards respectability with some inevitability.
With the combination of pitching and hitting woes, though, it's hard to imagine that this can continue as the stakes get higher and teams get more serious about winning. They have been the second kindest team for bettors behind only the Orioles so far this year, but given their deficiencies — and their major issues playing away from home — I just don't believe that the second half of the season will be nearly as rosy for this squad.