Super Bowl Quarterback Props: Betting Odds and Predictions
by Trevor Whenham - 1/31/2012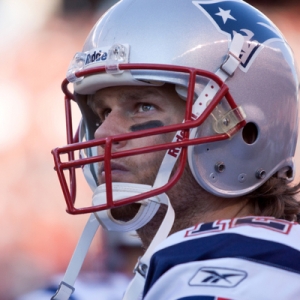 The biggest stars in this Super Bowl, like in virtually every Super Bowl, are the quarterbacks. Tom Brady is as big as a star can be, and Eli Manning has climbed to a whole new level of esteem with his performance down the stretch and in the playoffs. It's not oversimplifying the game too much to say that the player who plays best will lead his game to the win.
What adds intrigue to this game is that both guys are coming off games that weren't their best. Both faced defenses that were stout, and Manning had some ugly weather to contend with as well. Manning passed for 316 yards, but his 5.4 yards per attempt were well below a strong level. Brady threw two interceptions, didn't have a TD pass, and managed only 239 yards. Both guys were good enough to win, but they would probably struggle to win the Super Bowl with a repeat performance. That means that both guys need to bounce back strong.
So, which guy is going to bounce back well? Are they both going to have good days? Will that be enough? Let's look at the Super Bowl quarterback prop bets offered on both quarterbacks to see what can be learned, along with some betting predictions (all odds are from Bovada):

Tom Brady
Passing yards ('over/under' 320.5 yards)
The public loves passing, so it's not a real surprise that despite the big number the over is favored at -125. He exceeded this total nine times in 18 games, so it's really a coin flip.
He had 342 yards against the Giants last time. Three times during the year he had less than 250 yards in a game, and all three times he bounced back to go over this total in the next game.
Passing attempts (o/u 39.5)
At first glance this one seems pretty straight-forward — in his last 10 games he has had 40 or more completions just once — on Christmas eve against Miami.
He also faces a big challenge — second-favorite target Rob Gronkowski is not at full strength.
The only thing that makes this one interesting at all is that he had his highest number of attempts on the season — 49 — when he faced the Giants in November.
Total completions (o/u 25.5)
The over is heavily favored in this one at -130, compared to even money for the under.
He went over this total in exactly half of his games, so he is certainly capable. He had more than 25 completions in six of his first nine games, though, compared to just three of his last nine and one of his last three, so his pace has slowed down considerably.
He had 28 completions against the Giants, and that was on a day when he completed a relatively low 57.1 percent of his passes.
Total TD passes (o/u 2.5)
This total was easy to set — his exact average on the season was 2.5 TD passes per game. He had fewer than three TD passes in 10 of his 18 games, including 60 percent of his last 15 games. He had two touchdowns against the Giants last time.
His playoff performance doesn't help in pointing out trends, either — he had six TD passes against Denver and then none against the Ravens.
The 'over' is heavily bet at -140. I tend to be optimistic about Brady in this game, but based on the numbers the under is a very nice play at even money.
Eli Manning
Passing yards (o/u 315.5 yards)
This number was set based on last week when he had 316 yards — though he needed overtime to get that.
He exceeded this total in nine of 19 games this year, but did so in three of his last four. Against the Pats he only had 250 yards — his third lowest total of the season.
The over is favored at -125, so the under is probably worth a look.
Passing attempts (o/u 39.5)
He exceeded this total just eight times in 19 games so far. He's coming off a massive 58 attempts last week — by far his season high. He had had 33 or fewer attempts in the four previous games, though, and only 39 against the Patriots last time.
Four of the eight games that went over this total only featured 40 completions, so he hasn't been blowing away this number. The under is the clear pick here.
Total completions (o/u 24.5)
The over is favored at -125. Last week he had 32 completions — his second most of the season. He fell below this total in the five games before that, though.
Against the Patriots last time he had just 20 completions. On the season he went over this number just six times in 19 games. The under seems like the clear choice.
Total TD passes (o/u 2.5)
This is the only prop we have looked at in which the under is favored, and it is heavily favored at -180 compared to +150 for the over.
While I'm generally not that optimistic about Manning in this game I am drawn to see if I can justify the over here given the price. The bad news is that he only threw three or more touchdowns in a game six times in 19 tries. The good news is that three of those performances have come in the last four games.
I think passing on this one is probably the best choice, but I wouldn't hate the over at this price.
Not sure who to take for the Super Bowl? Doc's expert NFL handicappers have you covered. For just $25 Doc's Super Bowl picks will provide you with the side and/or total for the game along with the best picks on Super Bowl props. Doc's has 40 years of Super Bowl handicapping experience and he has assembled the best team of handicappers in the nation! Click here to sign up today.