2017 Super Bowl Handicapping
by Trevor Whenham - 1/19/2017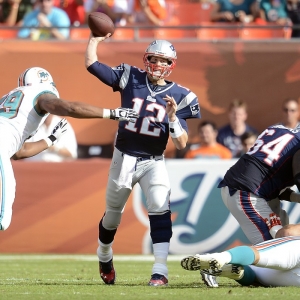 The Super Bowl is not just another football game. If you are only going to remember one thing heading into this game let it be that. If you approach this game the same as you would any other game then you are likely to run into a lot of trouble. The differences between this game and others aren't necessarily a big deal if you are prepared for them and compensate for them in your handicapping, but they can prove fatal if you ignore them. So, ready for your best year of Super Bowl handicapping ever? Then keep these seven factors in mind and recognize why this isn't just like some game in early November:
Free $60 in Member Super Bowl Picks No Obligation Click Here
The crowd: There is no sporting event on the continent that can manage ticket prices like this one, so people who are there have committed to being there - or they know someone who has. You would think that people that have laid out that much cash would be serious about celebrating being there. That's typically not the case, though. The people who are at the game are largely corporate guests or wealthy people interested in seeing and being seen. These are not the hardcore fans. And the bulk of the tickets are sold months in advance, so it's not like massive blocks of fans of the teams will be in attendance. It will be a full house in Houston, but it will be perhaps the quietest game that either team has played in all year. This will have an impact on both teams, but it has a particular effect on teams that are used to playing in very loud home stadiums.
The endless game: The Super Bowl is an endurance test. Pregame festivities and the coin flip mean that it takes forever for the game just to get started. Networks pay many millions of dollars to broadcast the game, so the commercial breaks are plentiful to recoup the investment. And the halftime break goes on forever, so that the musical guest - Lady Gaga this year - can set up, underwhelm, and tear down. Add it all up and things will take much longer than a usual game. It's not uncommon for a team to get distracted or lose focus at some point unlike they would in a normal game.
The halftime from hell: We already mentioned the halftime, but it is important enough that we should dive deeper. The endless halftime can be a positive or negative depending on the team. On one hand it gives teams longer to prepare and make adjustments, which can provide a real edge to the stronger coaching staff and more experienced roster. On the other hand, all the time allows aches to start aching and players to start tightening up, and it can take a while to get going again once things get started. In particular, if the half is followed by a long drive by one team then the opposing offense will have gone so long between plays that they could almost have forgotten how to play. That could be a problem.
Insane pressure: Any kid who has ever picked up a football has dreamed of winning this game. This is the biggest game on the planet, and every player on the field knows it. The media attention is beyond ridiculous, and players know how many people are watching their every move. It's a whole lot to handle. Some teams handle the pressure without a problem. For most teams, though, there is at least some negative effect from the pressure. They may shake it off quickly, but they will feel it. That's something that isn't relevant during the season.
Too much time: How is a team going to play after their bye week? You can never truly tell until they step onto the field and their next game starts. Players are creatures of habit who live a highly-structured life, so when that structure changes things become uncertain. With two weeks off leading into the game that whole schedule is thrown off. They spend the first week at home overthinking everything, and then they head to the host city and are plunged into the middle of a circus. It's going to have an impact, but we can only speculate on what that impact will be for each team.
The public is insane: The betting public is active all the time during the NFL season - it is by far the most bet on league out there. That public attention intensifies dramatically for this game, though. Casual fans who bet only once a year bet on this game. Casual bettors bet more on this game than usual. There is dramatically more money bet on this game than any other - it's not even close. The public tends to have biases, and when they lock onto something they like - often the favorite and the "over" - they bet it aggressively. They have the ability to move lines significantly, so you need to pay particular attention to how lines are set and how they move. In particular, you need to be on the lookout if there is breaking news - like a major injury or an arrest. The public will react strongly - likely too strongly. If you aren't aware of this then you can get stuck betting a number that isn't ideal.
So many temptations: For bettors this is like the ultimate candy store. Between the lines and totals and all the props and alternate numbers there are literally hundreds of different ways to bet on this game. There are far more options than on a typical game, and many of the new options are particularly creative and unique. If you aren't focused and disciplined in your bet selection then you can easily evaporate your bankroll by betting out of control. Remember, there isn't a harder game to handicap all year, so restraint isn't necessarily a bad thing.
Get free picks from any Doc's Sports handicapper - there is no obligation for this offer and no credit card required. Just sign up for an account, and you can use the $60 in free picks for any Doc's Sports Advisory Board handicapper and any sport. Click here to get started now .
Read more articles by Trevor Whenham