This Week in NFL Betting By the Numbers
by Darin Zank - 2/2/2012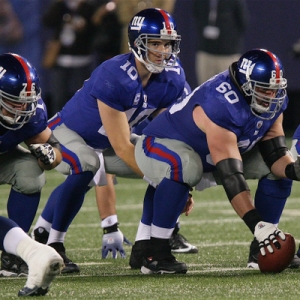 We're down to the final game of this NFL season, No. 267, excluding the make-believe of the preseason and the farce that is the Pro Bowl. It's also know as Super Bowl XLVI, a little get-together this year over in Indianapolis (of all places) between two teams that just met in this same game a few years ago; the Giants and the Patriots.
This will be the sixth Super Bowl "rematch" in history. The Steelers and Cowboys have met three times in the Big Game, while the Cowboys and Bills, Redskins and Dolphins and 49ers and Bengals have each met twice.
How is that relevant as we look forward to Sunday? It isn't, really. I just thought I'd throw it out there. Along with the following super-fun numerical facts.
7-3 – The ATS record of the last 10 Super Bowl underdogs. Dogs have also won four of the last 10 Super Bowls outright.
24 – The number of Super Bowl MVP awards won by quarterbacks through the first 45 Super Bowls. That includes four of the last five. No doubt about it, the pretty boys usually get most of the glory. Conversely, they usually get most of the blame when things go bad. As of mid-week Bookmaker is listing Tom Brady at -110 to win the MVP award Sunday, and Eli Manning is at +150. If you're looking elsewhere than the quarterback position on the Super Bowl MVP prop, running backs and defensive players have won the MVP award seven times each, and wide receivers have won it six times.
54 – The 'over/under' for Sunday's game at TopBet. That would be the second-highest Super Bowl total, behind only the 56.5 on the Saints/Colts game of a couple years ago. That game played under, with a final score of 31-17. In fact, of the eight Super Bowls that have gone off with O/Us of 50 and above, five of them have played under.
24-20 – The score by which the Giants beat the Patriots back in a Week 9 matchup in Foxboro.
0-0 – The halftime score of that game. With an over/under of 51, neither team could get on the board during the first two quarters. And, still, that game came within a touchdown of pushing the total.
0 – Number of games New England has lost since that game.
300 – Approximate number of times I've heard or read the word "Gronkowski" the last 10 days. Whoops – make that 301.
4.5 – Hours of Super Bowl pregame coverage NBC will provide Sunday. Four hours and fifteen minutes of which is pure overkill. As for me, Sunday I think I'll go have a bit of brunch, maybe a Bloody Mary and a beer, hit the liquor store on the way home and play the ponies from my laptop (I think there might be some good racing at Gulfstream Sunday). I'll wait to turn over to the game once it's kicked off. My God, folks, it's just a football game.
17 – The number of times a wide receiver has scored the first touchdown of a Super Bowl. That leads all positions on the Super Bowl "first touchdown" proposition bet. Running backs come next, having scored the first touchdown 16 times, followed by tight ends (five times) and quarterbacks, kick returners and defensive players (twice each). As of Wednesday afternoon Gronkowski (that's 302) tops the betting on Bookmaker's "first touchdown" board at +500, followed by, among others, Victor Cruz at +600, Wes Welker and BenJarvus Green-Ellis at +750, Ahmad Bradshaw at +800, Travis Beckum at +1,700 and Julian Edelman at +3,500.
6 – The number of safeties that have been recorded in Super Bowls. That's one every seven and a half games. TopBet is offering odds of +600 on a safety being scored Sunday.
2/9 – The pair of numbers I got stuck with on my local $100-a-square Super Bowl board. Oh, for a field-goal fest! I guess I can take some hope in that the Patriots-Panthers Super Bowl of a few years ago ended 32-29. But, realistically, I think I'm screwed.
27-24 – My guess as to what the scoreboard will read at the final gun Sunday night, with Eli and the Giants on top. Hey, take it for what it's worth, but I did go 4-0 on championship Sunday, with both the dogs and both the unders. And as you can see, I'll stay with that plan of attack for this Sunday.