Baseball Odds and Prediction: American League Updated Futures
by Alan Matthews - 7/16/2013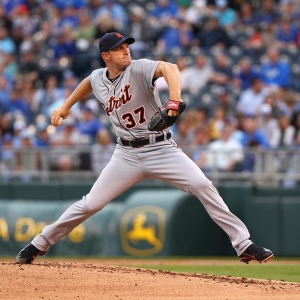 The all-star break is naturally a good time to check out some updated season-long baseball props, this time courtesy of Sportsbook.ag. I'll focus on the American League in this story and you should find a National League version already on the site.
It's pretty clear that the AL MVP race is down to two guys, barring injuries: Detroit's Miguel Cabrera and Baltimore's Chris Davis. Cabrera is the +140 favorite to be the first AL MVP repeat winner since Frank Thomas in 1993-94. Cabrera can make it three straight for Tigers, with Justin Verlander taking the award in 2011. No team has had three straight MVPs in the American League since the Yankees had four in a row starting in 1960 (Roger Maris twice, Mickey Mantle and Elston Howard).
The only way I see Cabrera not getting the award is it Davis hits the 60-homer mark. Cabrera leads the AL by a wide margin with a .365 average and leads Davis by two with 95 RBI. Davis tops Cabrera 37-30 in homers. Davis is the fourth player in baseball history with at least 37 home runs at the break. Reggie Jackson is the only other AL player to do it, hitting 37 in 1969 with Oakland. He hit only 10 after the break. The Giants' Barry Bonds hold the all-time record 39 homers at the 2001 break. That's the year he hit 73. The Cardinals' Mark McGwire is the other, with 37 in 1998. That's the year he hit 70.
Some might consider Davis the true home-run king if he can hit 62 to pass Roger Maris' former record of 61. Of course, Bonds, McGwire and Sammy Sosa have all been tied to performance-enhancing drugs. Davis already has had to answer questions about that and if he's using. Davis has said he does consider Maris: "the reason being, he was the last guy to do it clean." What might cost Davis a chance is that he's hitting fifth. Thus, that should cost him around 30 plate appearances the rest of the year compared to if he hit third. I also expect him to be pitched around more in the second half as Matt Wieters isn't having a great year at the plate hitting behind Davis.
Take Cabrera on the MVP prop. He's actually having a better season than a year ago when he won the Triple Crown. How cool would it be to have Cabrera's Triple Crown repeat chances come down to the final weekend in a duel with Davis? The Tigers and Orioles, alas, are done playing one another. One negative for Cabrera: He finishes the season with three in Minnesota and three in Miami, two pitcher-friendly parks. For what it's worth, I liked Boston's Jacoby Ellsbury back in the spring for MVP. I thought he'd have a huge season because he will be a free agent this winter. He's doing pretty well, hitting .305 with three homers, 33 RBI and 36 steals, but is not a betting option at the site.
On the Cy Young prop, Tampa Bay's David Price, the 2012 winner, was the spring favorite. He started the season terribly and then got hurt. The lefty has been excellent since returning but obviously won't win the award. I didn't recommend him. I leaned Verlander but also thought Boston's Jon Lester would be great value at 25/1. I was feeling good about that when the lefty started 4-0 with a 2.27 ERA -- after having the lowest ERA in the Grapefruit League -- but he hasn't been the same since and is now 8-6 with a 4.53 ERA.
I did praise Detroit's Max Scherzer on some individual props and thought he'd have a big season, and he's now the Cy Young favorite. Scherzer (13-1, 3.19 ERA) suffered only his first loss of the season on Saturday against Texas. The Rangers won the game 7-1 to become the first team to win by at least six runs in a game in which the opposing starting pitcher entered with a record of 10-0 or better since 1978 (Brewers beat Yankees' Ron Guidry). I just find random stats like that fascinating.
Now, the AL Cy Young odds are currently down at both Sportsbook.ag and BetOnline (NL are active). I am guessing this is because of the uncertainty of when Boston's Clay Buchholz might return. You also have the Rangers' Yu Darvish currently on the DL too. To a lesser extent, Verlander left his last start with a quad injury, but it's not serious.
When Bovada last released the Cy Young odds two weeks ago, Scherzer was the 7/4 favorite, and he'll only be shorter with the injuries to Buchholz (4/1) and Darvish (4/1). Look out for Seattle's Felix Hernandez (12/1), who definitely will have shorter odds when these are reposted. Despite once again pitching on a lousy team, he leads the American League in ERA and innings pitched and is right there with Scherzer and Darvish in strikeouts. If Hernandez manages to lead the AL in ERA and strikeouts, he deserves to win another Cy Young no matter how many games Scherzer wins.
It sure doesn't look like Buchholz will be back anytime soon -- consider that on your AL East odds as well. Boston is the -160 favorite, but I love Tampa Bay (+260) right now with Buchholz's uncertainty and how well Price is throwing. He and Matt Moore form quite a 1-2 punch. The AL Cy should be three-man race between Scherzer, Darvish (who should be back right after the break) and Felix. I learn Scherzer for now because the Tigers will be a playoff team. But I'm going to hedge a few dollars on Hernandez.
Read more articles by Alan Matthews