Handicapping the New York Yankees
by Trevor Whenham - 3/23/2013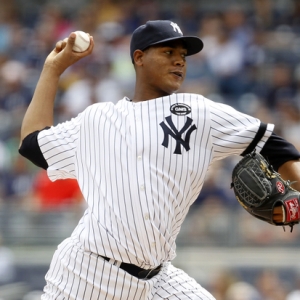 There is much more angst surrounding the New York Yankees this year than any year in recent memory. The empire has undoubtedly been fading for a while now, but this year people are widely predicting that it could come crashing down to earth. The start the team has had in the spring has done little to ease those concerns — they are dead last in the Grapefruit League. So, is this spring a good indication that the Yankees really are in trouble this year? Or have we really learned little about this team so far? Let's take a look:
Typical spring performance
The Yankees don't really have a typical spring performance — not lately, anyway. In 2010 and 2011 they were 13-15 both years. They are 10-16 now, so not dramatically worse. Last year, though, they were 18-12. In 2009 they were 24-10 — tops in the Grapefruit League. That year they went on to win the World Series, so the lack of success this year probably isn't ideal. We have countless examples over the years, though, of how Spring Training success and regular season fates aren't related, so the team's record in and of itself isn't reason for real concern.
In good company
If the Yankees should be concerned, so should several teams expected to be elite this year. Just ahead of the Yankees in the standings are the Blue Jays and their highly-touted new roster. The two worst teams in the Cactus League — and all of baseball — are the Angels and Reds. Both teams are viewed as real contenders. The Dodgers have the same lousy record as the Blue Jays. Oakland, Washington and defending champs San Francisco are all below .500. In other words, there is a very good chance that the eventual World Series champs will have struggled through the spring.
Health
The health of their ancient roster has been an issue the last couple of years, and it is a real concern here. Curtis Granderson has a broken arm that is expected to have him out until May. He has been a major producer the last two years, so that's a concern. So is the loss of Mark Teixeira, who is nursing a wrist injury that will have him out for two months or more. Ouch. Alex Rodriguez has yet to do anything baseball related this spring because he is rehabbing his hip after January surgery, so his return is still a long way away. He is rehabbing in New York right now, but he will head to Florida once he starts baseball-related work. On top of that, Rodriguez is a key target of the league in their latest PED investigation, so there is a chance that his hip isn't the only thing that will keep Rodriguez off the field this year. Those are the big injuries, but there are smaller issues as well — Derek Jeter is dealing with ankle issues that could have him on the DL for the first few games of the season, and Phil Hughes has dealt with a bulging disc that has limited him this spring. Add it all up, and it's no wonder the team has struggled this spring. It's also hard to have a huge amount of faith in the team because of these issues.
World Baseball Classic
Thanks to injuries, the Yankees' involvement in the World Baseball Classic was surprisingly minor. Robinson Cano was the only key player who was there. He made the most of his involvement, though — winning the MVP as a member of the undefeated champions from the Dominican Republic. Cano was obviously outstanding on the field, and he was much more of a leader off the field than he is able to be in New York. It will be very interesting to see if he can carry that momentum forward into the season. He'll need to if the team has any interest of starting well.
Age
Beyond the injury issues there are obvious age concerns with this team. Jeter has been around forever, has turned 38, and a decline is almost inevitable. Ichiro Suzuki, 39, looked great after joining the Yankees last year, but he was decidedly less than his best with the Mariners. The pressure will be immense on him at the top of this roster because they'll need him to get on base regularly with less power behind him to rely on early on. Travis Hafner, who is 35, will face pressure both playing in the spotlight of the Yankees for the first time and because he'll be relied on to produce significantly as DH and fill-in first baseman. Mariano Rivera is 43. Andy Pettitte is 40. Kevin Youkilis is only 34, but he has been hard on himself physically. That other New York team — the Knicks — have shown us this year that age can catch up to you as the season progresses. That's a massive concern for this team now, and it will be even more so as the season progresses.
Rotation
I won't waste much ink here. Sabathia is Sabathia, and there is no reason as of now to doubt the workhorse. Beyond him, though, if you think that this rotation — likely Pettitte, Kuroda, Hughes and Nova — is even close to good enough for this team to be a major contender then you are far more of an optimist than I am. The Jays and Rays definitely have better rotations in the AL East, and I'm not convinced the Orioles don't as well. Heck, aside from Sabathia the Red Sox could arguably even match up favorably.
Read more articles by Trevor Whenham