2013 Home Run Derby Picks and MLB Betting Odds
by Alan Matthews - 7/13/2013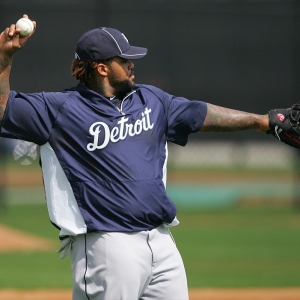 In my opinion, we are about to enter the worst three days of the year on the 2013 sports calendar starting Monday. Why? Major League Baseball is dark for its all-star break, meaning we are essentially left with the WNBA -- wouldn't watch, much less bet on it, if you paid me -- and soccer's Gold Cup. I would have said worst four days of the year, but at least the British Open starts Thursday. How bad is this week? The best sports programming before Thursday is probably the ESPYs on Wednesday night, another thing you couldn't pay me to watch. If I am the NBA, I start every regular season in December and run through early August to take over the summer. I mean, isn't basketball a summer sport?
I digress.
Monday brings us the Home Run Derby. It used to be rather fun to watch back when the likes of Mark McGwire, Sammy Sosa, Barry Bonds, Frank Thomas, Ken Griffey Jr. and Barry Bonds were launching bombs. Now? Meh. But it's about your only betting option Monday, so here I am.
I do happen to subscribe to the theory that there is a Home Run Derby hangover, which hit Josh Hamilton very hard in the second half of the season after his incredible performance in 2008 at Yankee Stadium (and he didn't even win). Let's look at the past few winners of the event and how they fared before and after the break:
Prince Fielder, 2012: .299 average, 15 homers 63 RBI before; .331/15/45 after.
Robinson Cano, 2011: .296/15/57 before; .309/13/61 after
David Ortiz, 2010: .263/18/57 before; .277/14/45 after
Fielder, 2009: .315/22/78 before; .283/24/63 after
Justin Morneau, 2008: .323/14.68 before; .267/9/61 after
Hamilton, 2008: .310/21/95 before; .296/11/35 after
OK, so maybe things have changed? To be fair, teams do play more games before the break than after, so that skews numbers a bit. Or maybe the hangover only strikes the guys who went ballistic in the Derby like Hamilton. He hit 35 in that 2008 contest, including a whopping 28 in the first round. Bobby Abreu still holds the all-time mark with 41, set in 2005. That year, he hit .307 with 18 homers and 55 RBI before and just six dingers after. I do guarantee you that some managers were happy that their players weren't chosen.
Once again there were captains choosing the contestants at this year's field, held at the Mets' Citi Field for the first time. American League captain Cano of the Yankees picked the Tigers' Fielder, Orioles' Chris Davis and Oakland's Yoenis Cespedes. Cano wanted Miguel Cabrera, but he chose not to participate over worries it would mess up his stiff back.
You could safely say Tigers manager Jim Leyland was fine with that: "That's a grueling experience. They probably need to cut it down. It's too long and it's too many swings for anybody. It's showtime, and people enjoy it, but it's too long and they're taking too many swings. I don't think that's good."
The NL captain is Mets third baseman David Wright, and he picked the Nationals' Bryce Harper, and Rockies' Carlos Gonzalez and Michael Cuddyer. CarGo isn't 100 percent healthy, either, yet will play in the All-Star Game itself like Cabrera. But Gonzalez pulled out of the Derby and replaced by Pittsburgh's Pedro Alvarez. He and Cespedes are the only two in the Derby who won't play in the ASG.
History doesn't bode well for Cespedes or Alvarez. The only other players to compete in the Derby and not the All-Star Game were Rafael Palmeiro (2004), Hee-Seop Choi (2005) and Ryan Howard (2007), according to MLB.com. Only Palmeiro advanced out of the first round, and none made it to the finals.
Here's a breakdown of each player, their homer total entering Friday and Bovada odds to win.
Fielder (16 HRs, 7/2): He looks to join Griffey as the only three-time winner. Fielder hit 28 total last year, beating out Toronto's Jose Bautista. Fielder has one career home run in 36 at-bats at Citi Field, for what that's worth.
Davis (big-league leading 34 HRs, 15/4): He's one guy genuinely excited to be here, and I think if there's a fan favorite overall (outside of New York) it's him. He has gotten just eight career at-bats at Citi Field.
Harper (13 HRs, 5/1): Harper is in his first Derby and also is excited to be there. I do think that means something. He has two homers in 10 at-bats at Citi Field this season. I also think that means something.
Cano (21 HRs, 11/2): I don't like the Yankees and certainly don't wish injury on anyone, but how ironic would it be for Cano to get hurt in this competition after all the injuries that have ravaged New York this year? Think GM Brian Cashman will dare even watch? Cano won in 2011 in Phoenix with 32 dingers but was blanked in the first round last year in Kansas City. He didn't go yard in eight at-bats at Citi Field this year.
Cespedes (15 HRs, 11/2): He has never played a game at Citi Field and hasn't homered since June 21 entering Friday.
Wright (13 HRs, 15/2): Obviously the fan favorite in the park and knows Citi Field better than anyone. Wright has just three homers at home this year, however, and really isn't a big-time power guy. He was runner-up in the 2006 Derby.
Alvarez (23 HRs, 15/2): If it's possible to strike out in a Derby, Alvarez might do it. He has been mashing of late, though, with 15 homers since May 29.
Cuddyer (15 HRs, 9/1): A lot of people scratched their heads when Wright chose Cuddyer, who is having a stellar season but is unknown by casual baseball fans. The two are friends, having grown up together in Norfolk, Va. Cuddyer has just one homer since June 29 and has way better numbers at his home park Coors Field.
It's too bad Yasiel Puig isn't in this competition as that would have made it very interesting, especially if he and fellow Cuban Cespedes were in the final. I like Harper, who would probably have 20 dingers if not for missing 31 games due to injury. The 20-year-old will also become second-youngest player to ever participate in the event, behind Ken Griffey Jr. in 1990 (he didn't fare well then, not homering at Wrigley).
Doc's Sports MLB handicapping team is offering $60 worth of member's baseball picks absolutely free – no obligation, no sales people – Claim your free MLB picks here now.
Read more articles by Alan Matthews