MLB Betting and Handicapping: Scouting the Week Ahead
by Alan Matthews - 4/29/2013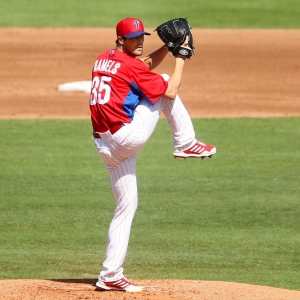 Quick, name me the five starting pitchers on the Pittsburgh Pirates. You can probably list A.J. Burnett and Wandy Rodriguez off the top of your head. But after that? Well, the answer is James McDonald, Jonathan Sanchez (he's been terrible actually) and Jeff Locke. I mention this because take a look at which team leads all of baseball in opponents' batting average. Yep, it's Pittsburgh at .220. The staff ERA is tied for third in the league at 3.29, and it's the biggest reason why the Pirates are tied atop the NL Central with St. Louis. The bullpen's ERA is a stellar 2.42, and Jason Grilli has been almost unhittable as the closer.
Since a 1-5 start, the Pirates have won 14 of 20 and haven't lost a series. Pittsburgh's 15 wins tie the club's all-time record (1992) for April. They aren't beating up on the dregs of the NL like the Cubs and Padres, either. Pittsburgh has swept the Reds, taken three of four from the Braves and Phillies and took two of three in St. Louis over the weekend.
What's even more shocking is that Pittsburgh is winning without much from all-star outfielder Andrew McCutchen. He's batting just .216 and has one hit in his past 25 at-bats entering Monday's series opener in Milwaukee. That's the worst stretch of McCutchen's career. Manager Clint Hurdle gave McCutchen the day off Sunday to clear his head. Russell Martin has been a great free-agent addition, hitting .267 with a team-best five homers. The club could get starting second baseman Neil Walker back for the Brewers series. He's been out since Friday because of a cut on his hand.
Maybe I'll truly believe the Pirates are legit contenders in the division if they can win the Brewers series. Why? Since 2007, Pittsburgh is 7-44 at Miller Park. The Pirates are still +800 long shots on Sportsbook.ag to win the Central.
Status Quo In AL East
I'll admit that I was one of those people who thought the AL East was there for the taking for the Blue Jays or Rays this year (not so much Orioles) with the Yankees expected to take a step back and the Red Sox an unknown quantity after last season's disaster. Yet take a look at the East standings, and the Red Sox and Yankees are at the top as usual.

Boston just took advantage of putrid Houston in a four-game sweep over the weekend, its first in two seasons. The Red Sox have two Cy Young candidates in Clay Buchholz (5-0, 1.19) and Jon Lester (4-0, 2.27). Lester was my choice back in the spring. David Ortiz (.516, 2 HRs, 11 RBI) has been tearing the cover off the ball.
The Yankees' Joe Girardi is probably the AL Manager of the Year to this point. New York just swept Toronto in a four-game series and has won 14 of its past 19 despite still not having Derek Jeter, Curtis Granderson or Mark Teixeira. The injuries continue to pile up as well, with starting catcher Francisco Cervelli lost for six weeks with a broken hand and pitcher Ivan Nova on the DL with a triceps injury. Third baseman Kevin Youkilis is undergoing an MRI on Monday because of a back injury.
At the opposite end of the spectrum is Toronto, which is eight games under .500 in April for the first time since 2004. The Jays were the preseason AL East favorites but have one series win all year. R.A. Dickey and Josh Johnson have been disasters thus far in the rotation. Dickey is the fifth pitcher ever with four April losses the year after winning the Cy Young award. He's also dealing with back and neck injuries that could land him on the DL.
I presume Manager John Gibbons is safe for now, but things could get even uglier soon. Toronto hosts Boston for three and then Seattle for three before a killer stretch: four at Tampa Bay, three at Boston, two vs. San Francisco and three at the Yankees. If the Jays are double-digits under .500 by the end of that stretch, a distinct possibility, Gibbons' seat will be very warm. Toronto is now the +700 long shot to win the division at Sportsbook.ag.
Phillies' Needle Pointing Up?
If you are a Philadelphia Phillies backer, you are feeling pretty good about the team right now even though it's 12-14. That's because Philly swept three games over the weekend at the Mets. Sunday there were two great signs for the Phils: ace Cole Hamels held the Mets to two hits over six innings for his first win of the year, and all-star catcher Carlos Ruiz made his season debut.
Ruiz was suspended the first 25 games for a positive drug test and went 1-for-4 with a double on Sunday. Last year Ruiz hit .325 with 16 home runs and 68 RBI in 114 games. The Phils were getting nothing offensively from backup catchers Erik Kratz and Humberto Quintero (they hit a combined .209) while Ruiz was out. And certainly Hamels looked better with his regular batterymate.
Philadelphia also has to be encouraged by Ryan Howard, who is hitting.351 with 11 RBI during an 11-game hitting streak. And Roy Halladay has a 1.71 ERA in his past three starts. So maybe that Phillies championship window isn't 100 percent closed yet. Halladay starts Tuesday as the Phils open a two-game series at struggling Cleveland. Philadelphia then hosts Miami for four games, so climbing over .500 by the end of the week looks likely. The Phillies are +550 to win the NL East, a division that looks winnable with Washington's slow start and Atlanta coming back to earth.
Read more articles by Alan Matthews