MLB Betting and Handicapping: Scouting the Week Ahead
by Alan Matthews - 7/29/2013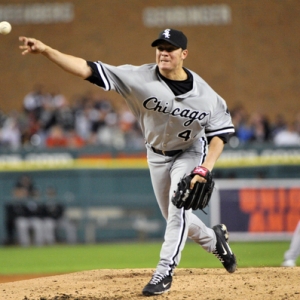 In my opinion, the most interesting week of baseball's regular season is here with the trade deadline arriving on Wednesday afternoon. Expect a shift of a few teams' futures odds should they acquire a big-name player. The Rangers' World Series odds, for example, dropped from 14/1 to 12/1 at Bovada when they got Matt Garza.
With that being said, I'd be cautious about betting on games early this week because the starting pitchers could be scratched. I'm especially looking at Milwaukee's Yovani Gallardo in Tuesday's opener of a doubleheader at Wrigley Field, the White Sox's Jake Peavy in Cleveland, the Royals' Ervin Santana in Minnesota and the Astros' Bud Norris in Baltimore. I'd be shocked, frankly, if Peavy starts. He's already preparing for a deal, having brought a bunch of suitcases to pack his stuff in the White Sox home clubhouse on Sunday.
Peavy purposefully didn't have a no-trade clause put into his contract when he signed an extension with the Sox this offseason so he could hopefully play for a contender. The A's, Red Sox, Cardinals and Braves, now that they don't have Tim Hudson, have been listed as Peavy's leading suitors. For what it's worth, ESPN's Buster Olney picked Oakland as Peavy's landing spot. I disagree and think it's Boston because the White Sox know the Red Sox's system well from last season's Kevin Youkilis deal and this year's Matt Thornton trade. I'd also be pretty surprised if White Sox outfielder Alex Rios is on the team by Wednesday night -- the Rangers are big pursuer of him.
You can make some money when teams dump these types of players. You know the other Sox veterans will be in the dumps for a few days if Peavy and Rios go, so they probably will go into a mini-slump -- not that the Pale Hose are very good regardless. It would be a minor upset if Norris also isn't dealt, but I think Gallardo and Santana stay put. Other guys who could be dealt: the Phillies' Michael Young and Cliff Lee, Rangers' Joe Nathan, Twins' Justin Morneau and Giants' Hunter Pence. Why would a contending Texas deal its all-star closer? They have Joakim Soria back and ready to replace Nathan and former closer Neftali Feliz should be back early next month from injury.
Also a reminder that this is the expected week where the rest of the Biogenesis suspensions are handed down. That will certainly affect some division races as well as how active teams are in trade discussions. I'm sure that MLB will let or already has told teams whose players are affected so they can plan ahead of the trade deadline. Supposedly Alex Rodriguez will be suspended through next season. If that's the case, his career is almost assuredly over. Yankee catcher Francisco Cervelli also faces a 50-game ban.
Angels Now Dead In Water
While the Los Angeles Dodgers have turned their season around and are now huge -600 Sportsbook.ag favorites to win the NL West -- and don't rule them out adding another piece -- the crosstown Angels will go down as one of the biggest disasters in baseball history.
Any realistic chance the Halos had of trying to get in the wild-card race vanished with the loss of Albert Pujols to a foot injury. He's been bothered by the foot all season and suffered a partial tear of the plantar fascia in that left foot Friday night. He's on the 15-day DL but expected to miss the rest of the season. Pujols was hitting .258 with 17 homers and 64 RBI this season but had gotten hot lately, going 12-for-34 (.353) with two home runs and seven RBI in eight games after the all-star break. To no surprise, the Halos were swept over the weekend by Oakland.
Los Angeles no doubt will just push for Pujols to have surgery and come back healthy for next season. I'd say the Halos would be sellers before Wednesday's deadline, but they really don't have much that other teams want in terms of available players (like they aren't obviously dealing Mike Trout).
Early World Series Line
Sportsbook.ag recently posted an early World Series line, with the American League at -150 and the National League at +120. I'd jump big on the NL right now. Would you bet against the Cardinals or Dodgers in a seven-game series right now? I wouldn't. And if the Cards get Peavy, they would look nearly unbeatable with Adan Wainwright and Peavy atop the rotation. The Cards and Dodgers have overtaken Detroit as World Series favorites at +500, with the Tigers at +600. Justin Verlander's struggles have to worry Tigers backers.
Detroit has lost twice in its past eight games and both were in Verlander starts. He has allowed 12 earned runs over 11.2 innings in that span. He hasn't struck out more than five batters in his past eight starts. That happened just six times a year ago. His ERA (3.99) is the highest it has been since June 2010. Batters are hitting .306 off Verlander's fastball compared to .233 the previous two seasons.
When will teams learn not to give hundreds of millions of dollars to pitchers??
Read more articles by Alan Matthews