MLB Betting and Handicapping: Totals Trends Report
by Aaron Smith - 7/16/2013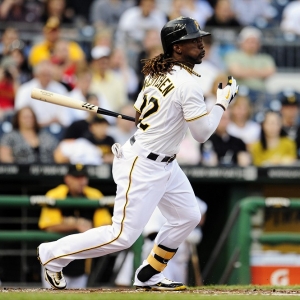 How good are the oddsmakers at setting a posted total in Major League Baseball games? We are now at the all-star break, and there have been a total of 1,358 games played. There have been 679 games finish "over" the posted total. Amazingly, there have been exactly 679 that finished "under" the posted total as well.
Does this mean that there isn't any money to be made on MLB totals? Absolutely not. It does mean that a trend will only last for so long. Oddsmakers are going to adjust their numbers, and a trend will run its course. The Oakland Athletics and Tampa Bay Rays are perfect examples of that so far in 2013.
Doc's Sports did an NBA totals trends report this year, and we will be doing an MLB totals trends report every other week all season as well. Please note the statistics used in this article are for games played between July 1 and July 14.
Top Five Over Teams (Over listed first then under)
-Atlanta Braves (9-2-2) Atlanta was rolling along nicely on the offense until a major rash of injuries right before the break. Justin and B.J. Upton are out as are Freddie Freeman and Jason Heyward. This over streak isn't likely to continue if all of these guys are still out on Friday. The Braves offense has struck out more times than anyone in baseball, but they also have 114 home runs. They have a six-game road trip coming out of the break.
-New York Mets (9-4) The New York Mets actually had nine straight games finish over the posted total before finishing the first half with three straight unders. The Mets have done a good job coming up with hits with runners on base this year. Josh Satin has been hitting the ball great since he has joined the big league club. The Mets bullpen is as bad as ever, which is also a large reason why this team has so many high-scoring games.
-Toronto Blue Jays (8-5) There's no doubt that the Toronto Blue Jays offense is infinitely better with Jose Reyes in the leadoff spot. Reyes is hitting .322 in limited action so far this year, and the offense has perked up in a big way since he has been healthy. Edwin Encarnacion leads the team with 25 homers and 72 RBI. He received a well-deserved invitation to the All-Star Game this year.
-Seattle Mariners (8-5) Who has been behind the Seattle Mariners offensive improvement this year? Raul Ibanez is playing like a 27-year old once again. Ibanez has 24 homers and 56 RBI at the break. Justin Smoak started the season as cold as ice, but he has been smoking (pun intended) the ball of late. Smoak has an impressive .372 on-base-percentage, and he seems to be realizing some of his huge potential. The Mariners bullpen has been a disaster of late, which has led to many high run totals for the opposition.
-San Francisco Giants (8-5) To say that the San Francisco Giants have been disappointing the last few weeks is a major understatement. The Giants lost 14 out of 16 games at one point, and they have fallen 6.5 games behind the Arizona Diamondbacks in the NL West. San Francisco's team ERA is 4.11, which is worse than the major league average. This is a team that has won with pitching for the past few years, and that same pitching staff has been a disappointment this year.
Top Five Under Teams (Under listed first then over)
-Oakland Athletics (9-2-1) Remember when the oddsmakers couldn't set the total high enough for the Oakland Athletics? Those days are long gone. The Athletics team batting average has dipped to .245, and the oddsmakers have still been putting higher numbers on this team's games. The pitching staff has come into its own over the past month or two. Oakland is seventh in the majors in overall team ERA. They start the second half of the season in Los Angeles against the Angels.
-Pittsburgh Pirates (9-3) No team has made more money for their bettors this year than the Pittsburgh Pirates. It has been the strength of the Pirates pitching staff that has led this team to an amazing 56-37 record at the break. There's little doubt this team will finally finish above .500 this year. The real question is whether they can make it to the postseason. This bullpen is ranked second in baseball, and if they stay there this team is going to be tough to knock out of playoff position.
-Los Angeles Dodgers (9-4) It's no coincidence that the Dodgers made a big run in the last couple weeks at the same time they have gotten better pitching. With a healthy Zack Greinke and Ricky Nolasco now in the rotation, the Dodgers starting pitching staff has gotten a lot better in the past few weeks. The bullpen is still shaky, but Kenley Jansen looks to be nailing down the closer role. The Dodgers start the second half with a six-game road trip in Washington and Toronto.
-Colorado Rockies (9-4) What explains the Colorado Rockies being a reliable under team for the past couple weeks? Injuries are the easy explanation here. Colorado has been without Troy Tulowitzki, Dexter Fowler, and Carlos Gonzalez for a significant amount of time in the past few weeks. All three of those guys are now healthy again, and it will be interesting to see how the offense bounces back after the break.
-Tampa Bay Rays (9-4-1) Tampa Bay went on a ridiculous over run about a month ago, but the oddsmakers have caught up to this team as well. They are a perfect example of how a trend can last for a few weeks, but once that trend ends it is quite likely to reverse itself because of an overreaction from the oddsmakers. The Tampa Bay Rays offense may be pretty good, but they aren't as good as they looked in the month of June.
Read more articles by Aaron Smith