MLB Handicapping and Betting: The Bullpen Report
by Aaron Smith - 7/23/2013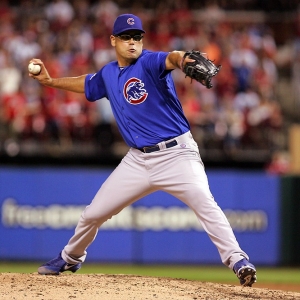 Bullpens just aren't as reliable as they were in the past. The lack of depth in most bullpens is making blown leads more and more common in the past couple years. Baseball bettors know that the toughest way to lose a wager is via the dreaded bullpen meltdown.
It's important to remember that meltdowns are going to come. How can you better position yourself as a bettor? By doing your research ahead of time it is definitely possible to be on the right side of the bullpen blowup more often than not.
Doc's Sports is always looking to give you extra information to help you win. This MLB Bullpen Report will allow us to take a look at the best and worst bullpens in the majors so far in 2013. We'll take a look at the best and worst bullpens every couple weeks this year. Please note that statistics used in this report are for games played between March 31 and July 22.
Top Five Bullpens (Listed by ERA)
-Atlanta Braves (2.66 ERA) The Braves continue to have a solid hold on the top spot on this list. It's pretty amazing that this team can keep this spot despite all of their injuries. Eric O'Flaherty and Jonny Venters were key pieces in this bullpen last year, and they are out for the rest of the season. Atlanta has just plugged in some young guys who have been dominating out of the bullpen. Luis Avilan and David Carpenter have been great. Craig Kimbrel has a stellar 1.45 ERA, and he is one of baseball's most reliable closers.
-Pittsburgh Pirates (2.77 ERA) The Pittsburgh Pirates are where they are today because of the tremendous work of their bullpen. Jason Grilli has blown just one save all year, and he has been the anchor of this bullpen. Grilli left Monday night's game with forearm discomfort, and the team needs him to get healthy again soon if they are going to continue to stay near the top of this list. Can Pittsburgh avoid another late-season collapse?
-Milwaukee Brewers (2.85 ERA) The biggest surprise on this side of the list has to be the Milwaukee Brewers. This bullpen was miserable last year, but they have turned it around in a big way this year. Francisco Rodriguez is now one of the most sought after relievers in baseball. You have to assume that he won't be a Brewer much longer. This bullpen might look a whole lot different in a couple weeks.
-Texas Rangers (2.96 ERA) Texas hasn't been playing all that well lately, but it hasn't been because of their bullpen. This Rangers bullpen plays their home games in one of the most hitter-friendly ballparks in baseball, but they are still able to have one of the best ERA's in baseball. Joe Nathan is a remarkable closer who is as reliable as they come. Neal Cotts, Tanner Scheppers, and Robbie Ross have all been far better than anyone could have expected.
-Toronto Blue Jays (3.01 ERA) Toronto has been the streakiest team in baseball this year, but their bullpen has been consistently good. Youngster Juan Perez has yet to give up an earned run in 21 innings pitched. Aaron Loup and Brett Cecil are flying under the radar this year, but they have turned into great middle relievers. Toronto's bullpen has 320 strikeouts, which is the most in all of baseball.
Bottom Five Bullpens (Listed by Worst ERA)
-Houston Astros (5.02 ERA) It's going to be very hard for anyone to pass the Houston Astros for the top spot on the worst-of-the-worst list. Houston now has an ERA of more than half of a run worse than any other bullpen in the majors. Opponents are hitting .278 against this group. The minor league system is strong in Houston, but this team is a few years away from being competitive.
-Seattle Mariners (4.49 ERA) Seattle's bullpen has been one of the most disappointing in baseball this season. Injuries have played a major role in their problems. Tom Wilhelmson seems to slowly be getting back his confidence, and that should help this group immensely. Can they find any middle relievers who can bridge the gap between the starters and the closer?
-Philadelphia Phillies (4.36 ERA) The Phillies have slowly moved up in the standings, and the bullpen hasn't been quite as bad of late. Luis Garcia is a youngster who has pitched great since being brought up to help in the bullpen in the past couple weeks. Antonio Bastardo struggled at times earlier this year, but he is pitching very well once again. This bullpen isn't great, but they aren't quite as bad as they looked earlier this season.
-Chicago Cubs (4.21 ERA) Kevin Gregg has done a nice job as the Cubs closer, but the rest of this bullpen has been a mess. Hector Rondon has an ERA of almost 6.00, and he simply doesn't seem to be able to locate his pitches. James Russell has a solid ERA, but he has blown six saves already this year. Lack of depth is definitely a problem for the Cubs in the bullpen.
-Chicago White Sox (4.11 ERA) The city of Chicago has seen a lot of bullpen meltdowns this season. The White Sox bullpen has issued 130 free passes already this year, and those walks have definitely come back to bite them in key situations. The White Sox have been one of the most disappointing teams in baseball, and the bullpen certainly deserves part of the blame.
Read more articles by Aaron Smith