MLB Handicapping: Dodgers as World Series Contenders
by Trevor Whenham - 8/1/2013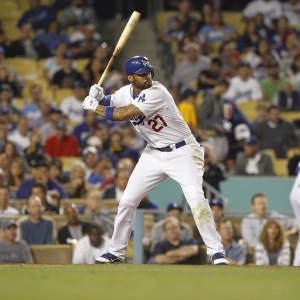 The Dodgers are a remarkable story. For the first half of this long season they were grouped in with the Nationals, Blue Jays and Angels as major championship contenders who were struggling so badly it seemed like their season was lost. On June 15 they were 29-38 and sitting 7.5 games out of the divisional lead. Since then they have gone 28-11, including 8-2 in their last 10, and are now 2.5 games up on the field in the division. It's a remarkable turnaround, and one that has been very profitable for bettors who have been backing them. As we enter the closing stretch of this season, the big question for bettors is whether this team is built to last, and if they can be trusted until September and beyond.
Here are four factors that will help to determine what the future holds:
Pitching
It's not hard to like this rotation. Clayton Kershaw is the best pitcher in the National League, and perhaps in all of baseball. Zack Greinke is a Cy Young winner who has settled into a surprisingly strong level of performance in the L.A. fish bowl. Hyun-jin Ryu is the real deal as well, and Ricky Nolasco is a more-than-solid fourth starter. Right now these four have been the biggest of many keys why the team is currently doing so well. What is so impressive, though, is that they are all performing well within their capabilities. Sometimes a hot streak is fueled by pitchers performing above their long-term potential. These four are just doing exactly what they can keep doing the rest of the way through the season and into the playoffs. This rotation was built, at a considerable cost, to be very good. After some early hiccups, that is exactly what it is. The bullpen isn't quite as strong, but has the luxury of not needing to be because of the rotation. I could feel far more confident about a closer than I do about Kenley Jansen, but the bullpen is far from a liability.
Hitting
At some point the team is going to have Matt Kemp back in action. He has suffered one injury after another this year and is currently dealing with a serious ankle sprain. When he returns, though, he has the potential to be a real offensive threat. It seems like he has been around forever, but he is only 28, so he is just entering his prime. That is a luxury that most teams would kill for given that the Dodgers already have an outfield of Andre Ethier, Carl Crawford and the shocking Yasiel Puig. Add in Hanley Ramirez, Mark Ellis and Adrian Gonzalez, and you have more than enough bats to keep this team chugging along — with or without Kemp.
Division
The Dodgers are going to win the NL West for a lot of reasons, but chief among them is that no other team is good enough to do so. They have a 2.5-game lead as of Wednesday night. The Diamondbacks are in second, but they are overachieving and have cooled off significantly at this point. Colorado can't beat anyone recently and is absolutely hopeless on the road. The Padres are reasonably hot recently but are 8.5 games out of first and aren't going anywhere in a hurry. The Giants can't get out of their own way and are in the midst of a lost season. With 26 games remaining against divisional rivals in their last 56 games, the Dodgers are well positioned to win a lot of games. Add to that the games against struggling foes like the Cubs, Mets, Marlins, and Phillies and this is a schedule built for winning.
Management sanity
Last year it seemed like the team had just one approach to winning — throw as much money as humanly possible at things and hope it worked. For last season and the first half of this season, it mostly didn't. What has been comforting this year, though, is that they have shown that they are more than a one-trick pony. It could have been tempting to make a big deal like adding Cliff Lee or trying to outbid Boston for Jake Peavy. Instead of panicking and risking the obvious team chemistry they have now, though, they chose to stand pat and go with what they had. Among other benefits, that shows the team that they have faith in their current lineup, and that can be a boost down the stretch. The one move they did make of note is low-risk and intriguing — adding reliever Brian Wilson, who is attempting to come back from Tommy John surgery. He is a luxury instead of a burning need, so if he doesn't work out then nothing is lost. If he can rediscover his old magic, though, then he will be useful as a set-up man or closer and a strong presence in the clubhouse as well. It's the kind of smart gamble that defines good teams.
Read more articles by Trevor Whenham