MLB Handicapping Hot/Cold Pitchers and Hitters Betting Report
by Ricky Dimon - 5/21/2013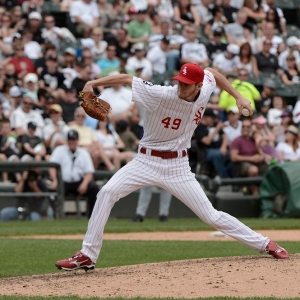 Miguel Cabrera isn't necessarily hot at the moment. He's just plain good in general. The same can almost be said for Justin Masterson, who has been on a steady burn for the most part this year. Chris Sale? Brandon McCarthy? Now those guys are hot. At the other end of the spectrum, some big names like Barry Zito and Ichiro Suzuki are struggling. It's time to take another look at the hot-cold meter as the 2013 season approaches the end of its second month (all odds provided by Sportsbook.ag).

Pitchers – Hot

Chris Sale (White Sox) – Since his only start of the year—out of nine in total—that was not a quality one (on April 14), Sale has been on fire. He has been especially so in his last three outings. Chicago's star southpaw allowed one run in 7.1 innings at Kansas City on May 6, fired a complete-game one-hitter against the Angels on May 12, and last Friday he shut out LAA again while giving up only three hits in 7.2 innings.

Brandon McCarthy (Diamondbacks) – McCarthy has not surrendered a single run in his last 17 innings spanning two starts. The Arizona right-hander went eight strong against Philly on May 12 before yielding just three hits in a complete-game gem last Saturday at Miami. Currently leading the NL West at 26-19, the Diamondbacks are +250 to win their division.

Justin Masterson (Indians) – Masterson basically needs a category of his own, and it should be called "unhittable." After brief hiccups in late April and early May, Cleveland's flamethrower fired a complete-game shutout in a 1-0 win over the Yankees on May 13, and on Sunday he allowed only three hits in seven innings during a 6-0 rout of Seattle. Masterson has 20 strikeouts in his last two starts.

Pitchers – Cold

Barry Zito (Giants) – When Zito is good, he's amazing. When Zito is bad, he's terrible. In five outings this season, the veteran lefty has allowed one or zero runs in at least five innings of work. In his three other appearances he has an outrageous E.R.A. of 12.21. Zito lasted 5.2 innings in each of his last two starts, giving up five runs in each and a total of 23 hits. The Giants are +450 co-favorites to win the NL Pennant and +1000 to win the World Series.

Jeremy Hellickson (Rays) – Hellickson's season was already poor, and it got even worse with his worst start of them all last Friday. The Rays' righty scattered 10 hits and eight runs over 7.2 innings before his team pulled out a 12-10 victory at Baltimore. That was preceded by an outing in which Hellickson allowed six runs in 6.2 innings against San Diego. He has given up at least one home run in eight of his nine 2013 appearances.

Jeremy Guthrie (Royals) – Guthrie had allowed only one run in his last 22.2 innings of work heading into last Tuesday. That's when Kansas City's 34-year-old right-hander gave up 11 hits and five runs in seven innings at LAA. On Monday, Guthrie allowed eight hits and six runs in five innings against…wait for it…Houston! He has been taken deep six times in his last two starts.

Hitters – Hot

David Ortiz (Red Sox) – Big Papi's season has been a bit of a roller-coaster, but it is back on the upswing. Prior to his hitless performance on Monday, Ortiz was on a seven-game hitting streak that featured eight hits in the last three games. On Saturday, the veteran slugger belted two homers and drove in six runs as Boston pummeled Minnesota, 12-5.

Joey Votto (Reds) – Votto is in the midst of a nine-game hitting streak, and he has four consecutive multi-hit games. Seven of his nine have been of the multi-hit variety. Cincy's first baseman has two dingers and three RBI in his last four, and he has struck out only twice in his last 31 at-bats. The Reds (Mike Leake) are -115 road favorites on Tuesday against the Mets (Jon Niese).

Miguel Cabrera (Tigers) – Orb won't become the first horse to win the Triple Crown since Affirmed in 1978, but Miguel Cabreba very well could become the first baseball player to win the Triple Crown since…Miguel Cabrera in 2012. Miggy is blowing away the AL field in batting average (.387), well ahead in RBI (47) and within two in homers (11) after blasting three on Sunday. Detroit's superstar has hit safely in 17 of his last 18 games.

Hitters – Cold

Ike Davis (Mets) – It was hard to imagine it getting any worse after Davis hit .165 in April, but it has done just that. The Mets' first baseman has just one hit in his last 33 at-bats. He does not have a single homer in his last 21 games. He has one RBI in his last 21 and none in his last 10. Since the last time Davis drew a walk (May 13), he has fanned nine times.

Ichiro Suzuki (Yankees) – Ichiro may be 39 years old, but he stole 40 bases as recently as 2011 and swiped 29 more last season. He has only five this season and none in his last eight games. Of course, you have to get on base in order to steal. Ichiro has three hits in his last eight games, and he does not have a walk, an RBI, or a home run in the same span. New York is a +180 favorite to win the AL East.

Delmon Young (Phillies) – Young is hitless in his last 11 plate appearances and homerless in his last 16 contests since going yard in his first game of the season on April 30. He has no extra-base knocks and no RBI in his last six. Philadelphia's right fielder is back below .200 (.192 BA) after surfacing above the Mendoza line starting on May 11.
Read more articles by Ricky Dimon