MLB Handicapping Hot/Cold Pitchers and Hitters Betting Report
by Ricky Dimon - 4/29/2013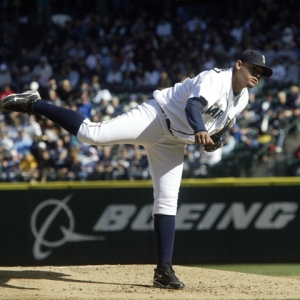 We're far enough into the 2013 Major League Baseball season that it has become a roller-coaster ride for a number of teams and players. Take the Atlanta Braves, for instance. They simply could not lose during the first two weeks, and now they can barely win a game. Even Craig Kimbrel is blowing saves, for crying out loud! Felix Hernandez, on the other hand, has progressed from mediocre (solid by almost anyone else's standards) to awesome.

One month in, it's time to take another look at the hot-cold meter (all odds provided by Sportsbook.ag).

Pitchers – Hot

Anibal Sanchez (Tigers) – Sanchez was historically good last Friday, striking out 17 Braves while allowing just five hits and one walk in eight innings. Since at least 1921, only Randy Johnson had fanned 17 batters in eight or fewer innings of work. Sanchez also set the record for most strikeouts in a regular-season interleague game. The righty has given up only three runs in his last 24 innings and his E.R.A. is down to 1.34 for the season.

Kyle Kendrick (Phillies) – Kendrick has two shutouts in his last three starts. He has not allowed more than two runs in any start since his first one of the season. Now, if Kendrick could get some run support from the Phillies, perhaps he would have a better record than 2-1 to show for his efforts. Philadelphia is +550 to win the NL East behind co-favorites Atlanta and Washington (both +110).

Felix Hernandez (Mariners) – The "King" is starting to get serious. At this time of year you might assume that's LeBron James (and you'd be right), but it also applies to King Felix. In his last three outings, he has surrendered a total of two runs over 22 innings while recording a ridiculous 28 strikeouts. His respectable 3.05 E.R.A. through three starts has plummeted to an outstanding 1.90.

Pitchers – Cold

Paul Maholm (Braves) – Just a few days ago, Maholm was the best pitcher in baseball, and the Braves were the best team in baseball. Maholm had not allowed a single run in his first 25.2 innings this season, but once he gave up one, the floodgates opened. The former Pirate surrendered three to his old team on April 20 then got torched by Detroit for eight earned runs in 3.2 innings last Friday. Once 12-1, Atlanta is suddenly 15-9.

Joe Saunders (Mariners) – Saunders was generally your average Joe throughout his first eight major league seasons. In his first go-around with Seattle, though, he has been positively terrible. The veteran southpaw is 1-3 with a ghastly 6.33 E.R.A. In his last two outings, Saunders has given up 20 hits, 15 earned runs, five walks, and three longballs in 9.2 innings. The Mariners (Saunders) are +108 home underdogs vs. Baltimore (Zach Britton) on Monday.

Ryan Vogelsong (Giants) – What a difference a year makes — or even a few months. Vogelsong was borderline unhittable throughout the last postseason as San Francisco captured its second World Series title in three years. So far this season, however, the 35-year-old sports a 6.23 E.R.A. through five starts. In his last 12 innings, Vogelsong has allowed 10 runs (nine earned), five walks, and five homers.

Hitters – Hot

Edwin Encarnacion (Blue Jays) – Expected to be a serious contender in the AL East and even favored to win the division at the beginning of the season, the revamped Jays are off to a disastrous 9-17 start. But it's no fault of Encarnacion. The first baseman is on a seven-game hitting streak, which includes five home runs and eight RBI. Encarnacion is +1500 to lead the bigs in homers; Atlanta's Justin Upton, currently leading with 12, is a +350 favorite.

Carlos Santana (Indians) – Santana belted out four hits in Cleveland's 10-3 win over Kansas City on Sunday. That's a lot, yes, but the performance did not exactly come out of nowhere. Santana has eight multi-hit games this season, including five in his last eight games as well as a 5-for-5 day back on April 7.

Carlos Beltran (Cardinals) – Beltran is still getting it done at 36 years old. After having only one multi-hit showing in his first 14 games this season, the right fielder has six in his last 10. Beltran also went yard twice in the Cardinals' 9-1 rout of Pittsburgh last Friday night. For the season, Beltran has six homers and 17 RBI to go along with a steadily-improving .289 average.

Hitters – Cold

Adam LaRoche (Nationals) – "Dad's in little slump," Adam's son Drake said in a recent interview. And he is right. LaRoche does not have a single hit in his last seven games. In the same span he has struck out 11 times. The first baseman has eight multi-strikeout games this season, including five in his last 10 outings. For the year, LaRoche is hitting .135 with three home runs and eight RBI.

Rickie Weeks (Brewers) – The output has been extremely weak so far this season for Milwaukee's second baseman. He is hitting .172 with just one homer and four RBI. In his last 11 games, Weeks has no home runs and one RBI. The Brewers are +600 to win the NL Central; Cincinnati (-110) is favored.

Adrian Beltre (Rangers) – Beltre may be 34 years old, but he clearly has a lot left in the tank coming off consecutive 30-homer seasons. He also hit .321 for Texas last season. With Josh Hamilton now in Los Angeles, Beltre has to carry an even bigger load. That hasn't been the case so far. In his last seven games, the third baseman has one yahtzee and one RBI, and his average stands at .221, his lowest since April 10.
Read more articles by Ricky Dimon