MLB Handicapping Hot/Cold Pitchers and Hitters Betting Report
by Ricky Dimon - 4/8/2013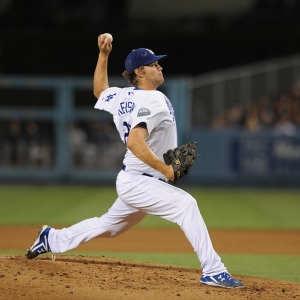 It's been a mixed bag for former Cy Young Award winners to begin the 2013 Major League Baseball season. Clayton Kershaw has been unhittable, but R.A. Dickey and David Price are off to slower starts in the American League. Interestingly enough, both hurlers have already lost games to Cleveland's Justin Masterson.

Who else is scorching hot or ice cold through one week of the season? Let's take a look (all odds provided by Sportsbook.ag).

Pitchers – Hot

Clayton Kershaw (Dodgers) – To say Kershaw has remained filthy in 2013 would be a gross understatement. After two starts and 16 innings, the left-hander is 2-0 with a E.R.A. full of zeros and a WHIP of 0.44. He has allowed only six hits and one walk while fanning 16 batters. Kershaw may be on his way to a second NL Cy Young in three seasons. The Dodgers are +350 (second behind Washington at +300) to win the National League.

Justin Masterson (Indians) – Just two starts into the year, Masterson has already made history. He became the third pitcher to beat both of the reigning Cy Young Award winners in the same season after getting the best of Toronto's Dickey (formerly of the Mets) and Tampa Bay's Price. Masterson is 2-0 with a 0.69 E.R.A, a 0.92 WHIP, and 13 strikeouts.

Sergio Romo (Giants) – Romo did his best Psy impersonation with a "Gangnam Style" dance after recording the last out of 2012 World Series. Now he's just doing his best…well…Sergio Romo impersonation. The Giants' closer has been up to his old tricks by saving all three of his team's wins this season (he is a perfect three-for-three), and he has not allowed a run nor even a single baserunner. San Francisco (with Madison Bumgarner on the mound) is a -170 home favorite on Monday against Colorado.

Pitchers – Cold

Cole Hamels (Phillies) – If the Phillies have any prayer of contending in a loaded NL East, Hamels will have to resemble something of an ace. However, the southpaw lost to Atlanta on Opening Day then got hammered by Kansas City in his second start. Hamels is 0-2 with a 10.97 E.R.A. while allowing four homers and five walks.

R.A. Dickey (Blue Jays) – The knuckler hasn't knuckled quite as effectively in the American League for the reigning NL Cy Young winner. Dickey was decent but wild against Cleveland before getting abused by Boston (he lasted just 4.2 innings) in a 13-0 loss. He is 0-2 with 8.44 E.R.A. and a 1.97 WHIP. Despite Dickey's struggles, the new-look Jays are +180 favorites to win the AL East.

Edinson Volquez (Padres) – Volquez has not done much since 2008 when he was with Cincinnati, but a start this terrible comes as a surprise. Through a combined nine innings in two starts, Volquez's E.R.A. and WHIP are a monstrous 10.00 and 2.11, respectively. He has half as many strikeouts (five) as earned runs allowed (10).

Hitters – Hot

Chris Davis (Orioles) – In his two fullest seasons, Davis batted .238 (2009) and .270 (2012). He went deep 33 times last year, but this start still has come just about out of nowhere. Davis had four home runs and 16 RBI in his first four games, and he is still hitting .455 (10-for-22) despite having cooled off a bit in his last two.

Todd Frazier (Reds) – It's early, but — like Davis — Frazier is on pace to shatter all of his individual records. He sports a .480 average (12-for-25) to go along with three dingers, nine RBI, and a stolen base. In part thanks to Frazier, the Reds are tied for second in the majors with 38 runs scored, one behind Colorado.

Justin Upton (Braves) – The 5-1 Braves got a glimpse of what it's like to have both Upton brothers swinging it well when B.J. launched a game-tying HR vs. Chicago on Saturday night and Justin followed with a walk-off shot two batters later. Of course, Justin has been on fire right from the start. He is tied for the MLB lead with five home runs while hitting .318 with seven RBI and seven runs scored. Justin is +1200 to lead the bigs in homers.

Hitters – Cold

The Big 3 (Angels) – The other L.A. team is off to a solid start, but the same cannot be said for LAA. A big reason for the Angels' 2-4 record is offensive woes, not unlike what plagued Albert Pujols throughout the first few months of last season. Pujols has started slow again, but, even so, he has produced more than Mike Trout and Josh Hamilton. The trio is a combined 15-for-72 (.208) with two homers (both by Pujols), eight RBI, nine runs scored, and 21 strikeouts.

Giancarlo Stanton (Marlins) – The Marlins were supposed to be terrible…and they are. Stanton's team is 1-5 and has crossed the plate just 14 times, more than only the Pittsburgh Pirates. RBI opportunities will be few and far between with this kind of supporting cast, but he should have more than zero after six games. Stanton is 4-for-22 (.182) with no yahtzees, no RBI, one run scored, and 10 strikeouts. He is still a +600 favorite to finish first in the major leagues in home runs.

Robinson Cano (Yankees) – When just about every single aging member of the Yankees is dealing with injuries, the healthy all-star seemingly in the prime of his career has to step up. Instead, Cano is 3-for-23 (.130) through six games for a New York squad that is struggling at 2-4. Cano has not yet homered, nor does he have even a single RBI.

Read more articles by Ricky Dimon