MLB Handicapping Hot/Cold Pitchers and Hitters Betting Report
by Ricky Dimon - 6/17/2013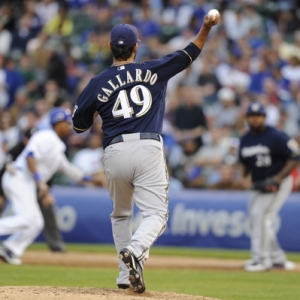 A hitter's stroke can turn on a dime, and it has done just that for guys like Adam Dunn and Domonic Brown. They are continuing to go in different directions, but now it's Dunn who is finding his range whereas Brown can hardly find the basepaths. A pitcher's arm can also blow hot and cold. Corey Kluber has begun to throw darts for Cleveland, while Tampa Bay's Matt Moore is suddenly doing a lot less on the mound.

All odds provided by Sportsbook.ag.

Pitchers – Hot

Yovani Gallardo (Brewers) – Gallardo is a modest 6-6 with a 4.41 E.R.A. this season, but those marks were 4-6 and 5.25 as recently as June 10. In his last two starts, the Brewers righty has allowed seven hits and zero runs while striking out nine in a combined 14 innings. In those two road outings, Milwaukee disposed of Miami 6-1 and Cincinnati 6-0.

Felix Hernandez (Mariners) – In three of four starts between May 19 and June 4, Hernandez gave up 25 hits and 14 earned runs. He watched three balls leave the yard in those three outings. In his last two, however, King Felix returned to the rubber. Only one hitter in 14 innings crossed the plate, none went deep, and 15 struck out while just three were issued walks. The Mariners (Aaron Harang) are +145 underdogs at the Angels (Jason Vargas) on Monday.

Corey Kluber (Indians) – Kluber has been solid-if-unspectacular the entire year, but he had surrendered at least three runs in no more than 6.2 innings in five of seven starts between May 5 and June 5. In his last two, though, the Indians starter was almost unhittable in a pair of victories. Over the course of 16 innings, he allowed just one run and struck out 11 while compiling a WHIP of 1.00.

Pitchers – Cold

Matt Moore (Rays) – Through two starts, Moore's E.R.A. was 0.00. Through five it was 1.13. Through 11 it was still an outstanding 2.18. Three disastrous appearances later, the Rays' now-former ace is sitting at 8-3 after an 8-0 beginning and his E.R.A. has ballooned to 4.12. He has given up 26 hits and 19 earned runs in his last 12.1 innings while walking an outrageous 11 batters.

Lance Lynn (Cardinals) – St. Louis has won Lynn's last five starts. Some of those were in part thanks to Lynn…but not the last two. After allowing a decent four runs in six innings at Cincinnati, the hard-throwing righty visited woeful Miami and was torched for nine hits and seven runs in five frames of work. Lynn also walked six hitters in those two outings. The Cardinals are +350 to win the NL Pennant and +800 to win the World Series.

Tom Koehler (Marlins) – After moving from the bullpen to the starting rotation on May 12, Koehler's first four outings went swimmingly, to say the least. That the Marlins lost all four is entirely expected and also entirely irrelevant. His worst of the four saw three runs score in six innings. Koehler, however, has yielded at least four runs in each of his last three starts—including nine in only 4.2 innings in a 13-7 loss to the Cardinals on Saturday.

Hitters – Hot

Matt Joyce (Rays) – Joyce extended his hitting streak to eight games with a single and a run scored in Sunday's loss to Kansas City. He has 12 hits in the current stretch, including four yahtzees and two doubles to go along with five RBI, six runs scored, and five walks. Tampa Bay is the sixth choice at +850 to win the AL Pennant.

Ian Desmond (Nationals) – Desmond has gone hitless in two of his last three contests, but it's gonna take a lot more than that for this to be considered a cooling off period. Washington's shortstop was enjoying a 15-game hitting streak until Friday, and he had 23 hits in those 15. Desmond has 13 RBI in 13 outings this month.

Adam Dunn (White Sox) – Dunn fanned three times on Sunday, but one more hit means he has found that column at least once in six of his last seven games. In his four previous games, the slugger struck out only once. He has 10 hits in this current hot stretch, five of which have left the ballpark. Dunn also has nine RBI in his last seven and he has drawn nine walks in his last 10.

Hitters – Cold

Domonic Brown (Phillies) – From the start of May until June 8, Brown was basically the talk of baseball. The last week, though, was brutal for Philadelphia's rookie sensation. He is three for his last 25 at the plate with no extra-base hits and one RBI. Not coincidentally, the Phillies have lost seven of their last nine contests following a five-game winning streak.

Stephen Drew (Red Sox) – If strikeouts were a positive category for hitters, Drew would be a fantasy owner's dream in June. In his last 14 games, he has been mowed down 19 times. That's seven more strikeouts than hits in the same span, 13 more strikeouts than extra-base hits, and 17 more strikeouts than home runs.

Elvis Andrus (Rangers) – Elvis has not left the building this season. That's right—he does not have a single home run in 67 games. He has, however, left a lot to be desired. Andrus' average is down at .245, his lowest mark since May 3. The shortstop has no extra-base hits since June 5, and his RBI on Sunday was his first since June 8. Texas, meanwhile, has lost six in a row. The Rangers (Nick Tepesch) are -115 home favorites over Oakland (Dan Straily) on Monday.
Read more articles by Ricky Dimon