MLB Handicapping: Hot/Cold Pitchers and Hitters Betting Report
by Ricky Dimon - 10/11/2013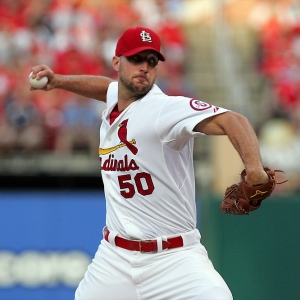 The Major League Baseball season is down to four teams as first-round action wrapped up on Thursday and LCS play is set to begin on Friday.

Some of the old reliables have already stepped up; Adam Wainwright, Justin Verlander, and Jacoby Ellsbury, to name a few. Not too many are struggling, which is no surprise given that this quartet of clubs is playing great ball right now. Some, though, could use a hot streak with a World Series berth at stake.

All odds provided by Sportsbook.ag.

Pitchers – Hot

Adam Wainwright (Cardinals) – In two division series starts against Pittsburgh, the St. Louis ace went 2-0 with a 1.13 E.R.A. and a 0.75 WHIP. For his postseason career, he is 4-0 with a 2.03 E.R.A. and a 0.92 WHIP in six outings. The Cardinals are +130 underdogs in the NLCS against Los Angeles.

Justin Verlander (Tigers) – The only good news for Oakland, which has lost a decisive Game 5 to Verlander in two straight seasons now, is it won't have to face him again until at least next April. The righty compiled a 2-0 record in the series with six hits and no runs allowed in 15 innings. Verlander has not given up a single run in his last 28.1 innings.

Clayton Kershaw (Dodgers) – Kershaw dominated Atlanta in the first round, striking out 18 batters in 13 innings while surrendering only one earned run. It was simply more of the same for the southpaw, who did not yield a run in his last 14 innings of the regular season. L.A. is a +200 co-favorite with Boston to win the World Series.

Pitchers – Cold

John Lackey (Red Sox) – The veteran right-hander recorded a 4.98 E.R.A. in five September starts, and only one of his last five has been a quality one. Lackey got a win in his lone division-series outing against Tampa Bay, but he allowed seven hits, three walks, and four runs in 5.1 innings of work. Boston is a -135 favorite to win the ALCS over Detroit.

Lance Lynn (Cardinals) – Lynn finished the regular season in solid form, but just four of his last 10 starts dating back to Aug. 15 have been of the quality variety. The righty started Game 2 at home vs. Pittsburgh and took the loss in a 7-1 decision after giving up seven hits, three walks, and five runs in 4.1 innings.

Anibal Sanchez (Tigers) – Sanchez and the Tigers were in a serious hole after he lost Game 3 at home against the A's. In a mere 4.1 innings, the right-hander was torched for eight hits, three of them home runs, and six runs. He has not lasted more than five innings in any of last three starts dating back to the regular season.

Hitters – Hot

Victor Martinez (Tigers) – Detroit got past Oakland mainly because of pitching, but Martinez at least did his part on offense. The designated hitter went 9-for-20 in the series with one home run, two doubles, two RBI, and five runs scored. He went a combined 6-for-8 in the two must-win games, Game 4 on Tuesday and Game 5 on Thursday.

Hanley Ramirez (Dodgers) – Ramirez hit safely in all four contests against the Braves, going 8-for-16 with four doubles, a triple, a homer, and six RBI. He also walked twice and stole a base. Ramirez had a pair of three-hit performances in the four-game set. The Dodgers (Greinke) are -129 road favorites at St. Louis (Kelly) in Game 1 on Friday.

Jacoby Ellsbury (Red Sox) – Ellsbury did it all as Boston held off the Rays in round one. He hit safely in all four games (two were of the three-hit variety) and went 9-for-18 with two doubles, two RBI, seven runs scored, and four stolen bases. Ellsbury also crossed the plate in all four games.

Hitters – Cold

Matt Carpenter (Cardinals) – No hitter was especially good for the Cardinals against Pittsburgh, but Carpenter was particularly bad. After going 1-for-5 in the series opener, he went hitless the rest of the way. The second baseman finished 1-for-19 with no extra-base hits and no RBI. St. Louis is a +125 underdog to score the first run of Game 1 on Friday.

Mike Napoli (Red Sox) – Napoli hit .333 in September with six homers and 16 RBI. He could not find the same range against Tampa Bay, to say the least. The first baseman went 2-for-13 in the series with one extra-base hit, no home runs, one RBI, and one run scored. Boston (Lester) is a -137 home favorite over Detroit (Sanchez) in Game 1.

Skip Schumaker (Dodgers) – By L.A. standards, Schumaker slumped against the Braves. Of course, he is never relied upon in that offense, and he certainly wasn't in the first round; not with what almost every other Dodger did to Atlanta. The second baseman went 3-for-13 with no extra-baggers and no runs scored.
Read more articles by Ricky Dimon