MLB Handicapping: Hot/Cold Pitchers and Hitters Betting Report
by Ricky Dimon - 9/11/2013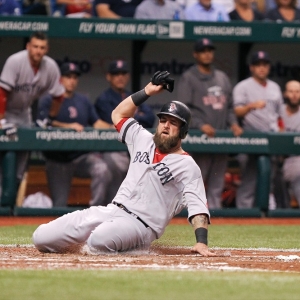 The Braves and Dodgers are locked in race not only for the best record in the National League but also to become the first team to clinch a division title. L.A. cut its magic number in the NL West to six with a win over Arizona on Tuesday, and Atlanta took care of Miami to put its NL East magic number at seven. While Hanley Ramirez is on a power binge to help the Dodgers' pitching duo of Clayton Kershaw and Zack Greinke, the Braves' Justin Upton is mired in a major slump and now slightly injured to boot.

Who else is either hot or cold as they round the stretch and head for home?

All odds provided by Sportsbook.ag.

Pitchers – Hot

Michael Wacha (Cardinals) – The fifth and sixth starts of Wacha's career were brilliant. A first-round draft pick out of Texas A&M in 2012, the 22-year-old righty went six innings last Tuesday at Cincinnati and allowed no runs on three hits. On Sunday, Wacha picked up the win in St. Louis' 9-2 victory over Pittsburgh while giving up two hits and no runs in seven innings.

Ubaldo Jimenez (Indians) – To say Jimenez has heated up in the second half of the season would be an understatement. His E.R.A. was 5.03 as recent as June 12, and his mark at the all-star break was 4.56. The right-hander's E.R.A. is now 3.62 following a stretch of six consecutive quality starts. In two September outings, Jimenez is 2-0 with 14 strikeouts and zero earned runs allowed in 13 innings. Cleveland is +1500 to win the AL Pennant and +2500 to win the World Series.

Gio Gonzalez (Nationals) – Gonzalez has made three straight quality starts dating back to Aug. 29. In that span he has surrendered a mere one earned run in 21.2 innings while mowing down 22 batters. On Monday, Gonzalez pitched a complete-game one-hitter at Citi Field in a 9-0 blanking of the Mets.

Pitchers – Cold

Lance Lynn (Cardinals) – Lynn has 13 wins for St. Louis, but that is the same number he had back on Aug. 4. Since then, the right-hander is 0-4 in six starts. His last two outings have featured a combined nine innings with 17 hits, seven walks, and 11 runs allowed. Lynn has walked at least three batters in four of his last six starts, and he has been taken deep five times in his last three. The Cardinals (Lynn) are -175 home favorites over the Brewers (Estrada) on Wednesday.

Doug Fister (Tigers) – An up-and-down Fister has been alternating between solid starts and dreadful ones, all of which makes for a relative disappointment by his standards. The Detroit righty was torched for 13 hits and seven runs in five innings during a 14-4 loss to Oakland on Aug. 28. After pitching shutout ball over seven innings against Boston last Monday, Fister gave up eight hits and five runs in 6.1 innings at Kansas City on Sunday.

Eric Stults (Padres) – The 33-year-old southpaw has allowed at least three runs in each of his past five starts, none of which has seen him go more than 6.2 innings. San Diego has lost Stults' last three outings, and he does not have a win since July 14—10 starts ago. Last Wednesday, Stults was pummeled by San Francisco for nine hits (three of which left the yard) and seven runs in just 4.2 innings.

Hitters – Hot

Mike Napoli (Red Sox) – Boston has all but wrapped up the AL East, and it is closing in on home-field advantage throughout the playoffs. Napoli has been a big part of the current hot stretch in which the Sox have won nine of 11 games. The first baseman has hit safely in six of his last seven games, and four have been of the multi-hit variety. Napoli has four home runs and nine RBI in his last six.

Hanley Ramirez (Dodgers) – The Dodgers aren't completely setting the world on fire anymore, but they are 13 games up in the NL West and two games back of the Braves for the NL's best record. Ramirez has four multi-hit performances in his last six games, including three yahtzees, two doubles, and six RBI.

Kendrys Morales (Mariners) – Morales has three multi-hit games out of his last seven, with eight hits in that span—including three homers, a double, and six RBI. Seattle (Maurer) is a -145 home favorite over Houston (Peacock) on Wednesday night.

Hitters – Cold

Justin Upton (Braves) – In his past seven games dating back to last Tuesday, Upton has a mere two hits in 21 at-bats. He has not homered since Aug. 22, and he does not have a single RBI since that same date. Adding insult to injury, or vice versa, Upton fouled a ball off his knee on Tuesday, and he is currently day-to-day.

J.P. Arencibia (Blue Jays) – Arencibia's average plunged to .204 on Sunday, his lowest since the first game of the season, and it currently sits at .205. Toronto's catcher has two hits in his last 28 at-bats dating back to Aug. 28. He has not gone deep since Aug. 23, and he has driven in only one run since Aug. 24.

Neil Walker (Pirates) – Walker is hitless in his last 15 at-bats as the Pirates (one game back) try to keep pace with St. Louis in the NL Central. The second baseman has no home runs, no RBI, and only one extra-base hit since Sept. 2. Pittsburgh is +250 to win the division and +650 to win the NL Pennant.
Read more articles by Ricky Dimon