MLB Handicapping: Hot/Cold Pitchers and Hitters Betting Report
by Ricky Dimon - 9/4/2013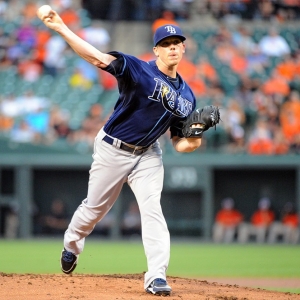 Only two division races appear destined to go down to the wire. One is the NL Central, where Allen Craig is heating up for the Cardinals but Yadier Molina is cooling off. The challenging Pirates just acquired Justin Morneau, whose tenure in Minnesota ended with a whimper. One race not going down to the wire is the NL West, where the Dodgers have won six straight with Zack Greinke continuing to dominate.

With one month of the regular-season to go, it's time to take another look at the MLB hot/cold meter.

All odds provided by Sportsbook.ag.

Pitchers – Hot

Zack Greinke (Dodgers) – The Dodgers are starting another winning streak—yes, for them six in a row is just a start. Greinke also remains on fire. In each of his last seven starts, the righty has gone at least 6.1 innings while allowing no more than two runs. In his last 37.1 innings dating back to Aug. 10, Greinke has given up a mere four runs. L.A. is a +250 favorite to win the World Series.

Andy Pettitte (Yankees) – Since getting abused by the White Sox for seven runs in 2.2 innings on Aug. 5, Pettitte has been the Pettitte of old. The southpaw has surrendered only four runs in his last 30 innings of work. In two of his last five outings he has gone unblemished in the run column (6.2 innings at Boston on Aug. 16, seven innings at Toronto last Tuesday).

Jon Niese (Mets) – Aside from breaking Jason Heyward's jaw with an errant pitch, Niese's last four starts have been stellar. In this current stretch he has given up only four runs in 27.2 innings. The Mets' left-hander hurled a complete-game shutout last Tuesday against the Phillies before doing damage control on Sunday at Washington (10 hits but only two runs in 5.2 innings).

Pitchers – Cold

Jeremy Hellickson (Rays) – Hellickson boasted a 10-3 record in late July, but he has five in the other column since his last win, and he has taken the loss in five of his last six starts. In his last six appearances dating back to July 31, the Rays' right-hander has lasted more than 4.1 innings only once. He allowed seven hits and five runs in 2.2 innings last Monday in an 11-1 setback at Kansas City. Tampa Bay (Hellickson) is a +114 underdog at the Angels (Weaver) on Wednesday night.

Barry Zito (Giants) – A quartet of bullpen sessions in mid-August did not seem to change anything for Zito. San Francisco's veteran southpaw had given up 16 runs in his last 16 innings prior to that stint. Since returning to the rotation on Aug. 21, Zito has yielded 15 runs in 11.2 innings while taking the loss in all three of his outings.

Justin Verlander (Tigers) – Verlander tossed seven scoreless innings on Sunday against Cleveland, a much-needed performance for both the ace and his Detroit squad. Prior to that, he had allowed 14 hits and nine earned runs in two starts (12 innings). Verlander had not given up fewer than two runs in any outing since Aug. 6. By his standards, that is absolutely a slump.

Hitters – Hot

Jason Castro (Astros) – The Astros' catcher was hitting .267 on Aug. 17. Castro's average is now up to .282 thanks to a current stretch in which he has hit safely in 10 of his last 13 games. He has six multi-hit games and three homers during the span. Castro has three RBI in his last three contests and 10 RBI in his last 11.

Allen Craig (Cardinals) – Craig found himself in the "cold" section in mid-August, but he is back on track now. St. Louis' first baseman has hit safely in 11 of 14 games dating back to Aug. 18. The power has not been off the charts (two homers in his last 13 games), but Craig has driven in seven runs in his last nine. The Cards are +120 to win the NL Central and +375 to win the NL Pennant.

Shane Victorino (Red Sox) – A minor hip injury may have contributed to just one hit for Victorino in his last 10 at-bats, but for the most part he has been on fire. Boston's right-fielder has an awesome nine multi-hit performances in his last 16 games. In a two-week span from Aug. 17 to Aug. 31, Victorino's average soared from .277 to .297. He has five HRs in his last 13 games and 15 RBI in his last 14.

Hitters – Cold

Justin Smoak (Mariners) – Smoak had two hits on Tuesday for his first multi-hit game in more than two weeks. Prior to that, he had not been able to hit anything. Seattle's first baseman was batting .273 as recently as Aug. 18, and his average is now down at .249. In his last 16 games, Smoak has five hits, no home runs, and one RBI.

Yadier Molina (Cardinals) – Molina's push for the NL batting title has hit a snag. The Cardinals' catcher was hitting .352 at one point in July and still .337 as recently as Aug. 24, but the average now registers at .325. Molina has just two hits in his last five games, and he has not homered since Aug. 20.

Justin Morneau (Pirates) – Since being acquired from Minnesota over the weekend, Morneau has four hits and three walks in three contests. His farewell stretch with the Twins, however, was dreadful. The first baseman notched a mere two hits in his last 29 at-bats in Minnesota and just two RBI in his final nine games. Pittsburgh (Liriano) is a -156 favorite over Milwaukee (Peralta) on Wednesday.
Read more articles by Ricky Dimon