MLB Handicapping: Can Toronto Blue Jays Overcome Horrid Start?
by Trevor Whenham - 6/19/2013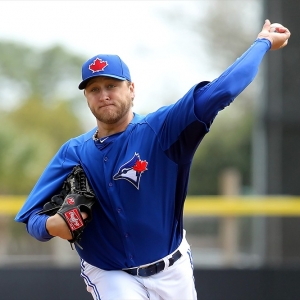 It's not that often that you spend much time talking about a team a couple of games below .500 in late June. It's not often, though, that the preseason favorite to win the World Series is not only a couple of games below .500 but has had to work very hard to get there.
The Toronto Blue Jays were largely a disaster early in this season. Quietly, though, they have become the hottest team in baseball with seven straight wins, and they are climbing back towards respectability. They still need to make it to .500, but they are sitting just 4.5 games out of a wild-card spot, so things could really get interesting with just a little bit more strong play.
So, are the Blue Jays finally playing up to their potential? Or is this just a tease before they fall right back into their disappointing ways? Let's take a look:
Pitching
The starting pitching was the biggest reason for optimism heading into the season after the aggressive overhaul of the rotation in the offseason, but the widespread failure to perform early on was the biggest reason the team struggled. Lately, though, the pitching has been dramatically better on several fronts, and that has made a big difference. For starters, Josh Johnson has finally gotten healthy and has been pitching well. On Monday night he not only had his best start of the year but his best in a couple of years. He took a shutout into the eighth inning and had his first double-digit strikeout game since 2010. He looked like the ace he is supposed to be, and that's a very positive sign. R.A. Dickey hasn't found that kind of form this year — at least not with any consistency — but he is pitching reasonably well recently, and the team is 4-3 in his last seven. If you ignore that he is the very-well-paid defending Cy Young winner, it would be easy to be pleased with that kind of performance from an ancient knuckleballer. Mark Buehrle has been dramatically better recently after a rough start as well, and he can continue to be a valued part of the rotation after an excellent start on Friday.
Most impressive recently, though, have been the strong performances from unexpected pieces. The Jays claimed Chien-Ming Wang from the Yankees' scrap heap, and he has been stronger than we have seen him in a long time. Esmil Rogers has come from nowhere to pitch well recently. Brandon Morrow suffered another setback in his rehab, and Ricky Romero seems like a lost cause for the year, so the team will continue to need the unsung heroes to step up if they want to continue their progress. That's a scary thing for a team to rely on.
Hitting
The Jays have the bats to be contenders, and it is only going to get better. Led by a strong year from Edward Encarnacion, they sit second in the American League in home runs, can score runs reasonably well, and aren't a lot of fun for opponents to face. There is plenty of room for improvement — they aren't hitting for average, for example. They have struggled with injuries, though, and relief on that front is on the way. Jose Reyes is two games into a rehab stint in Single A and should be ready to contribute on the major league-level soon. Brett Lawrie is also nearing a return. However, given his injury and mental struggles recently, it's harder to get excited about him than it used to be. Still, this is a team that is hitting better than it used to, and one that should only hit better down the road. This is another reason to be optimistic.
The man in charge
John Gibbons seemed like a lousy hire as manager before the season, and the early part of the year only reinforced that feeling. While he clearly has his team under better control recently as the results show, it is still hard to respect him particularly or to believe that his leadership can weather another downturn in fortunes. He's a real liability for this team at this point.
The betting performance
Thanks largely to their recent success, the Jays haven't been the betting disaster that you might expect. If you had flat bet on them on every game all year you would be down less than a unit on the season. Given how high expectations were before the season, that is quite remarkable for a team below .500. Five of their last seven wins have been as underdogs, and they have been profitable on the season on the road. The public is starting to catch on to the team as they continue to win, but at this point there is still some value betting on them.
The math
Last year, in the first year of the two-wild-card team era, it took 93 wins to make the playoffs. The year before it was 91 wins. And it was 95 the year before that. That means that somewhere around 93 wins seems reasonable — though the AL isn't as strong as it has been at times, so it could be a game or to less than that. The Jays are 34-36 with 92 games left to play. To get to 93 games, then, they would have to go 59-33 the rest of the way. That's a .641 win percentage. The bad news is that no team in baseball has a record that good at this point, The Cardinals are tops at .634, and they are struggling at just 5-5 in their last 10. Last year the Nationals topped the league with a winning percentage of just .605. The year before the Phillies were brilliant but hit just .630. While the required record isn't impossible given the talent the team has, it is a lot to ask. It would take a remarkable close to the season for things to turn around. They have only 4.5 games to make up, though, so the race isn't quite as desperate as it looks. It is conceivable that they could get back in the wild card picture, though smart money would still bet against them.
Read more articles by Trevor Whenham