2013 Super Bowl Handicapping: Don't Buy Into Media Hype
by Trevor Whenham - 1/28/2013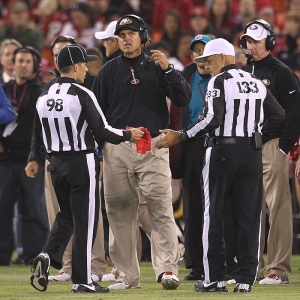 The amount of media coverage of the Super Bowl grows each year. With that comes more and more stories that we have to listen to and decide whether they matter or not. There are a lot of stories that clearly mean little, so we can discard them quickly. There are other stories, though, that you hear often enough that you really start to wonder whether they could be a big difference in the game. Here are four storylines that are getting a lot of attention heading into this year's game that just aren't as important as they seem when it comes to picking a winner:
The brothers
The fact that the two coaches are related is a story that isn't going to go away. It's also mostly irrelevant. You could argue that it was a big factor if the Harbaughs were like the Stoops — they worked together on the same staff for a long time. They haven't, though, so while they share genes they don't share a whole lot of specific philosophies or personality traits. They are going to be desperate to beat each other, but so are every two coaches who meet in a Super Bowl. The much more interesting story to me is that San Francisco defensive coordinator Vic Fangio spent two years as an assistant under John in Baltimore. He'll bring a lot more to the game in terms of strategy and familiarity than the two brothers will.
Last year's experience for both teams
Last year both of these teams lost in the conference championship. Only once before have two teams that came so close the previous year made it all the way the next year was when Pittsburgh and Dallas played in Super Bowl XXX. The theory many are putting forward is that these teams are here in large part because of what they learned from falling short before. I'm not buying it. I don't believe that teams really carry that much over from one year to the next — at least not on a game-to-game basis. I'm not saying that it is completely irrelevant, but with a new QB on one side and a new offensive coordinator on the other it's hard to make a convincing argument that last year's experience will significantly impact this year's. Besides, if both teams have been through the same thing then it's very tough to figure out which one — if any — will get an edge from it this time around. This whole storyline is just a distraction for serious bettors.
Baltimore's ability to stretch the field
Much has been made in the lead up to this year's game about Baltimore's ability and willingness to throw deep. That's in contrast to the Niners and their love of having as many receivers as they possibly can within 20 yards of the line of scrimmage in almost every case. Many have speculated that the game could come down to how well the Ravens could connect downfield and whether the San Francisco secondary can stand up to what is likely to be an aggressive attack. While that is an important consideration, I am far from concerned that it is the crucial one here. What is going to matter isn't how well the Ravens can stretch the field but whether they can get the ability to try at all. That will be determined not by the secondary but by the two lines.
Can San Francisco's pass rush get to Flacco? More significantly, can Baltimore establish the run? What isn't getting enough discussion here is that the reason Baltimore has been effective going down the field in recent weeks is because they have been very dedicated to the run since Jim Caldwell took over as offensive coordinator. They now run on nearly half their plays — well over the league average — and more than 60 percent of the time on first down. They are effective as well — 4.4 yards per carry. It's because they are so dedicated to the run, and so effective, that the offense has been so successful. The defense can't ignore the run threat, so they have to leave some portion of the field under-protected. Flacco has thrived on exploiting those holes. Simply put, if Baltimore can't establish their run early in this one they aren't going to win. San Francisco had the fourth-rated run defense in the league during the regular season, so it's this matchup, and not the deep passing game, that will be the one to watch.
Betting volume
There is a good chance that the handle in Vegas this year will be higher than ever before for the game. There are a number of reasons for that -- the short distance between Nevada and San Francisco, the improved economy, the compelling Harbaugh and Lewis storylines, the comparative ease of making a case for both sides, and so on. While more handle means more public money, and public money is a huge factor in Super Bowl handicapping, it really doesn't matter how big the handle is beyond a certain point for handicappers. The volume is already so huge, and the public money so massive, that a little more or a little less dead money isn't going to have a big impact. In other words, the large majority of the impact of the public money is felt even in a lousy year, so this extra boost doesn't have enough of an impact to really worry about. Focus on how the added volume in this game compared to every other game played all year impacts things, not how a potential increase of a few percentage points in volume this year compared to other years would change things.
Read more articles by Trevor Whenham