This Week in Sports Betting, A-Z
by Ricky Dimon - 10/11/2013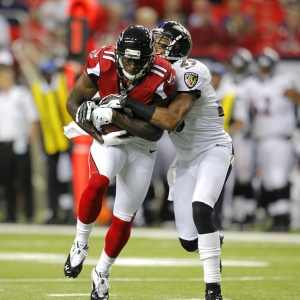 A. Atlanta. Days in sports don't get much more disastrous than that. On Monday night, the Falcons lost on a last-second field goal to the New York Jets, fell to 1-4 and four games behind New Orleans in the NFC South, and they saw star receiver Julio Jones go down with a season-ending injury. One hour later, the Braves were six outs from a Game 5 at home but failed to maintain a 3-2 lead and watched their season come to a close in a 4-3 heartbreaker against the Dodgers.

B. Georgia Bulldogs. The injury bug is all over the state of Georgia, and the Dawgs may have it even worse than the Falcons. You knew it was going to be a long year in that department when, in the first game of the season, Malcolm Mitchell suffered a torn ACL celebrating a touchdown. Running back Keith Marshall and wideout Justin Scott-Wesley became the latest victims, sustaining season-ending knee injuries last Saturday in an overtime win at Tennessee. UGA is a -7.5 home favorite over Missouri on Saturday, according to Sportsbook.ag.

C. Carl Crawford. Crawford was big reason for another early postseason exit by the Braves. He had hits in all four games of their divisional series, including three home runs and five RBI in his last two.

D. Danica Patrick. Patrick, along with NASCAR boyfriend Ricky Stenhouse Jr., is starring in the video for country music singer Colt Ford's new single, "Drivin' Around Song." In it, Patrick steals the keys of an auto repair man (played by Stenhouse) and takes Ford for a ride around town. Sounds hot.

E. Elimination games. They took place in half of the divisional series, with St. Louis taking care of business at home vs. Pittsburgh on Wednesday and Detroit winning at Oakland on Thursday. TopBet has the Cardinals as +130 underdogs to win the NLCS against L.A. and it has the Tigers as even-money underdogs against Boston (-120) in the ALCS.

F. Floyd Mayweather. "Money" Mayweather paid a visit to the Miami Heat's practice on Sunday. The boxing champ, a courtside regular at Heat games and an alleged lavish bettor on the team, sat front row and even gave the team a pep talk about defending titles. Bovada Sportsbook has Miami as a +200 favorite to win the 2014 NBA Championship.

G. Garbage. That's what NFL referee Dan Ferrell is, at least if you ask Carolina wide receiver Steve Smith. Smith, whose team lost 22-6 to Arizona on Sunday, was upset with non-calls on potential pass interferences as well as with an incorrect spot that left him short of a first down (a challenge eventually resulted in a first down, two yards ahead of Ferrell's original spot). Maybe the head ref really was garbage, but he could not have been any more garbage than the Panthers!
H. Aaron Hernandez. Hernandez took the witness stand on Wednesday, mainly to answer questions about a potential conflict of interest with one of his attorneys. In other news, prosecutors in the murder case want Judge Susan Garsh to remove herself due to a past and public history of antagonism and displayed bias. Anyway, that's your weekly Hernandez trial update. The Patriots are -1.5 home favorites over New Orleans, per Carbon Sports.

I. Impersonators. According to USC athletic director Pat Haden, two people pretending to be school representatives contacted coaches to discuss the football team's head-coaching vacancy. Both Jack Del Rio and Tony Dungy received calls. Basically, the bottom line is that any story involving the hiring or firing of Lane Kiffin does not end well.

J. Jonas Brothers. The JoBros cancelled their tour earlier this week, just two days before it was scheduled to begin. Word on the street is there is a "creative rift" within the band. If only Justin Bieber had a "creative rift" with himself; now that would be splendid!

K. Kevin Harvick. Starting on the pole, Harvick got the job done last weekend at Kansas Motor Speedway. Harvick is third in the Chase standings and now within 25 points of leader Matt Kenseth. At Sportsbook.ag, Jimmie Johnson is a +400 favorite to win this weekend's Bank of America 500, and he is a -140 favorite to win the Sprint Cup.

L. Peter Laviolette. Life must suck when you aren't even given as many games in a season as Kiffin. Laviolette, the now-former head coach of the Philadelphia Flyers, got canned after just three—all losses. Perhaps the team's higher-ups know what they're doing, though, because Philly promptly won its fourth game (2-1 over Florida) under interim Craig Berube. GT Bets has the Flyers at +4000 to win the Stanley Cup.

M. Maryland. 63-0? It doesn't matter if Florida State goes on to win the National Championship; that game cements Maryland's status as the biggest joke in the history of the AP Top 25.

N. No comment. That's basically what 49ers head coach Jim Harbaugh said after Aldon Smith was charged on Wednesday with three felony counts of illegal possession of an assault weapon. There is, of course, no timetable for Smith's return as he battles all kinds off off-the-field issues. San Francisco is a -11 home favorite at Bovada Sportsbook to beat Arizona.

O. Box office. "Gravity" killed it in its opening weekend, setting an October record by bringing in $55.8 million. "Runner Runner" is more up our alley, to say the least, but a bet on it to be the biggest box-office hit this month was a bet gone entirely wrong.

P. Presidents Cup. The Ryder Cup is awesome because both teams win every now and then, almost every cup is competitive, and the two teams don't like each other all that much. The Presidents Cup is the opposite. Team USA wins every single time and does so by a thousand points. The Americans sleepwalked through Sunday singles, and the 18.5-15.5 final score was still nowhere near as close as it looks…. And it doesn't even look that close! According to Sportsbook.ag, Tiger Woods—who won the clinching point at the Presidents Cup—is a +500 favorite to win the Masters next April.

Q. Jonathan Quick. What on Earth was Quick doing in the net when he allowed a second goal to the Rangers in L.A.'s 3-1 loss on Monday? If you haven't seen it yet, do a YouTube search for "Jonathan Quick" immediately. BookMaker has the Kings as -130 road favorites at Carolina on Friday.

R. Rob Gronkowski. Gronk is listed as day-to-day, but the Patriots are hopeful he will make his season debut in Week 6 showdown against New Orleans. In other words, same ol', same ol'. The Pats are +600 at TopBet to win the AFC Championship.

S. Steve Spurrier. This is not quite Harbaugh vs. Richard Sherman when those two were at Stanford, but the Spurrier vs. Jadeveon Clowney feud—if you can call it that—is stealing headlines. Will Clowney play or won't he? If not, why not? The questions are continuing in the buildup to South Carolina's Saturday date at Arkansas. The Gamecocks are -5.5 favorites at BetOnline Sportsbook.

T. Twenty-eight. The Broncos are on pace to set plenty of records this season, but an especially interesting one is already in the history books. They opened as twenty-eight point favorites for this week's home game against the Jaguars, tying the largest spread since a 1966 meeting between the Baltimore Colts and the expansion Atlanta Falcons (the underdog Falcons covered). If it wants to, Denver could cover the current 27-point margin in the first half. But Peyton Manning may be too nice of a guy.

U. Under the influence. Jerry Sandusky's son was just that while behind the wheel of a car early Tuesday morning. Jon Sandusky, director of player personnel for the Cleveland Browns, is out on bail after being arrested on suspicion of drunk driving in Fargo, North Dakota. You don't get a free pass just because you are Jerry Sandusky's son, but that title sure must suck. But hey, at least his name isn't Jerry Sandusky, like the Baltimore Ravens announcer.

V. Minnesota Vikings. The bad news for Christian Ponder? Minnesota just signed Josh Freeman, and nothing screams "you are a worthless quarterback" than signing Freeman as a potential replacement. The good news for Christian Ponder? He is still married to Samantha Steele.

W. Adam Wainwright. Adding insult to injury, the Braves—the poster children of playoff failure—have to sit around and watch Wainwright do what he is doing. The St. Louis ace, whom Atlanta dealt in 2003, took the mound for Game 5 against Pittsburgh on Wednesday and fired a complete game while allowing only one run in a 6-1 victory. For his postseason career, Wainwright is 4-0 with a 2.03 E.R.A. and a 0.92 WHIP in six starts. Sportsbook.ag has the Cards as +350 longshots behind the other three remaining teams to win the World Series.

X. Xander Bogaerts. Red Sox manager John Farrell did not make the same mistake twice. After leaving Bogaerts on the bench in a seemingly obvious pinch-hit situation in a Game 3 loss to Tampa Bay, Farrell went with the 21-year-old shortstop in the seventh inning of Game 4. Bogaerts drew a walk, eventually scored on a wild pitch for the go-ahead run, walked again in the ninth, and scored a big insurance run on a sacrifice fly. Boston is a +200 favorite at Sportsbook.ag to win the World Series.

Y. Yasiel Puig. Like Crawford, Puig hit safely in all four of L.A.'s games against Atlanta. The rookie sensation had no homers and only two RBI in the series, but he went 8-for-17 with a crucial eighth-inning double in Game 4. According to Sportsbook.ag, the Dodgers (Greinke) are -125 road favorites at St. Louis (Kelly) in Game 1 of the NLCS on Friday.

Z. Zach Randolph. Z-Bo earlier this week obtained a proactive order to block public disclosure of confidential records in a $4 million lawsuit filed against him by a convicted drug dealer, who claims he went to party at Randolph's home looking to sell marijuana and was beaten with pool cues by Randolph's entourage when they did not like the price. WagerWeb has the Grizzlies at +2500 to win the NBA Championship.
Read more articles by Ricky Dimon