Largest Point Spread in NFL History: Jacksonville at Denver
by Trevor Whenham - 10/7/2013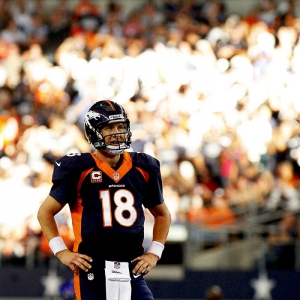 In a development that should come as a surprise to absolutely no one, the Denver Broncos have opened as the biggest favorites in NFL history when they host the Jacksonville Jaguars on Sunday. The game opened at either 27.5 or 28 points, depending on the source. Almost two-thirds of bets in early action have been the Broncos, so there is a chance that the number could climb even higher. A spread of 30 points or more should be fundamentally impossible in the NFL, but there is at least a chance we could see it here. Incredible.
Behind this spread is basically a perfect storm of factors. The Broncos have the closest to a flawless offense we have seen in years, and they were a very public team even before they flirted with immortality. Their defense has obvious issues as was on display in Denver on Sunday, but the public doesn't care about that, and Jacksonville isn't in position to exploit that, anyway. The Jaguars are quite possibly the worst team any of us have seen in our lifetimes. They can't score, they can't defend, and they have impossibly bad injury luck. The latest proof that they are cursed — just days after trading away left tackle Eugene Monroe to clear room for Luke Joeckel, the second overall draft pick last year who is the tackle of the future, Joeckel was lost for the year with a broken ankle on Sunday. That won't make the jobs of their quarterbacks any easier, and Gabbert and Henne already weren't doing any good. The most public team at the height of offensive excellence against the least public, most wretched team possible — a sure recipe for a massive spread.
I'll leave it to you to decide how to break down this particular game. Will you trust the Broncos to run away with it? Or do you think the Jaguars can keep it close — especially if Denver empties their bench in the second half when things are presumably in hand? What I will do to help you out, though, is look at the only nine previous times we have seen a spread of more than 20 points since 1976. If you want the quick and dirty summary, the favorites in these games were a horrendous 1-8 ATS, but the one team that covered was the heaviest favorite:
Steelers (-27) at Buccaneers (Dec. 5, 1976): This is the previous champ, and this one is arguably even more impressive than this week's game since Pittsburgh was favored on the road. The massive number was no concern for the Steel Curtain — they crushed the Bucs, 42-0.
49ers (-24) vs. Bengals (Dec. 5, 1993): Cincinnati was 1-10 when this game was played, but they gave the mighty Niners a scare. The final score was 21-8, so Cincy covered easily.
Patriots (-24) vs. Eagles (Nov. 25, 2007: Th)is was during the historic 16-win season for New England, so it is no surprise that they show up often on this list during that year. The Patriots believed their own hype in this one, and it almost cost them — only a late Laurence Maroney TD allowed them to win by three points.
49ers (-23.5) at Falcons (Oct. 11, 1987): Joe Montana was entering his prime, and the Falcons were terrible, so the spread was no surprise. The outcome showed the problem with games like this, though — San Francisco opened up a 20-0 lead at halftime before taking their foot off the gas and winning, 25-17. They were never threatened, but didn't cover.
Cowboys (-23) vs. Buccaneers (Oct. 2, 1977): Roger Staubach was a star. The Bucs had no good players, never mind stars. Again, Dallas jumped out to a 17-0 early lead then eased up, winning 23-7 but not covering.
Patriots (-22) vs. Dolphins (Dec. 23, 2007): Stop me if you have heard this one before — the Patriots opened up a 28-0 lead at the half, took the second half off, and won by a 28-7 score that wasn't quite enough to cover.
Patriots (-21) at Buccaneers (Dec. 12, 1976): The Bucs were 0-14 heading into this game, so they could be a good parallel for the Jags this year. Tampa Bay did something Jacksonville isn't likely to do, though — they led at the half. The score was 14-7 then, but they faltered in the second half and lost, 31-14. That was still enough to cover, but that probably wasn't consolation for the team.
Patriots (-20.5) vs. Colts (Dec. 4, 2011): This was the year in between Manning and Luck for the Colts, so obviously things didn't go well. In fact, they were 0-11 at this point. Yet again, New England opened up a massive lead — 31-3 after three quarters — then packed it in. Indy made the game look much, much closer than it was with a 31-24 final. No cover for New England.
Patriots (-20.5) vs. Jets (Dec. 16. 2007): The Jets were 3-10, and the Patriots were rolling. It should have been a much better game than it was. New England never led by more than the 10 points they won by. 20-10 was the final score, so again New England didn't cover.
Read more articles by Trevor Whenham