Understanding and Learning To Calculate Sports Betting Expected Value
by George Monroy - 2/15/2013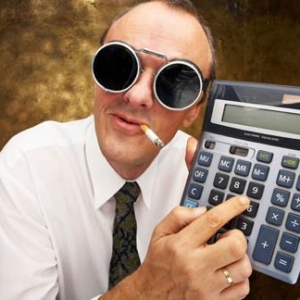 Expected value is a math term that sounds like something out of your worst high school algebra nightmare. It sounds like a concept most people thought they had escaped from years ago. However — even though the mathematically impaired might not want to hear this — it is also a sports betting concept that every gambler should know and deeply understand.
Sports bettors might cringe at the thought of having to do math while placing bets, but the uncomfortable truth is that sports betting is a very math-based undertaking, even if most people do not know it. In order to get the largest edge on the sportsbooks, knowing and understanding the math behind betting is something every gambler would be wise learn.
Instant $250 Free Bonus Bet from Bovada -
CLICK HERE
I am not suggesting that every bettor should turn in to a math expert, but they should at least understand a few key concepts — one of which is the idea of expected value.
What is expected value?
The concept of expected value is a powerful tool for sports bettors. The basic idea behind expected value is to figure out how much money you are expected to win or lose on a particular wager. Let's use the idea of going to work as an example. For every hour that you are at work you are expected to make a certain amount of money, so showing up to work is a positive expected value event that will bring you, let's say, $15 dollars an hour. And missing work would be considered a negative expected value event that is costing you $120 a day (unless you have sick time, of course).
The idea of expected value is not very difficult to grasp, but let's take a look at another example more specific to sports betting. Image that we are flipping a coin for a $1 and I offered to pay you $1.10 for every time you won, but there was one little catch. The coin was rigged, so I would win 53 percent of the coin flips. The question now becomes, should you take the bet? This example encompasses the concept of expected value at its basic level. We need to know if this is a good or a bad bet. Is getting an extra 10 cents worth the risk of giving away three percent on the coin flip?
At first glance you might not understand how this example relates to sports betting, but the idea is perfectly compatible. Whenever a gambler places a wager he must pay a vig on every bet. So, in general, losing bets pay out more than winning bets. And, if you do not understand the expected value your wagers, it makes it almost impossible to figure out how many bets you should be winning in order to be a profitable player.
Calculating expected value
Now that you understand the concept of expected value, all you need to know is how to calculate it. The coin flip example that I used turns out to be a negative expected value event. For every 100 coin flips, you would lose $1.30. But, before we learn how to calculate expected value, let's use another example.
Image I told you that NBA home underdogs were covering the spread at a 54 percent rate and would continue to do so for the rest of the season. Should we run out and start betting every NBA home underdog we can find? At 54 percent, of course we should. But, let's say once we got to our favorite sportsbook with a bag full of cash, we found out that they were charging a -120 vig for all NBA games. The next question now becomes, should we still bet it? Is getting a 54 percent winner a positive expected value bet at a -120 vig? I am not sure of the answer, but I do know how to calculate it.
Here is the expected value formula (don't worry, it's not as complicated at it looks):
(Odds of winning) x (Amount of money won) – (Odds of losing) x (Amount of money lost)
The odds of winning and losing are self explanatory, but the amount of money won or lost is usually calculated using the price of the vig that you are getting from your sportsbook. So, you would win $100 and lose $120. Let's do a few calculations.
(Odds of winning) x (Amount of money won) – (Odds of losing) x (Amount of money lost) turns into:
(.540) x ($100) – (.460) x ($120), which turns into:
$54.00 - $55.20= -$1.20
At first glance betting on home underdogs with a 54 percent win rate seemed like a winning proposition, even with a -120 vig. But, after doing a few simple calculations, we see that the expected value on such a bet would be negative $1.20 for every $100 we bet on the wager.
Conclusion
Understanding and calculating expected value should be something that every gambler uses during his pre-wager analysis. Bettors should know the expected value for every vig that they are betting at. Many online sportsbooks, like 5Dimes, offer a reduced vig of -105, while others offer vigs on certain bets as high as -115 to -125. Knowing the odds can be the difference between being a profitable or losing player.
I am not suggesting that gamblers only look for positive expected value plays, because there are not too many of them in the sports betting world — if there were, almost everyone would be a winner. I am only suggesting that bettors know what the expected value is on their wagers so they can have an idea of how exact their analysis has to be. There is a big difference between trying to overcome a small negative expected value of 25 cents than there is of trying to over come one of five dollars. Remember to bet wisely, and may the spread be with you.
Doc's Sports is offering $60 worth of member's picks absolutely free – no obligation, no sales people – you don't even have to enter credit card information. You can use this $60 credit any way you please for any handicapper and any sport on Doc's Sports Advisory Board list of expert sports handicappers. Click here for more details and take advantage of this free $60 picks credit today.
Read more articles by George Monroy