This Week in MLB Baseball Betting By the Numbers
by Aaron Smith - 6/24/2013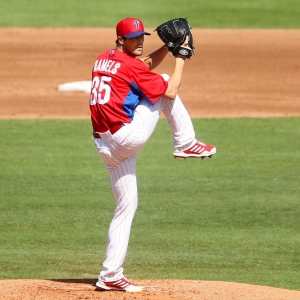 The Major League Baseball season is a long one, but there can be a lot of change in a very short amount of time. Since the last installment of this article, the Toronto Blue Jays have gone from an afterthought and major disappointment to a team right in the thick of the American League East race.
This week's schedule is quite a bit lighter than the average week. There are only four games on the schedule for Monday. Thursday's schedule is a lot lighter than average as well with only nine games on the schedule. Many teams will have a game every day next week, though, so they better enjoy the lighter schedule while they can. I guess the schedulers wanted to make sure there was plenty of action around July 4.
Baseball is a numbers-driven game, and keeping track of the data can put you one step ahead of most bettors. Here is a look at some important numbers to keep an eye on when betting on baseball in the week ahead.
0- The San Diego Padres are 8-0 in Jason Marquis' last eight home starts. He'll start on Tuesday against the Philadelphia Phillies at home. Marquis appeared finished the past couple years, but he has been great so far this year. I'll be the first to admit that I didn't see this coming. San Diego is 11-4 in his 15 starts so far this year, and $100 bettors are up $981 in those games.
0- The Angels are 6-0 in their last six meetings with the Detroit Tigers. They did sweep the Tigers in Anaheim earlier this year, but this Angels team just can't seem to get out of its way lately. Their loss to Pittsburgh on Sunday afternoon was indicative of the way their entire season has gone thus far.
1- If you are only going to watch one game this week, you should probably make it the Rangers vs. Yankees game on Tuesday night. It will be Yu Darvish against Hiroki Kuroda in a tremendous pitching matchup. The Rangers just swept the St. Louis Cardinals on the road, but they are only 1-8 in their last nine games at Yankee Stadium. Expect an electric atmosphere for this one.
5- There are five teams in the AL East. All five teams are above .500, and all five teams are within five games of the division lead. Boston has the upper hand right now, but it won't take much of a slip at all for any one of these five teams to jump into first place. The extremely high level of competition in this division is almost unheard of in baseball history.
7- The New York Mets have won seven straight interleague road games. Zach Wheeler will be on the mound Tuesday as they test that streak against the Chicago White Sox. Don't expect it to be easy for the Mets, though, since the White Sox will start Chris Sale. Sale is coming off a rare terrible outing, and he is likely to be ready for a big bounce back.
8- The Pittsburgh Pirates have won eight straight games following an off day. The Pirates are off on Monday before squaring off against the Seattle Mariners at Safeco Field on Tuesday night. Pittsburgh continues to greatly outperform expectations.
61.7- The percentage of pitches called a strike by umpire Tim McClelland so far this year. That is easily the lowest percentage of strikes called by any umpire in 2013. Not surprisingly, the "over" is 9-5 in his 14 games behind home plate.
65- The Milwaukee Brewers haven't been any good this year, but they have a nice record at home against teams with a losing record over the last couple seasons. Milwaukee is 65-26 in their last 91 home games against a team with a losing record. They'll host the Cubs this week. The Cubs are just 6-21 in their last 27 games in Milwaukee.
550- The Pittsburgh Pirates are just one game behind the St. Louis Cardinals in the National League Central, but BetOnline lists the Pirates at +550 to win the division. That tells you all you need to know about the oddsmakers opinion of the Pirates. They are just waiting for the Pirates to fall apart as they have late in the season each of the last two years.
1,692- Bettors who have put $100 on the Phillies in every start of Cole Hamels this year are now down $1,692. Hamels has a huge contract, and he certainly isn't performing up to expectations. Still, a 4.50 ERA through 100 innings usually wouldn't equal a 2-11 record for a pitcher. Remember how the Phillies didn't want to score any runs for Cliff Lee last year? Looks like Hamels is the guy this year!
Read more articles by Aaron Smith