This Week in MLB Baseball Betting By the Numbers
by Aaron Smith - 4/8/2013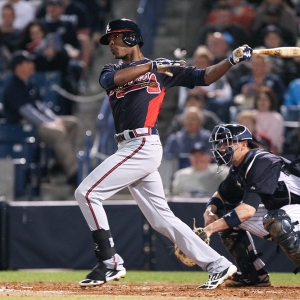 The Major League Baseball season is off and running. There isn't a longer season in all of sports. Successful baseball bettors are always mindful of the fact that this season is six months long, and there are going to be plenty of bumps along the way. It is definitely a grind-it-out type of season!
We're only a week into the season, and it's already obvious what the Miami Marlins and Houston Astros are going to be. Both of them have won only one game in the first week of action. On the other end of the spectrum, Colorado is the biggest surprise in baseball so far with an impressive 5-1 record. So far, the acquisition of the Upton Brothers in Atlanta has paid off for the Braves, who sit at 5-1 and atop the NL East.
Baseball is a numbers-driven game, and keeping track of the data can put you one step ahead of most bettors. Here is a look at some important numbers to keep an eye on when betting on baseball in the week ahead.
0- The Kansas City Royals are unbeaten in Jeremy Guthrie's last seven home starts. Guthrie certainly isn't thought of as an elite pitcher, but he has been a big moneymaker for bettors of late. Overall, the Royals are 11-1 in Guthrie's last 12 starts. Guthrie will square off against Mike Pelfrey and the Minnesota Twins on Tuesday. The Royals might be worth a look on Tuesday.
0- There are a couple reasons why the No. 0 is important in the Toronto Blue Jays matchup with the Detroit Tigers on Tuesday. Toronto is 0-7 in Brandon Morrow's last seven starts on Tuesday. The Blue Jays are also 0-4 in their last 4 meetings with Detroit. Take a look at Detroit on Tuesday if you can find some short odds on the home team.
3- The number of times the Atlanta Braves have lost in Kris Medlin's last 28 starts overall. They'll square off against the Miami Marlins on Tuesday, so there is a good chance that record will go to 26-3. However, you'll have be prepared to pay a lot of juice if you are going to betting on the Braves in this matchup.
5- Houston is 5-0 in their last five games against the Seattle Mariners. This is one of those times that you really are better off just throwing the numbers away, because it means absolutely nothing today. The last time Houston met Seattle, the Astros had Craig Biggio, Lance Berkman, and Hunter Pence in the lineup in 2007. None of those guys will in the dugout this week, and relying on this outdated trend to bet on the Astros will likely leave you disappointed.
6- Keep your eyes open for the next time Bill Miller is behind home plate on a Sunday. The "under" is 25-6 in Miller's last 31 Sunday games. Miller's strike zone is always one of the biggest in baseball, but it seems to get that much bigger on Sunday. It looks like Miller must have some place to go on Sunday nights!
13- The Los Angeles Dodgers bullpen has yet to allow a run this season in 13 innings pitched. Even more impressive is the fact that the Dodgers bullpen has only allowed one hit all season, and that was an infield grounder that arguably should have been scored an error.
16- The Mets have lost 16 of their last 21 games when facing a left-handed starting pitcher. The young Mets are 4-2 this year, and they appear to have some fight in them, but you'll want to think twice about betting on them against lefties until they can turn this trend around.
51- The Chicago White Sox are 51-25 in their last 76 Interleague games. They'll matchup with the Washington Nationals this week, and the White Sox will be likely be a sizable underdog in all three games. If you believe this trend could continue for a few more games, dabbling on the White Sox moneyline this week could be a profitable strategy.
350- Oakland has started the season 5-2, but the Athletics are listed at just +350 to win the AL West according to odds from WagerWeb. Are the oddsmakers going to overlook the Athletics all season for a second straight year?
1,500- The Atlanta Braves look like a really dangerous team with their new-and-improved lineup as well as a healthy starting rotation this year. The bullpen may well be the best in baseball, and Craig Kimbrell is nearly automatic as the team's closer. BetOnline lists the Braves at +1,500 to win the World Series. If you are looking for a futures value play, this might be a nice grab.
Read more articles by Aaron Smith